Click To Go Back To The Main www.GlenStephens.com Stamps Homepage

Welcome! - You are visitor number
To - www.Glenstephens.com


November 2019


---
What were "PALS" labels?
The PALS "stamps" were huge - and apart from the debut 1920 horizontal airmail pair, each was near the size of a block FOUR Kangaroos, and were issued for a few years during the early 1920s.

"PALS" was a 3d a copy magazine mastheaded as: "Published Weekly For Australian Boys" targeted at young readers, in the period 1920-1927. It appears from research, that it was published by the Victorian Branch of the Boy Scouts Association. A front cover illustrated nearby.

The magazine was printed by the large The Herald and Weekly Times newspaper group in Melbourne. As stamp collecting was a VERY big deal with youngsters during this between the Wars period, several sets of stamps were produced that could be applied for free, by their young readers...

One of the Pretty 1923 PALS labels.
Ads within "PALS" magazines of the time point to the deal being, that the kids needed to mail in a stamped self-addressed envelope, along with a cut-out of the coupon offer in the magazine, to receive the stamp like promo Cinderella labels currently on offer. Ton more info here - tinyurl.com/1924PAL

Boys being boys, most were probably carelessly licked or glued to the inside cover of that year's Algebra textbook, or religious studies exercise homework book etc, and in many cases tossed away in the next year or so.

The labels cost them nothing, so the kids clearly placed no real value on them, and it is very clear adult collectors in general were not aware they existed, as they did not see this magazine. So few have survived. Mentions of them in the stamp press was near non-existent.
Very attractive designs on all.
The labels were all beautifully arted I feel, and the quality of the design work as can be seen from the illustrations I show in this article, are first class, and were near the design quality of issued postage stamps of that 1920s era, I feel sure you will agree.

Wind the clock on nearly 100 years, and we know realise some of these are very scarce. The 1920 Red PALS airmail label does not seem to have survived being affixed into many youngster albums and schoolbooks of a Century ago. Even singles are seldom seen, oddly.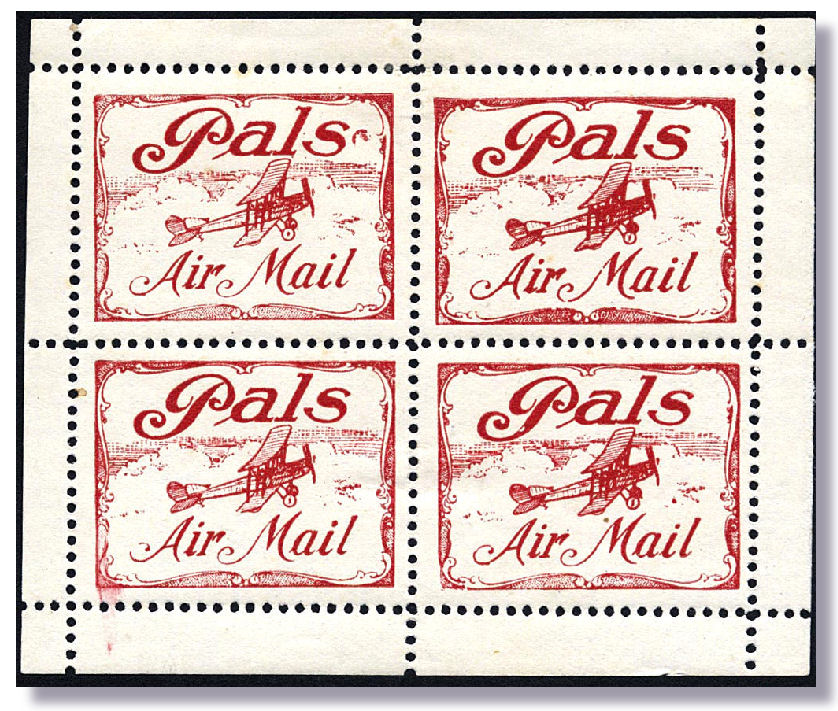 Cat $4,000 - only 4 blocks recorded.
Indeed, the rather striking mint sheetlet of 4 of the 1920 red "PALS" Air Mail shown nearby is catalogued at $4,000 in Tom Frommer's excellent "Australian Airmail Labels and Vignettes 1920-1960" priced Catalogue.

Those labels would have had a good number printed, but clearly got tossed away over time. PALS even sponsored a bi-plane as depicted on the stamps, to do publicity flights in 1920 through Victoria, NSW and Queensland country towns - right up to the Gulf Of Carpentaria. Leaflets were dropped on many country towns etc, to publicise buying copies of PALS magazine.

Despite this enormous "barnstorming", and handing out of these labels, the red stamps shown nearby are scarce today, and only four blocks 4 are recorded. Oddly, despite all the flights that occurred, only a solo cover exists bearing a single example, and that is cat $3,500 by Frommer.

PALS also did labels for various other things including a rather bizarre subject for Australians - The Commander in Chief of the U.S. Pacific Fleet! Robert Edward Coontz (1864-1935) was an Admiral in the United States Navy, who had sailed with the "Great White Fleet" and served as the second Chief of Naval Operations.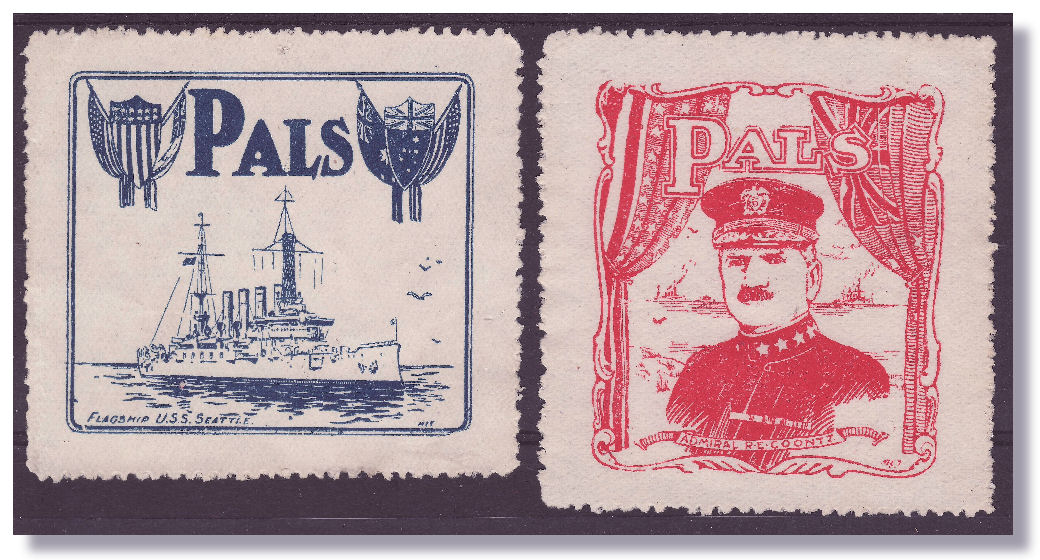 Admiral WHO?!?
In 1925, Coontz commanded the US fleet on a trans-Pacific visit to New Zealand and Australia, the first massed deployment of American battleships since the "Great White Fleet" epic tour nearly two decades earlier, giving a clear demonstration of USA strategic reach and power.

This 1925 US Fleet visit must have appealed to young boys, (or the Editors assumed it might appeal!) as Admiral Coontz, and the US Navy Flagship the USS Seattle are featured on each of these very rare PALS issues issued at the same time. So maybe there was little interest?
Hornadge had never seen this one.
| | | |
| --- | --- | --- |
| | So rare, that in over 40 years of stamp dealing I have only ever owned one of these sets, some years back - with no gum, and my scan of those is nearby. Bill Hornadge, Cinderella guru, and founder of Seven Seas Stamps, and "Stamp News", mentions in his essential Cinderella Stamps handbook on page 23, that he had heard of the Coontz PALS stamp, but had never seen one. | |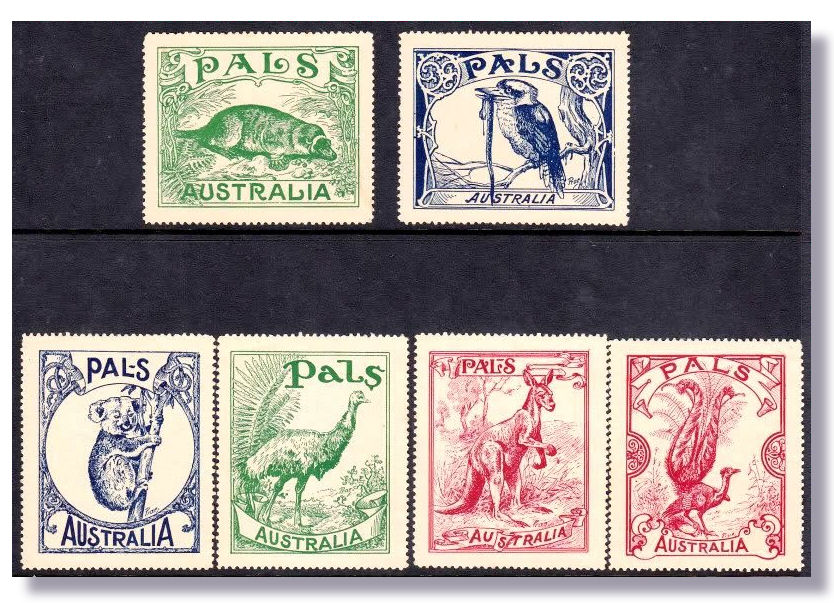 The most often seen PALS label set.
The PALS labels most often encountered were 2 sets of 6 different. One depicted native birds and animals like Koalas and Kangaroos and Platypus (by far the most common set issued 1923) and the other earlier 1922 set depicted typical scenes from around the country. Apple picking in Tasmania, cane cutting in Queensland, timber felling WA etc.

These 2 sets were printed in far higher numbers, and are sometimes encountered (usually licked down or glued down!) in old juvenile albums. In decent shape they still get easily 3 figures a set of 6, (1922 scarcest by far) often a few $100. Being very large, and like all PALS issues, all were on coarse wove acidic paper, they get damaged, and tear and thin and fox VERY readily.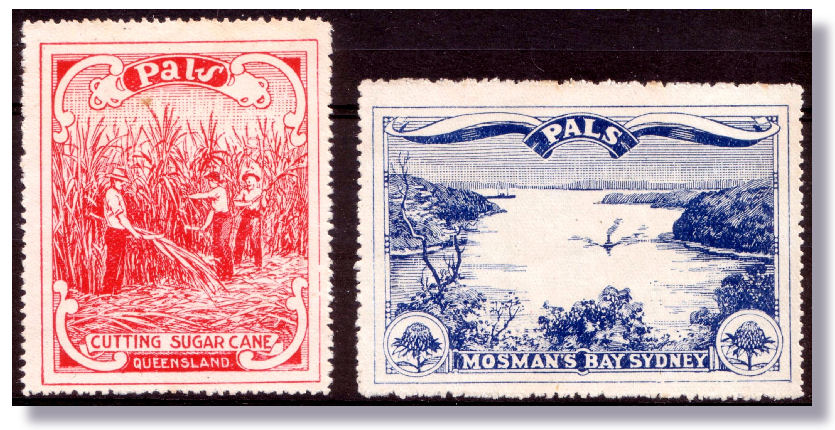 Part of the scarce 1922 1st PALS set.
Be very mindful of course, that the ever-active ebay spivs in Latvia etc, have cranked out barely convincing replicas of most, if not all, of these PALS labels in recent years, and naturally disguise the fact their modern ink-jet printed repros were made only weeks back.

I've seen the ebay Bunnies bid silly sums to buy this modern mass-produced reproduction landfill - blindly assuming of course they are buying 100 year old Cinderellas, as the sellers cunningly impute they are originals, despite the alleged Ebay rules about offering facsimile stamps indelibly marked thus.
Who on earth was Stanley Goble?
| | | |
| --- | --- | --- |
| | Many of us are attracted to Philately as it teaches us about history. That is the main attraction to me, and I like to think one NEVER ceases learning something new, by being immersed in stamps each day, that would otherwise not have crossed my path. | |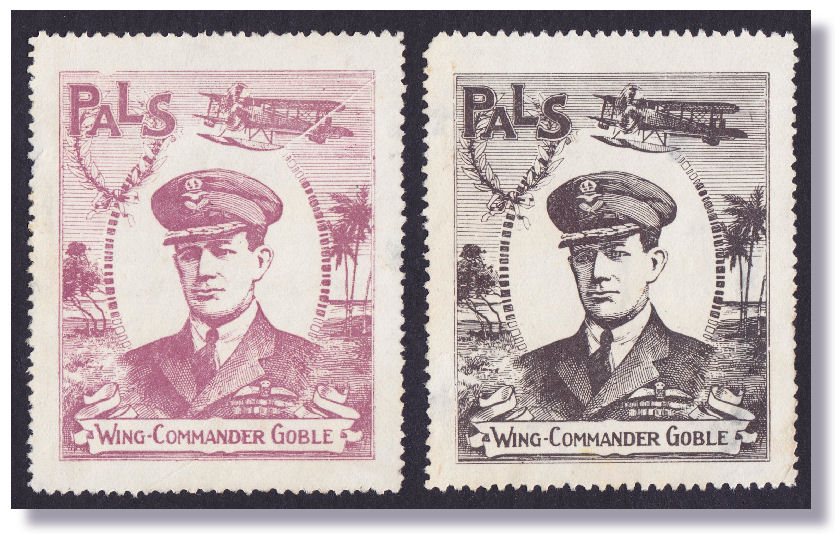 Never seen these PALS labels before.
I bought these interesting pair of PALS labels shown nearby in an ancient collection, and had never seen them before. My initial thought was - who on earth was Wing Commander Goble, and what exactly did he do in the 1920s, that warranted special Cinderella stamps being issued for him. I'd never heard of him before, to be honest.

In 40 years of stamp dealing, I have never owned these very large 1924 Wing Commander Goble PALS stamps. Indeed, until I started doing some research, had no idea who Goble was. Air Vice Marshal Stanley James (Jimmy) Goble, CBE, DSO, DSC (1891- 1948) was a Senior Commander in the Royal Australian Air Force (RAAF).

Goble served three terms as National Chief of the Air Staff. Goble came to national attention in 1924 when he and fellow RAAF pilot Ivor McIntyre became the first men to circumnavigate Australia by air, journeying 8,450 miles (13,600 km) in a single-engine, open-cabin, Fairey IIID seaplane.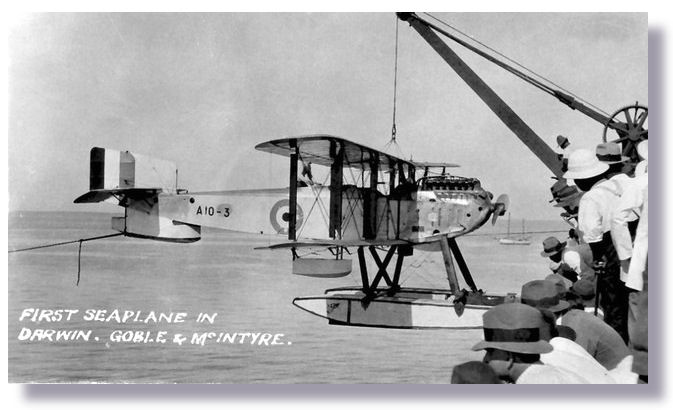 First ever seaplane in Darwin.
| | | |
| --- | --- | --- |
| | These Fairey planes were British made, and proved unsuited for our hot tropical conditions, the floats let in water etc, and the 7 aircraft we bought had all crashed or failed within a few years, and no trace remains of any of them today. Oddly no Museum wanted this historic aircraft A10-3, and it vanished. | |
Generally no reliable communications.
When you think on it, an amazing feat then, in the limited range, open cabin plane, flying in areas largely uncharted, and mostly totally unpopulated. The contemporary press in Australia classed this epic 44 day pioneer flight as "the finest in the history of aviation".

No radar, no phones, no GPS, no emails back then of course in 1924, and no PEOPLE or towns for about half that enormous distance. They flew right up to Thursday Island, before crossing the entire Northern and Western near uninhabited coasts. As per the old photo postcard shown nearby, this was the first seaplane ever to land in Darwin.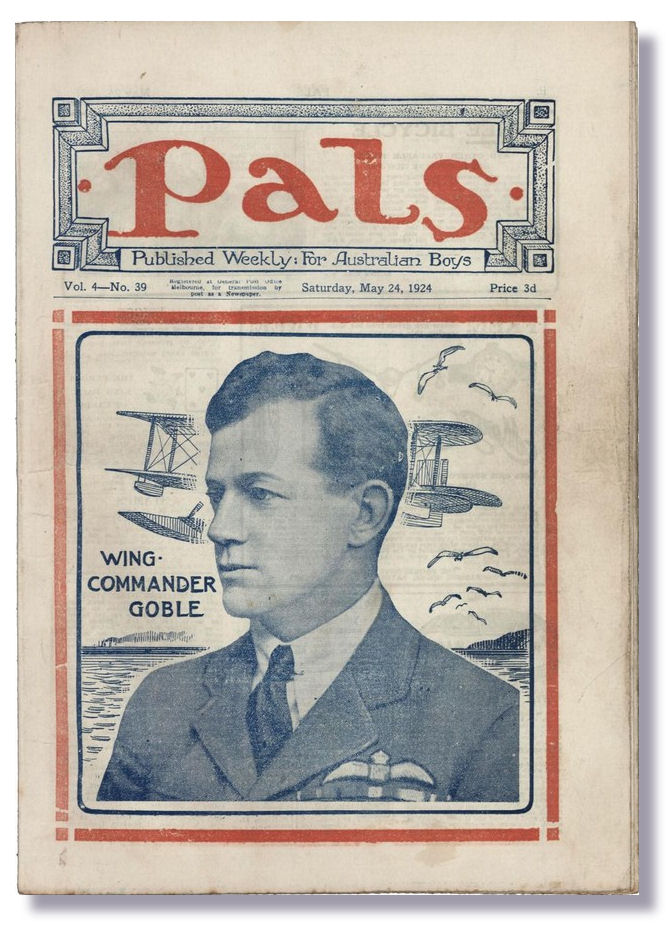 Goble made front cover of PALS.
| | | |
| --- | --- | --- |
| | The Sir Ross and Keith Smith UK-Darwin 1919/1920 First Flight, we all know plenty about. We will celebrate that feverishly later this year philatelically, with a range of new stamps, and AEROPEX 2019, but Goble has totally vanished off the pop charts it seems to me. | |
World War I Fighter Ace.
During World War I, Goble flew bi-planes on the Western Front with the British Royal Naval Air Service. He became a fighter ace with ten kills, commanded No. 5 Squadron (later No. 205 Squadron RAF), and was awarded the Distinguished Service Order, (DSO) and the Distinguished Service Cross (DSC) for his aerial prowess against the Germans.

Returning to Australia, Goble spearheaded the formation of the RAAF as an independent branch of the Australian Military. On an exchange posting to Britain in the 1930s, he led No. 2 (Bomber) Group RAF. Goble spent most of WW2 in Ottawa, as Chief Air Liaison Officer to Canada.

Stanley Goble, and co-pilot Ivor McIntyre are depicted on the $1.35 value of the Aviator stamp set 4, recess/intaglio printed, and superbly engraved, by the globally famous artisan Czeslaw Slania - something I was not aware of until researching this article.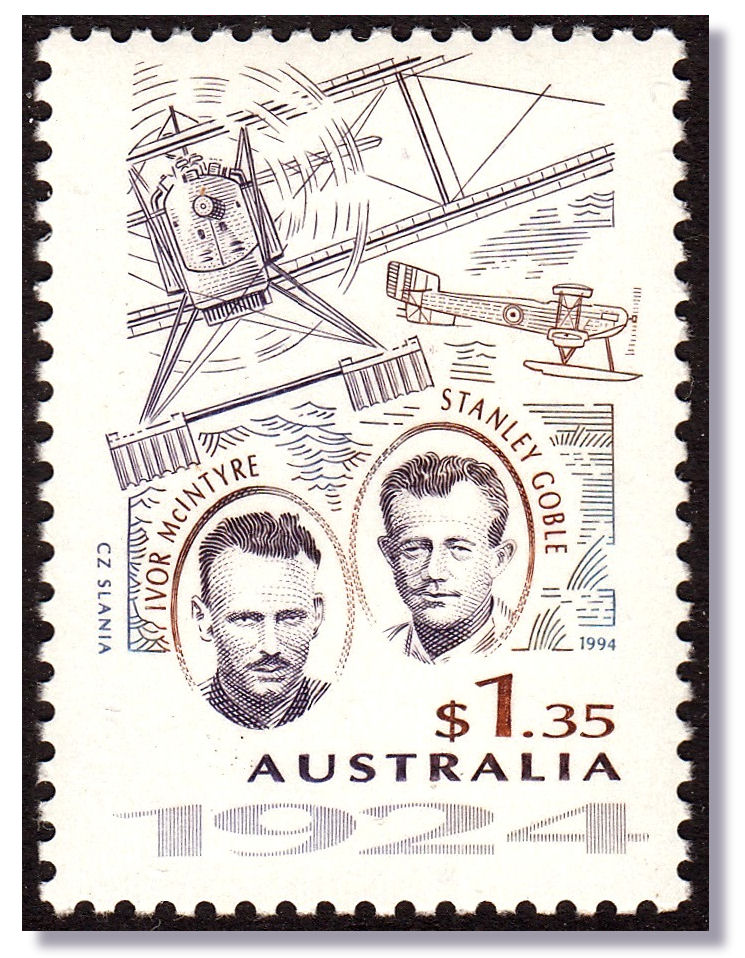 McIntyre/Goble on a $1.35 stamp.
These Goble issues are the least seen of the highly sought PALS stamps in my experience. He made the front cover of PALS in 1924! TON more extra detail on all these PALS labels is here - tinyurl.com/1924PAL for anyone interested in learning more. A great new collecting sideline to suggest to all.

The Goble pair that turned up in an ancient collection, and are shown nearby, were in Maroon and Chocolate colours as can be seen. Hornadge never saw or recorded the Chocolate colour. Fresh bright unused, with usual few age faults generally found on these huge PALS labels.

Very oddly, NONE of these Goble PALS labels are recorded used on any cover, according to the detailed Frommer book. I am amazed Ernie Crome or Nelson Eustis etc, did not use some. They are Frommer Cat 12A, $A500 (back in 2003!) - so clearly these are very scarce animals.

For a collector looking for a fun sideline challenge - give yourself the task of securing a full set of these attractive and large PALS labels. There are only 20 or so possible and you'd be amazed at just how hard assembling a full set will be! And when YOU sell, I have never once seen a full set offered, so an instant sale
Gibbons "Part One" Catalogue released.
For me the "event" of this month was the arrival of an air freight copy of the new 2020 Stanley Gibbons "Commonwealth & British Empire Stamps 1840-1970" catalogue. The 122nd Edition in fact. I get a tad jaded with many things in this business, but am NOT jaded about receiving this monster each year! Great new cover design too.

This volume is universally known to old-timers and the trade as the "Gibbons Part 1". Once, in days of FAR less new issues, the other non-Commonwealth Volumes were numbered sequentially, from 1951 to 1970 they had: "Part 2 - Europe & Colonies" and "Part 3 - America, Asia and Africa". Those contained full detail of perfs and watermarks etc.

Later on, the Tsunami of new issues that started in the 1960's, meant the new issues in one year globally were talking up as many pages at the 50 previous years for some countries, so SG needed to split Volumes 2 and 3 into more logical regional Editions, and later on, limited the content of "Part 1" up to 1970 only.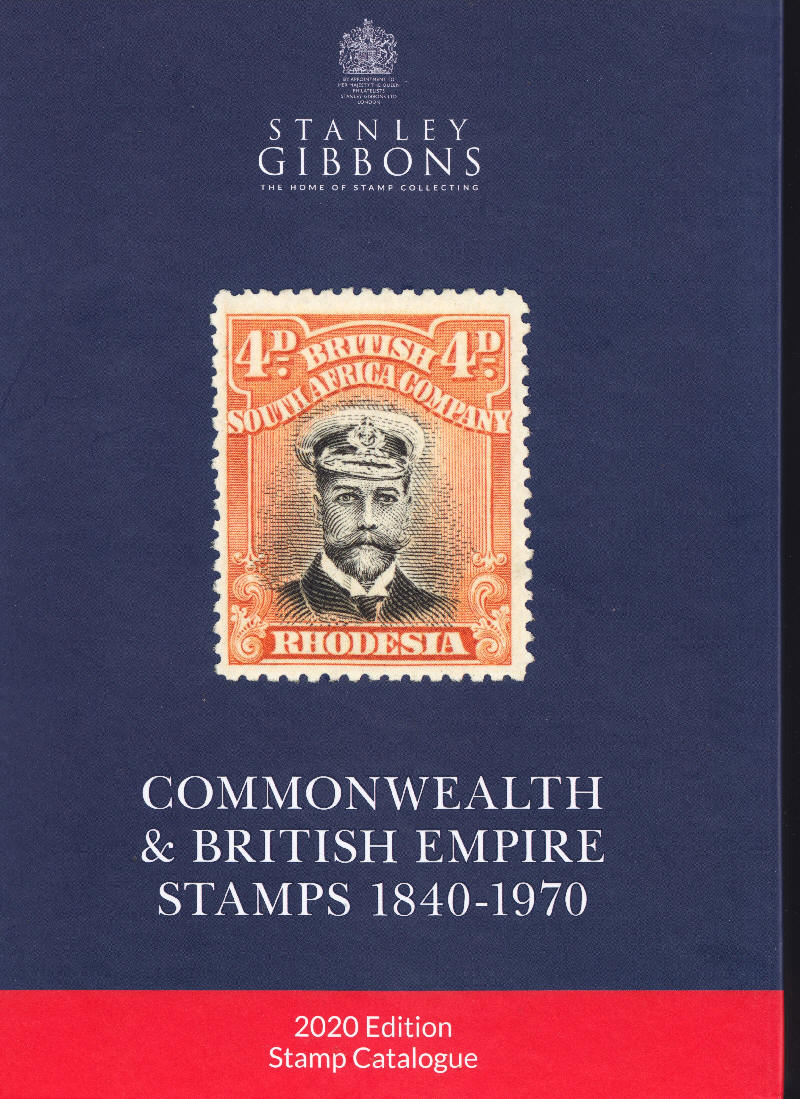 New 2020 Gibbons "Part 1" Catalogue.
This huge volume "Commonwealth & British Empire Stamps" is the absolute "Bible" globally for British Commonwealth stamps and cover pricing. Forget Scott and Michel and Yvert etc - they are basically meaningless for Commonwealth stamps. No catalogue is perfect, but this comes very close, and the Editors do an outstanding job in my view.

The average collector buys a new major catalogue only once every few years, as they are rather expensive. For many dealers and collectors, being a few years out of date is no big deal. THIS is definitely the year to update, if you have not done so for a while! Lots of big changes, and price updates in here.

Printed on a nice crisp fresh white paper stock. Cheery and "alive" compared to my already VERY yellowed early 2000's SG pages, with sad grey illustrations. Colour illustrations right through, very many of them on each page. And many new varieties and listings are added this year. Over 770 full colour huge pages now.

A nice crisp clean sans serif font has been used for the last few editions, and makes it so much easier to read - see sample page shown nearby. And in recent editions the country headings are in RED - a very simple thing to do, and they really stand out. The small things like that were overlooked for years!
Colourful and vibrant SG Catalogue.
Lots of constant plate flaws, and booklets are now listed. And lots of inverted watermarks - for the UK all inverted and sideways watermarks are now fully listed and priced. Find just a really medium one from a country like Australia or UK, and the entire book will be readily paid for MANY times! Often stamps cat 10p each used are cat many £1,000s each - see details below.

This year the pricing committee have been quite active in the Australasia area. If you only buy a new SG each 5 or 10 years, this is the year to update, as there are extensive upward adjustments. Some I saw on a quick look were large increases over last year, so some SERIOUS adjustments!

There have been exceptional auction realisations for much of this material in the past year, and these price increases are simply taking that pricing reality into account, and moving the SG prices into line with what is occurring in the real world stamp marketplace.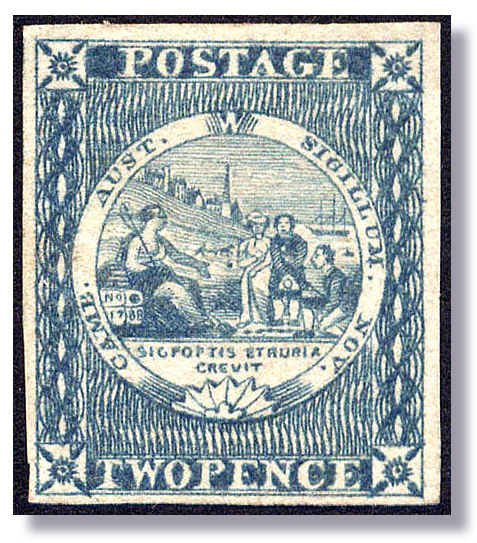 NSW "Sydney Views" up strongly.
The attractive 2d Sydney View shown nearby, SG #15 is now cat £21,000. Only a few years back, full SG was way under HALF that at - £8,500, so buying quality always pays off. And if your SG value says £8,500, you are so out of touch, for your book to be essentially meaningless.

I do know that as a large dealer WHATEVER I offer lately in attractive nice condition Australia States issues - right from imperfs to the last issues, sell near as fast as loaded up. They have been under-priced for decades, and if you have any gaps, NOW is the time to fill some spaces as they will never be cheaper.
Source States stamps CAREFULLY.
The States issues are NOT something to buy as a novice, off cowboy sources like eBay. They are VERY often wildly misidentified - deliberately, and/or repaired etc. Cleaned off fiscal cancels are offered with new fake cancels as "FU", and SA/QLD"imperfs" have perfs snipped off etc. You really are foolish if you buy such material EXCEPT from well-established dealer members of major stamp trade bodies.

These increases are often very substantial, so any collector or dealer working on older books is costing themselves money. All the Australia States issues have had extensive re-vamps I noticed, and what follows is a brief summary of what I noted on a fairly quick spot check of this, and the last edition.

NSW sets the trend with SG #1 up from £16,000/£550 mint and used to £17,000/£600. Two editions back, that same stamp mint was £13,000 etc. A £4,000 increase. Nice copies fetch terrific money at auction, and are tough to source. Buying them now, they will never be cheaper.

Also most all the many 1850 Sydney View listings and Laureates are up mint and/or used, with selected price-hikes thereafter. For example, Sydney View 2d, SG 34 is up from £12,000/£250 to £14,000/£275 as an example - £2,000 gains are nothing to sneer at in one year.

Are all NSW imperfs up? Well no, and there are indeed some "sleepers" lurking among early NSW, I can guarantee you that! For instance I was pricing up a superb and clean and fault free 6d Fawn QV Diadem, 4 margin SG 93a, with error Watermark numeral "8" and not "6", that is shown nearby.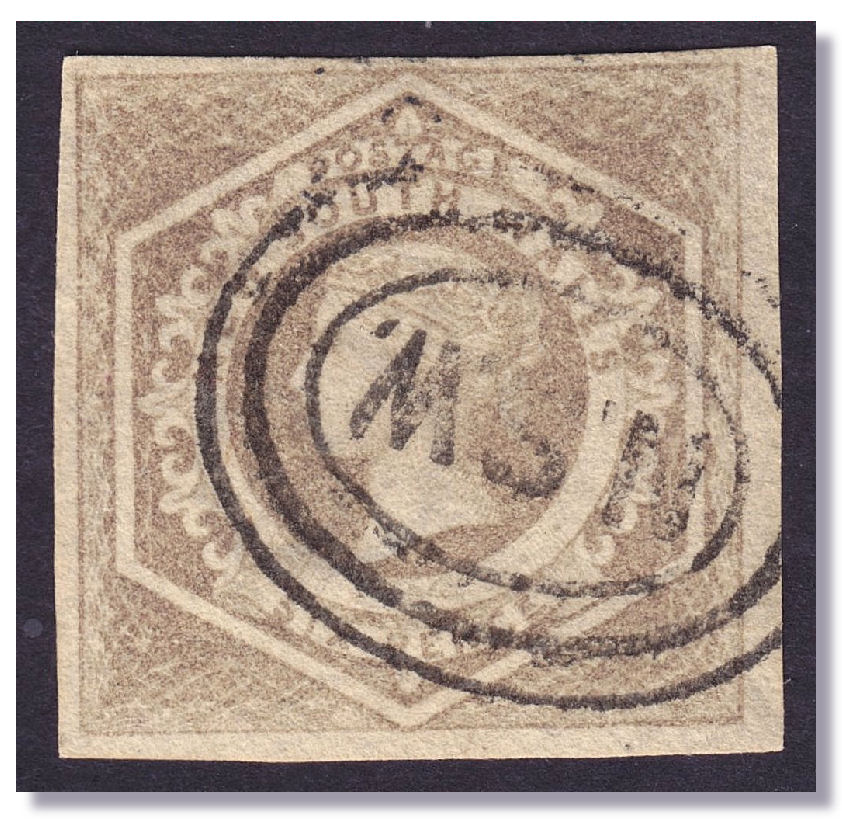 Gone BACKWARDS over 1998 price!
I found it on a stockcard I'd last priced in 1998. That happens all the time here - a 3 floor house of stamps in long forgotten boxes and filing cabinets etc. Usually 20 year old cards of Classics are now double or treble the original prices. Anyway, when I originally priced it, SG was then SG 119a, and listed at £120.

In the new 2020 SG Part One - 22 years on, it is listed used at £110. Less than in 1998! So we have a 165 year watermark error Imperforate, in superb 4 margin condition, with no faults, being placed into stock at $A95 - way less than the current PO Year Album costs. Madness. Do SG have one in stock - of course not! These cat £200-250 is more like the correct level.
Rises in other "States" stamp prices.
Queensland sees selected increases right across the board, even extending to the very scarce Postal Fiscals at the back. Price hikes for South Australia too - the rare 1886 £20 top value, SG 208 is raised to £45,000 mint up from £42,000 if you are lucky enough to own one! The same stamp rose a few £1000 the edition before. Who says there is no money in better stamps! Tasmania sees scattered increases across the range, and ditto for Victoria.

Western Australia powers on strongly as always. The 1854 SG #1, "1d Black Swan" is up both mint and used, to £1,600/£325. This is after price hikes last year as well. Always a popular "Bird" item. A red cancel on these is most unusual, and the pretty one shown nearby sold for several times full SG catalogue value.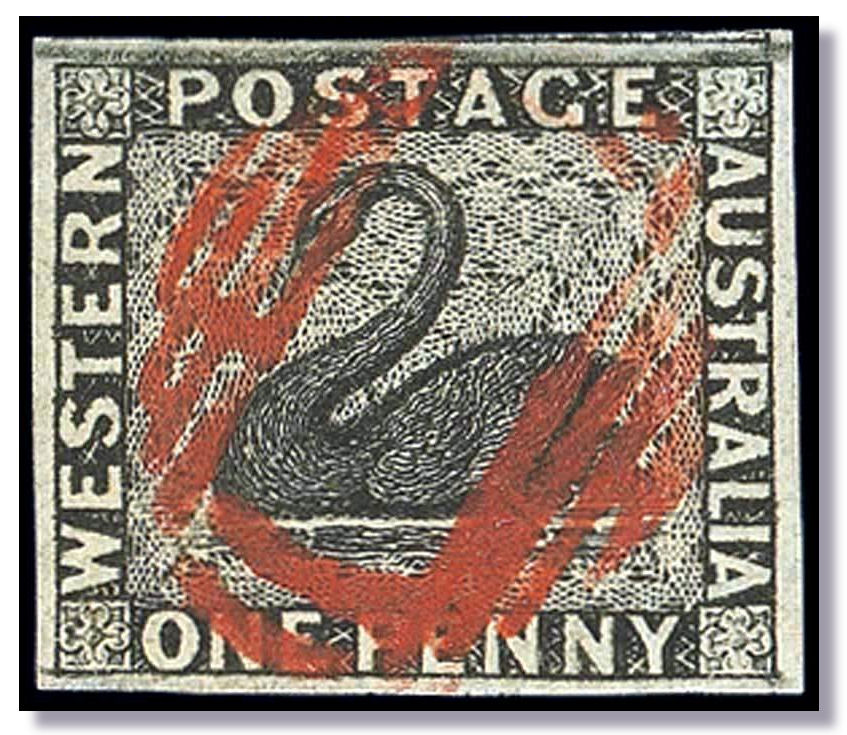 WA "Penny Black Swans" up once again.
Lots of price increases noted in AUSTRALIA. Starting right from 1913 SG #1 up 10% mint or used, and going right into the QE2 era, and the upticks even covering Postage Dues, and many Official "OS" stamps etc. Well worth careful checking.

Some fairly modest and affordable plate errors like the 1929 3d green Airmail "Long Wing To Plane" I suggested 2 catalogues back might be added, is up 10% to £350 and £200 used. And they went up 10% last year too. A very easy to spot error, and almost no-one overseas knows it exists, so you might pick one up for a dollar or so in dealer stock, or on first flight covers where many of them were used.

Later issued varieties like the 1941 1/- Lyrebird "Roller Flaw" SG 192a is up in value 20% mint or used. All the other KGVI era "Roller Flaws" also increase in price. The 2d red KGVI "Medal Flaw" shown nearby SG 184b is up to £140 used, (£350 mint) and are worth only pennies with no flaw. Fill those gaps soon, as these errors are not getting any more common!

Did you know the "Top Hat" flaw on the 6d Kookaburra is now cat £1,600 mint - up from £550 only 5 years before? Used is £1,800. A scarce and very popular flaw, and very seldom offered, so it leaps up EVERY year. Buy off some cheapskate, foolishly using a few years old Catalogue to "save money", and YOU win by £1,050!

This is just one perfect real world example that demonstrates how buying better stamps can have spectacular results, even in the rather short term. Nowhere on the planet has money in the bank on term deposit or real estate seen a FIVE TIMES increase in such a short time!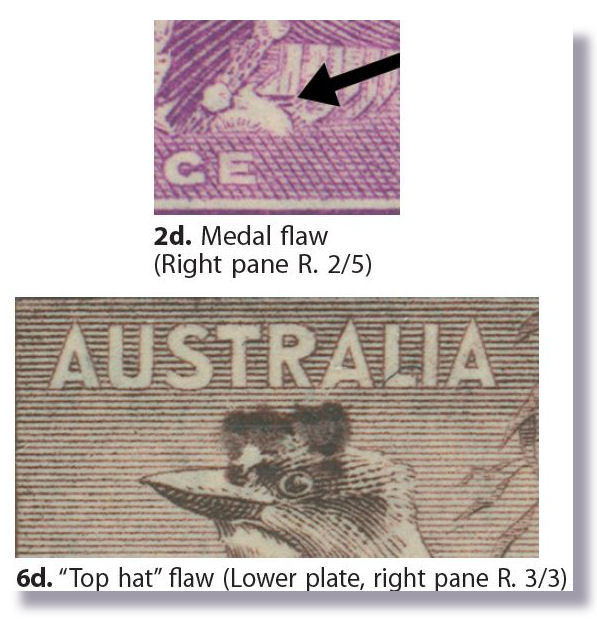 "Top Hat" flaw to £1,600 from £550.
Were you aware that a ½d Orange Kangaroo Coil Block of 4 is now Cat in SG at £1,000 mint? Or the "Green Mist Retouch" on the 1/- Lyrebird SG 230da is up this year to £3,500 used etc. "Knowledge Is Power" - as I have probably typed here 1,000 times!

Did you know the 1941 1/- Lyrebird, also with inverted watermark SG 192w is Cat £6,000 mint or used - but just 10p in normal used etc? This is up by £1,000 mint and £2,000 used over 2 years back. And the exact same massive increases occurred the year before too! Check your duplicates. Many are still out there to be found - a true bundleware stamp.

Very EASY to see plate varieties are great to see added to Gibbons. like those mentioned above. Super specialised catalogues like the ACSC, by their very nature, are filled with 100s of pages of near impossible to see at normal size "Fly Specks" that totally do my head in - and they do my eyes in, that is for SURE!
Down with tiny "fly-speck" errors!
| | | |
| --- | --- | --- |
| | Stanley Gibbons have the luxury of only listing major retouches or flaws, that are very easy to spot with the naked eye. One I suggested which has been now added for this edition, is the 1960 8d Tiger Cat "Typhoon Retouch" using my scan. A scarce error, as it was not noticed by collectors for a couple of years after stamp was withdrawn, so in mint positional pieces, are really tough. | |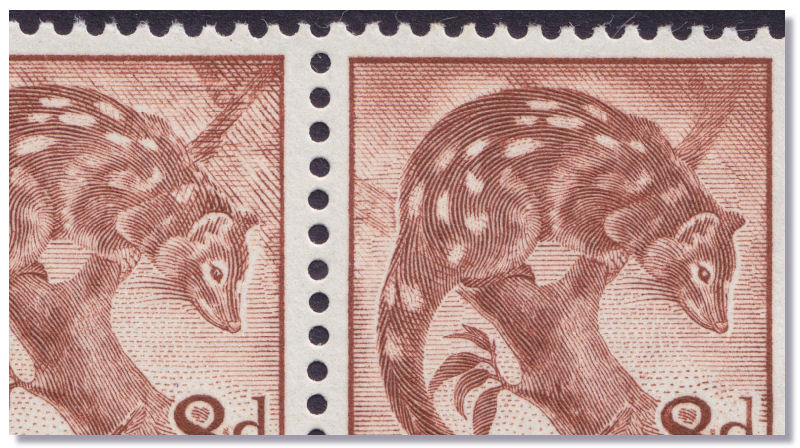 8d "Typhoon Retouch" now listed.
Perforated "OS" Australia very often see increases. The usual warning on these too, buy the scarcer ones ONLY from experienced and reputable dealers. Near all on eBay are modern fakes cranked out by the 1,000s, as the Bunnies cannot tell, and cannot resist a "BAAAHRGIN" - which they will regret when they sell!

The very popular KGV 1d Red range of major plate varieties (Secret Mark, Dot Before 1, RA joined etc, go up from £110/£12 to £120/£15 each. I sent SG new photos of the major retouch on the 1960 Xmas 5d stamp they have used now - see it nearby. SG 338 which is up from £24/£20 to £30/£22. A 25% increase in 1 year Mint.

The photo of this striking re-entry in previous editions of SG was just wrong. A stampboards member in Canada came up with the far better and more accurate image shown nearby, that is now being used. By all means, add any suggestions of your own, for similar future SG listings here - tinyurl.com/Xmas5d - these communal efforts really do work.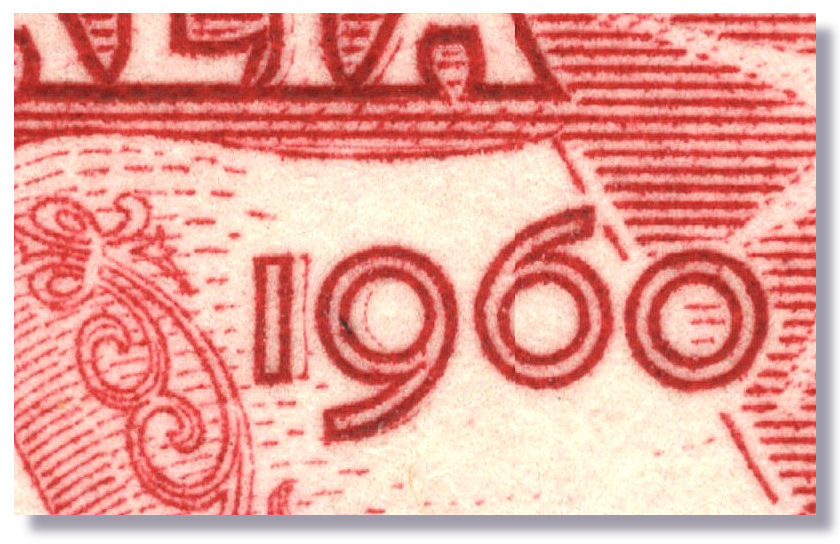 New photo of 1960 Xmas Major Re-Entry.
| | | |
| --- | --- | --- |
| | In a quick perusal of the PAPUA listings I noticed some upward price tinkering again - a very popular area that sees upward adjustments every year. With Papua stamps, condition is EVERYTHING. Most issues are found in toned/foxed and/or defective condition, so pay a premium for top grade, and ONLY buy in full sets, and it will repay for sure. | |
SG price rises widely spread.
Printer deadline here precluded me looking in great detail at all countries to compare them, but I did a couple of hours of spot checking from front to back of the books, and noted some popular areas getting the same price increases, and many would surprise you I am sure. The SG staff were REALLY busy this edition.

GB is at the start of the book of course, and noted some increases in line with UK market movements. The ever popular 1840 2d Blue is up to £975 used, and up £250 used on cover - to £2,750. I see 20 times more 1d Blacks used on cover than 2d Blues, so that makes perfect sense.

The 1840 2d Blues also see increases on many of the listed varieties - guidelines and re-entries etc. This stamp only has RED Maltese crosses at a 10% premium by SG over black ones. A clear RED cancel on this blue stamp looks spectacular as you can see nearby - but you pay near the same sum as for a black one. Seems low to me.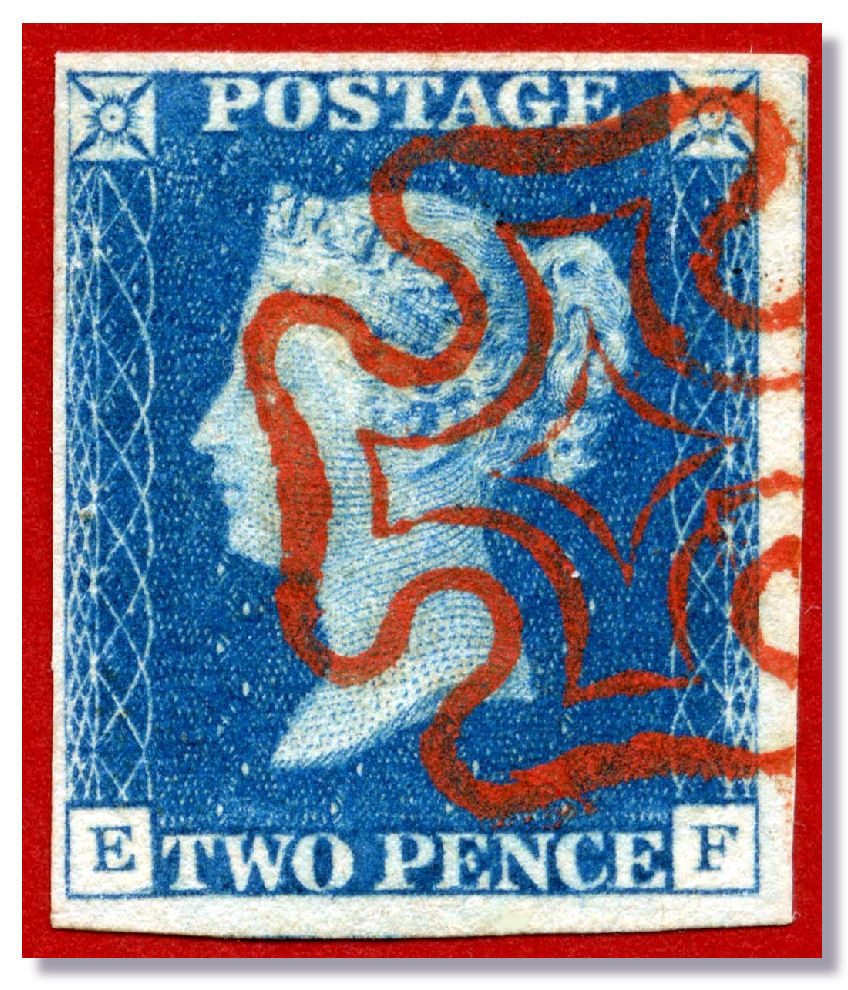 GB 1840 2d Blues increase this year.
There are selected increases on GB stamps used abroad. The 1867 5/- Rose is now cat SG 217, £650 with the "C58" cancel of Cuba, yet absurdly it is cat £675 with any common GB cancel! Ditto with a Peru "C36" cancel, SG lists at only £600. SG really need to address these bizarre anomalies. Both cancels should clearly command a premium over cancelled at Watford or Luton numeral 5/- stamps!

Nearly all Commonwealth countries seem to have received selected increases this year, I noticed on my spot check. British Guiana sees solid upticks, and Bushire is up £1000s per set! Some good rises too in Cyprus - for example 1886 SG 26, soars from £22K to £30K! Near a 40% hike on an already pricey stamp.

Lots of gains in the Cook Islands group stamps, with many I saw now 10% higher or so. I am typing this column from the Cook Islands and Aitutaki! This is a wildly under-priced area in stamps - small numbers issued in the pre-war material, and I see more rises ahead. Some are truly worth double current levels.
Pre-War Malaysia area very popular.
Gold Coast sees the scarce 1921 £2 KGV top value hiked to £2,000/£2,500. And Hong Kong SG #1, I noted was up about 10% to £600 mint. Malaysia and States see MANY upward moves right across all states, with Definitive sets especially, often marked up in used condition.

Am selling a LOT of this area lately, and stock does not last long for the pre-war material in CLEAN condition. Much of this region offerings sees stamps with nasty gum toning and browning, so clean material is worth seeking out, and paying a little extra for - it will repay when you sell.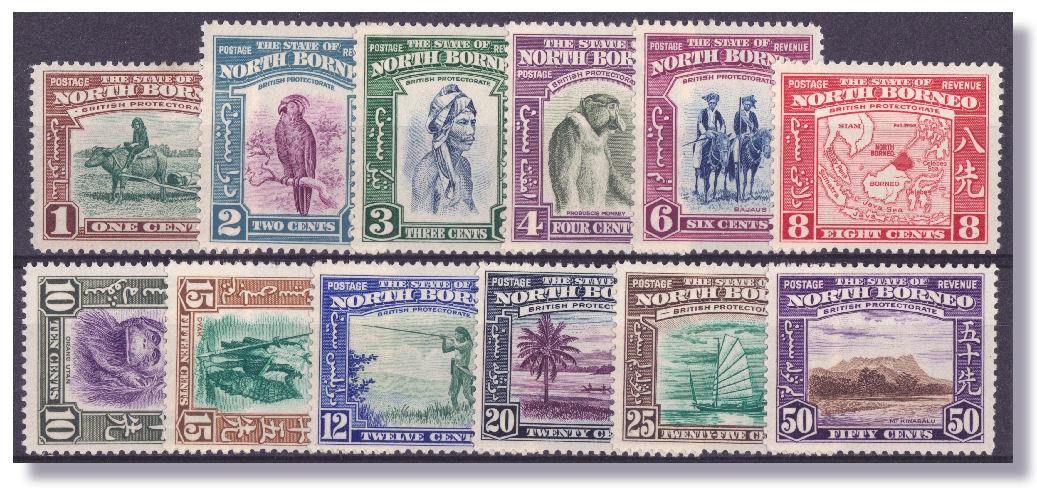 Wonderful looking steel engraved sets.
I listed up this gorgeous super fresh set today, State Of North Borneo, the 1939 KGVI Pictorial Definitives. The magnificent engraved plates from Waterlow & Sons London. One of the prettiest sets from the entire KGVI Reign in my view. With local scenes of animals, birds, and places - even a poison blow-dart hunter! Still value at today's levels.

New Zealand scored a lot of attention, from the imperf SG #2 onwards. following up recent overhauls in recent years. Even things like the 1873 lowly ½d QV Newspaper is up over 25% to £140 mint from £110. Price gains in NZ inverted and sideways watermarks continue again, following the bullish trend of recent years.

Some in the hobby are bemused and openly sneer at those who collect inverted watermark errors. I have no idea why. The wider market thinks very differently, and some of these have literally skyrocketed in very recent years. Some up a whopping 500% in a short time frame. The sneerers lose out badly here!

The lowly 1946 ½d inverted watermark, SG 667w goes from £120/£80 to £150/£100. All values in that set are up nicely. The 1d SG 668 climbs 50% to £75 used. These are both truly bundleware stamps, the 1d value is near landfill thus, and clearly most bundles have never been checked for inverts. Go look!
India & States area stays strong.
| | | |
| --- | --- | --- |
| | India stamps continue widespread gains acorss all areas, and little wonder - 1.4 BILLION potential collectors of them, with a vastly expanding middle class - and they LIKE stamp collecting. I sold the lovely looking 1890s Queen Victoria set recently shown nearby - right up to the 5 Rupees top value, and SG cat of the entire page used is under £100! So clearly a TON of upside still, in such areas. | |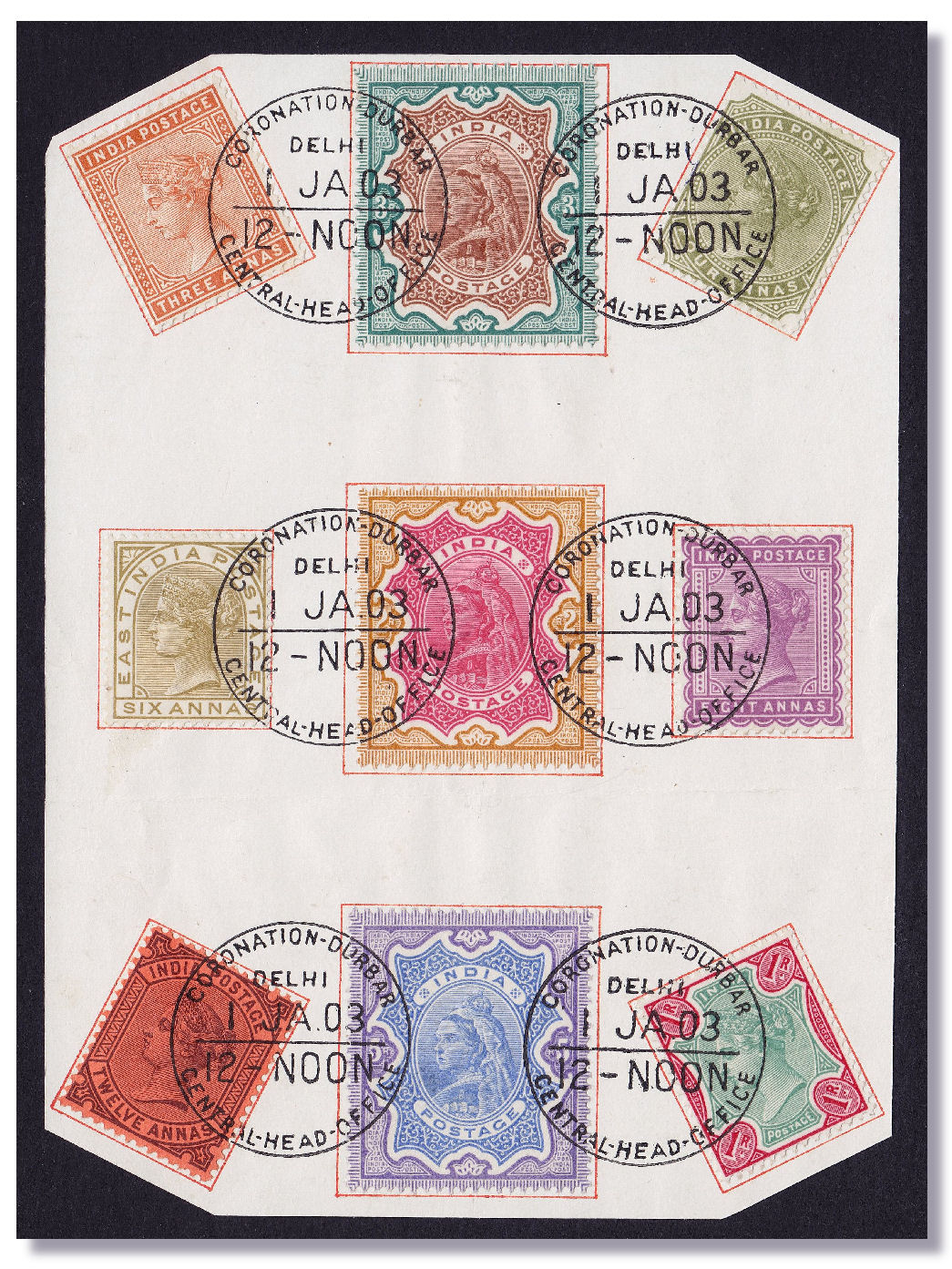 Total SG Cat is LESS than £100!
Some of the India States like Duttia sees 10% gains this year - often on 5 figure type items. SG #1 soars from £30K to £35K mint for example. I noted price increases across all Indian States. Jammu & Kashmir SG#1 climbs from £500/200 to £750/250 etc.

Rhodesia sees selected gains in earlies. I love the huge colour diagrams now in place in 2020 Edition, showing the differences between the various Dies of the popular 1913 "Admirals" series - long overdue and well done. The old images were hard to sort for the novice.

If you are lucky enough to own a Cape Of Good Hope Triangle 1853, SG 1a, it soars a whopping 25% in one year, to £7,500 mint. Again, buying scarcer stamps can reap enormous returns to those who secure them before catalogue values rise. Likewise the Mafeking Siege issues see hikes in used prices - lots of global interest in the Baden Powell stamps, from Boy Scout collectors
Collectors need to support SG.
Collectors are famously tight fisted with buying catalogues, but a strong and profitable SG catalogue division is ESSENTIAL for a robust and healthy world stamp market. Many totally forget that, so do your bit, and add to their sales volume. I have sold plenty of these new 2020 catalogues this month already, to assist this aim.

If all collectors (and clubs) who actively collect British Commonwealth all went out and bought this new catalogue today, that is a million quid injection into SG right there. A small cost to each collector/club for a very useful book, but a huge injection to SG finances, at a crucial time - their share price is TWO pence now, down from £4 in recent years.

Back to Basics at Stanley Gibbons.
Stanley Gibbons are not a Charity or Government Department, but a publicly listed business, and must make a profit. Falling sales of these works may well see the new bean counters in place at SG decide to not print catalogues at all. Simple as that. And in my experience, such moves are instant, AND final, so there is no good lamenting it all after the event.

SG have sacked their previous incompetent CEO Michael Hall, who near sent the company broke in recent years with his wacky ideas, and stupid and disastrous over-priced acquisitions, £10 million web follies, and "Portfolio" selling, and are now back to basics, where they were 15 years ago - selling top quality stamps and publications.
Superb effort from the Editors.
A great effort from editor Hugh Jefferies MBE, and his Catalogue team - how they get the vast swag of SG Catalogues out each year, sure beats me! A never ending process, and juggling, logging, and tracking all the New Issues, and new flaws and ever changing prices etc, must be an absolute nightmare.

DO secure one - a strong SG Catalogue division is essential for the ongoing health of this hobby, and with SG's recent fiscal problems, they truly need support. Many collectors have VERY narrow or non-existent "Big Picture" vision sadly - and I can only repeat - DO support these fine works - without them each year, the hobby would be in a terrible mess.

$100 or so a year, now and again, to support the Catalogue division, is a drop in the pond to what most cheerfully spend on their stamps a year. And a drop in the Ocean as to how the value of your stamps will DROP in an era of no new catalogues. As the famous song said -
"Don't it always seem to go,
That you don't know what you've got - till it's gone
They paved paradise,
And put up a parking lot"
(Joni Mitchell - "Big Yellow Taxi".)








Get my regular market update emails FREE! Stamp gossip, price trends, record sale prices, and many one-time stamp specials, wholesale bargains, and exciting offers and breaking philatelic news. A mini stamp magazine in every email! "KNOWLEDGE IS POWER". The ONE stamp list you MUST be on, to keep in touch with the rapidly changing world market. One client made $65,000 profit in a few months after following my specific advice. Sign up securely and quickly by clicking HERE to access my automated data base. And wiser still ADD your home AND work email, if I only have one right now. Add a stamp friend's email address if you wish. One short click and you are subscribed to probably the most read email list in the stamp world!




If you would like to be notified of updates to this website,
Click HERE.
If have any questions,
or comments regarding my site, please email me at glen@glenstephens.com
| | |
| --- | --- |
| | Search all my 300+ web pages! Simply type in what you are looking for. "Penny Black", "Latvia", "Imprints", "Morocco", "Fungi" "Year Books", etc! Using quotes ( " ) is more accurf used with no quotes. Search is NOT case sensitive. Tip - keep the search word singular - "Machin" yields far more matches than "Machins" etc. |


Full Time Stamp Dealer in Australia for over 35 years.
Life Member - American Stamp Dealers' Association. (New York)
Also Member of; Philatelic Traders' Society (London) IFSDA (Switzerland) etc


GLEN $TEPHEN$

Full Time Stamp Dealer in Australia for 35+ years.

Life Member - American Stamp Dealers' Association. (ASDA - New York) Also Member - Philatelic Traders' Society

(PTS London) and many other philatelic bodies.

ALL Postage + Insurance is extra. Visa/BankCard/MasterCard/Amex all OK, at NO fee, even for "Lay-Bys"! All lots offered are subject to my usual

Conditions of Sale

, copy upon request .

Sydney's

BIGGEST STAMP BUYER

: Post me ANYTHING via Registered Mail for my same-day cheque. Avoid copping the Now normal 45% Auction "Commissions" (15% Buyer + 20% Seller + GST, etc) AND their five-month delays!

Read HERE for details.

"Lothlórien", 4 The Tor Walk, CASTLECRAG (Sydney), N.S.W. 2068

Australia





Phone 7 Days:

(02) 9958-1333

PO Box 4007, Castlecrag. NSW. 2068




E-Mail:

glen@glenstephens.com

The Number #1 Web Sites:

and www.stampboards.com