Click To Go Back To The Main www.GlenStephens.com Stamps Homepage

Welcome! You are visitor
to www.GlenStephens.com




Glen Stephens
Monthly "Stamp News" Market Tipster Column


August 2014

---
British Guiana Stamps go CRAZY!

All readers know by now I feel sure, of the massive price the 1856 1¢ British Guiana Black on Magenta unique stamp obtained. It was auctioned by Sothebys New York, June 17, 2014.

The record price actually paid, after the outrageous 20% auction house "Buyer Fee" added, was $US9.48 million, which on day of the sale was $A10,154,536.

FAR less publicity has been given the small BALANCE of the duPont British Guiana that sold for near as much!

The price the 1¢ stamp realised was VERY impressive, as it last auctioned at less than $US1 million. And even that was greeted with global media razzamatazz – and disbelief!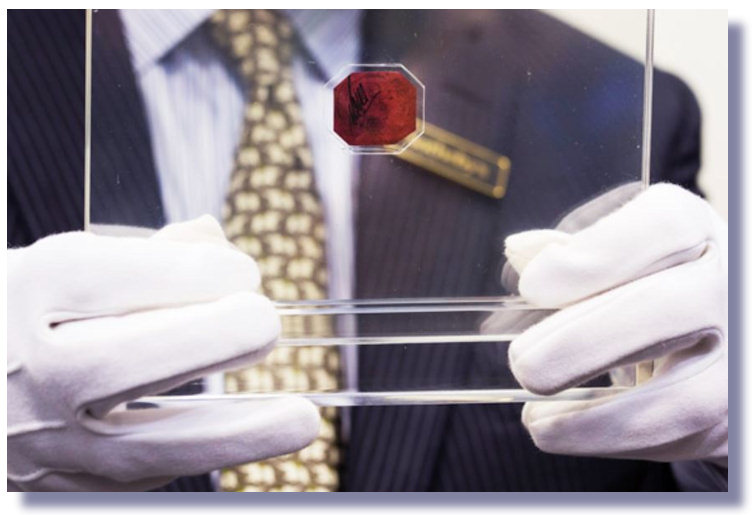 Invoiced for over $A10 MILLION.
That really speaks volumes for the health of the stamp hobby. This sale yielded superb and positive global publicity for stamps, and is most welcome. "The world's most valuable object by weight" etc.

This price is about TEN times what duPont purchased it for in 1980. Many at that time said the price was absurd, and the buyer would certainly lose money on it.

In fact, duPont paid 3 or 4 times what Weinberg paid only 10 years earlier. Weinburg paid 5 or 6 times what Australian Frederick Small paid. Which in turn was more than Arthur Hind paid etc!

Stampboards had a maths whizz compute that since duPont purchased the stamp in 1980, it had appreciated at 6.25%pa - pretty amazing in a USA economy, where annual interest rates have been negligible.
Global and very positive Media.
Mainstream and POSITIVE media for stamps is very scarce these days. I had many media calls, and this long interview was on National primetime ABC radio here - tinyurl.com/GlenBG

Stampboards.com was literally the FIRST outlet on earth to publish the price, and had several members in the room with a smartphone and video, and they added a posted commentary, and video - tinyurl.com/1856BG1c

Feldman offered the interesting balance of the duPont award winning British Guiana classics collection in Geneva Switzerland, on June 27.

The superb Koichi Sato "Grand Prix d'Honneur" collection of TASMANIA was also offered by Feldman earlier on the same day.

One pretty piece from that sale was the 1853 1d Courier strip 4 shown nearby on internal state cover, that was invoiced for 33,600 Euro - or near $A50,000.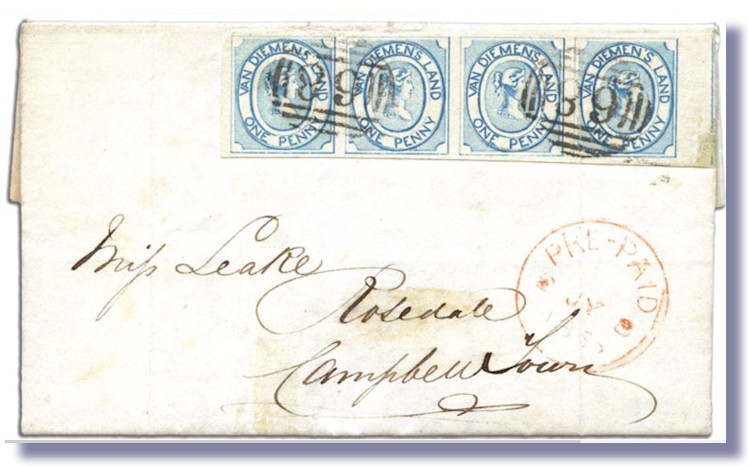 Sato 1d cover sells near $50,000
Whilst watching the Feldman Guiana auction live by computer, I had an email from the SG Catalogue Editor thanking me for some info and pix he had requested.

I suggested he drop everything and tune into the Feldman feed, as it meant he'd need to reprice the entire country 19th Century, and after he watched 15 minutes of it he replied - "That's extraordinary! Hugh".

The 130 early British Guiana lots were invoiced for €6,481,380 (plus Swiss GST if not exported.) That base figure on the day was $US8,844,360 - not very far short of what the unique 1¢ realised! EVERY lot sold, and to intense bidding - I listened to the sale live.

Ricky Verra is a describer at Feldman Switzerland, and a regular on stampboards.com and posted this first hand summary -

"It was absolutely crazy. David has never seen anything like it. Not even the Kanai Mauritius sale we had in 1993 can compare apparently. We had about 30 people in the room, and about the same on the internet who had logged in to bid."

"One client in the room basically bought every single lot. And was underbid by 2 different guys on the phone to these crazy prices. It was completely unexpected. He turned up 15 minutes before the sale was to begin. Pre-sale estimate was €1.1m. Final invoices were €6.481m!"

"The craziest thing was the client who bought near every lot didn't even know the 1¢ was sold by Sotheby's a week ago ... so we're still no closer to knowing who bought that" - Verra concluded.

I understand this buyer later attempted to buy the 4 lots he did not secure in the room by offering the buyer a profit over what he paid. Incredible story.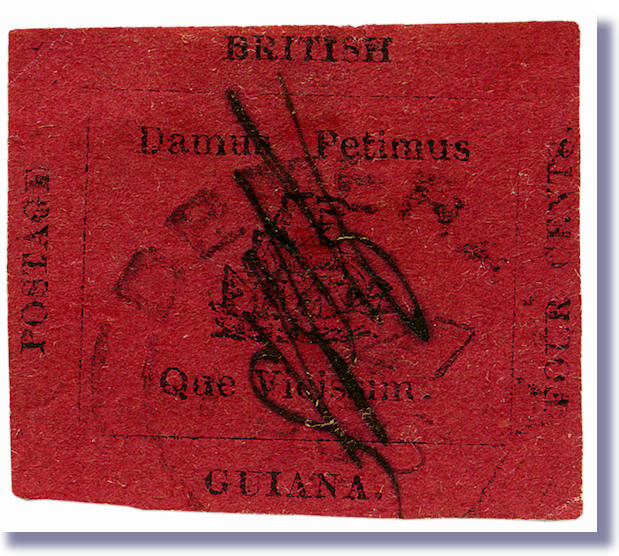 Sold for FIFTY times estimate!
Illustrated nearby is Lot 84, the 1856 4¢ standard issue SG 25, Cat £17,000. Very similar looking to the unique 1¢, but many examples of this 4¢ are recorded, indeed several were in this sale.

Estimated at a sensible 3,000 Euro, it was invoiced for 156,000 Euro. Over FIFTY times estimate. Astounding. The other 4¢ reds of duPont got similar massive prices.
Sloppy Cert, sloppy description.
It has a 2014 BPA Cert which states it has "thins". Feldman cat made no mention of thins. The BPA were also sloppy, as I can see obvious creases to both NW and SE corners, and they do not mention them.

Indeed I'll bet the paper is cut into at many points from the steel nibbed pen used to initial it - also not mentioned anywhere, by anyone. Pretty poor really, for a stamp worth what a new Ferrari costs.

None of this very poor condition detail was in the Feldman sale cat, or on the web, and yet it STILL got 7½ times full SG catalogue price - unheard of for very badly damaged old imperfs!

"In 40 years as auctioneer, I have never had the experience where every single lot was underbid to an astonishing multiple of the original estimate, leaving no lot unsold!", said David Feldman at the end of this historic auction.
SG 2014 GB "Concise" Catalogue.
The new Gibbons 2014 GB 'Concise' catalogue has just been released.

If you collect or stock pre-war GB you MUST get a copy, or you will be way behind the market on prices.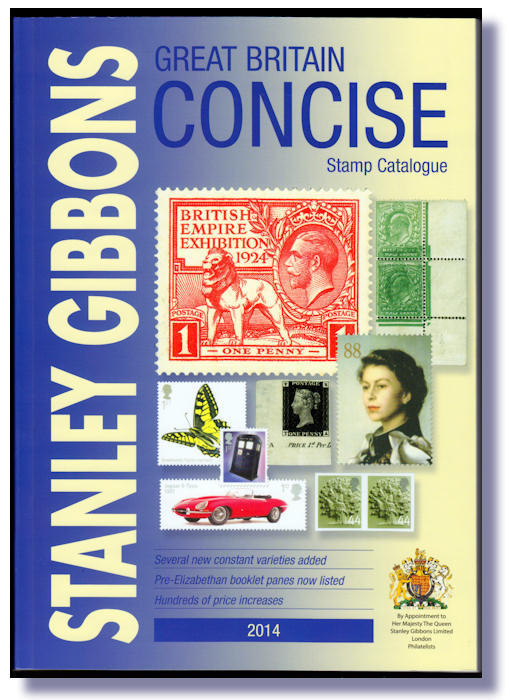 "Concise" near 450 pages thick.
Hugh Jefferies and co-editors of this huge full colour opus should be very proud, as it is now nearly 450 pages thick.

Australia RRP is very similar to the UK retail of £35, so the local price is most attractive, as they are heavy to ship here.

On a quick look through, the 1840 Mulready lettersheet and envelopes are all up in price, in used condition.

Likewise the 1840 1d Black and 2d Blues are both up Mint and used, and there has been fine tuning where needed on GB prices all through.

This catalogue of course lists and prices all FDCs and PO packs and PHQ cards and that is a huge plus.

I was looking up some late 1990s FDC's which were up 15% etc over last edition - not bad as I was working with a book of them!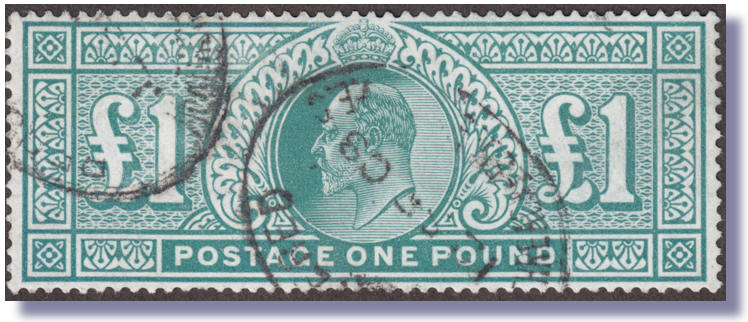 High values often up too.
| | | |
| --- | --- | --- |
| | Also just listing up a clean 1902 £1 green KEVII top value Fine Used. Last year it was £800 and now it is £825. My retail remains at $A500, but buyers are happy to pay 30% cat for key values. | |
Canada Post and Drugs.
I spent July travelling Canada. From about the furthest west city you can visit, in Whitehorse Yukon Territory, to THE furthest East point in North America - Cape Spear in Newfoundland.

And many places in between. I love Canada, and have been there very many times over the past 40 years, and have visited all Provinces in the past.

This column was written on a side trip to the curious little French country of Saint-Pierre et Miquelon, surrounded by Canada.

Whilst travelling around, I needed to mail various things to clients, and found it rather less common to see Post Offices around the countryside and the suburbs.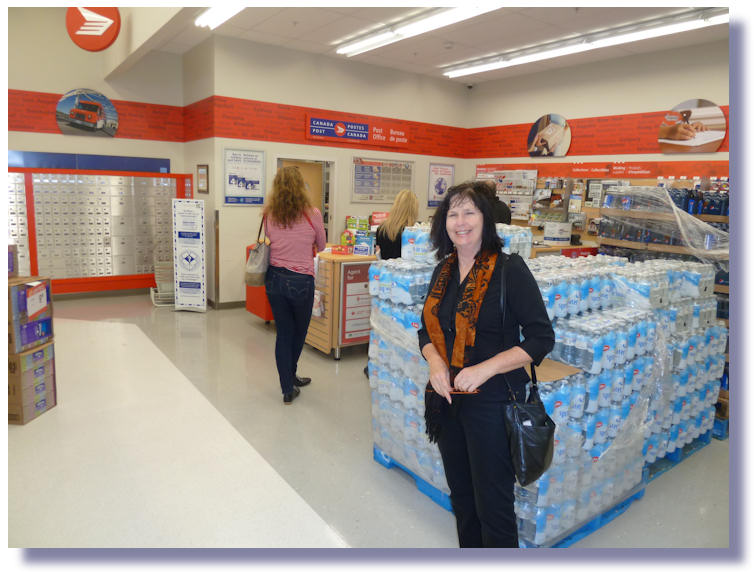 Condoms with your Cancels!
| | | |
| --- | --- | --- |
| | I asked a group of a dozen stampboards.com members there, that we had dinner with in Toronto, where all the PO's were located these days. | |
Post Offices in Drug Stores!
The answer surprised me - more and more Post Offices are now WITHIN large Drug stores across Canada, and the more 'traditional' Post Offices in those areas are generally closed down.

The massive national "Shoppers Drug Mart" are the main national chain with about 1,250 stores. The larger ones are pretty huge, stocking the products of a normal supermarket, other than just pharmacy type goods that we see in Australia.

A high percentage of those stores contain within them now, a fully-fledged Canada Post outlet. The one in photo nearby I took interior photo of was on the outskirts of St. John's, Newfoundland.

A large store, the Post Office section as can be seen, was surrounded by pallets of mineral water on special, and 10 packs Kleenex toilet tissue at $9.99 at far left were stacked up next to the wall of PO boxes.

The PO counter was surrounded by condoms, suntan lotion, burn cream, Listerine, baby food and elbow and knee braces etc. Seemed pretty bizarre.

The Post Office section was in the far corner of the store, so I suppose it makes sense for SHOPPERS DRUG, as PO clients need to walk through the store past racks of cosmetics, biscuits, drinks, confectionery and other goodies, to mail or collect their letter or parcel etc.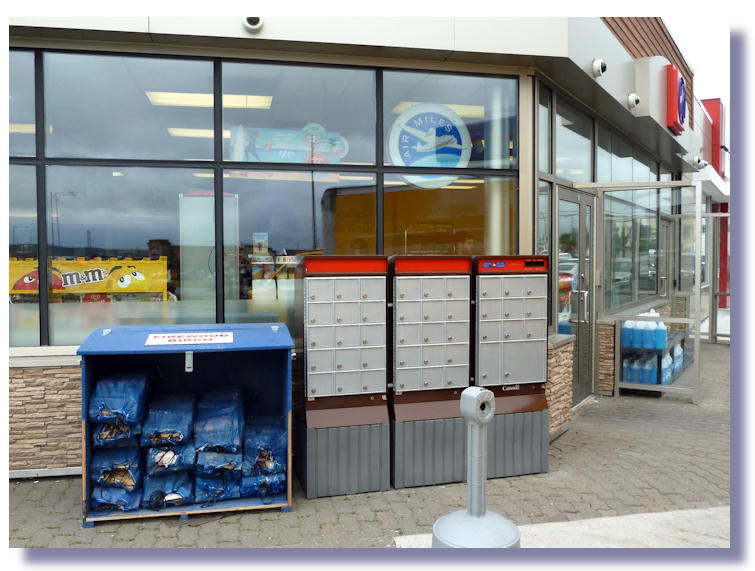 Collect mail and buy gasoline
Canada Post has also been in recent years aggressively pushing to spread "Community Mail Boxes" to many more households in city areas. Let's hope Australia Post never follows suit.

I saw the bunch pictured nearby outside an inner city gas station - what a strange place to go and collect your mail!

Why do it? As it saves them huge money. One central drop point, and not dozens or hundreds in a small area.

To your door in the city costs them $C283 p.a. .. to an ugly bunch of metal boxes somewhere near your door is only $C127 an address - annually.

5,094,694 people get door to door delivery in Canada, and 3,804,574 get mail through group mail boxes.

CBC News in Canada reported the following breakdown, in mid-December 2013. Door to door mail delivery service - now offered to about 33% of Canadians, costs them $C283 per address to fulfil.

A centralised delivery point, such as an apartment block lobby lock box is used by about 25% of Canadians - cost of these is $C127 per address to the PO.
Saves PO a fortune.
| | | |
| --- | --- | --- |
| | The one Canada Post likes best is the Group/Community mailbox (CMB) now inflicted on about 25% of Canadians and growing fast. Costing the PO just $C108 per address - and is set to grow fast. | |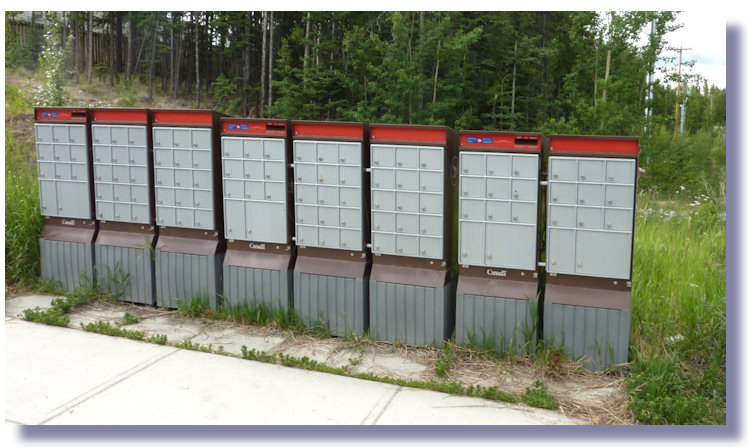 A Canadian urban eyesore!
The "Collect In Person" Delivery facility such as a Post Office Box is now about 12% of Canadians - and costs the PO $C59 per address.

"Rural Mailbox" covers just 5% of Canadians, and costs the Post Office about $C179 per address.

The Community boxes come in various modules - each typically of 15 small boxes per module as can be seen nearby in photo I took this week in Whitehorse Yukon. Unloved and surrounded by weeds.

From a small group of 100 or so boxes like the ones from Whitehorse, to far larger groups of many 100s like the other one illustrated nearby, in suburban Toronto.

The larger modules can generate vast amounts of litter, as all the junk mail and unwanted material is lazily tossed away on the ground, as can be seen on the photo nearby.

A strong wind and this rubbish would spread everywhere. Canada Post provides no rubbish receptacles around the boxes. The boxes are a favourite target for graffiti artists too.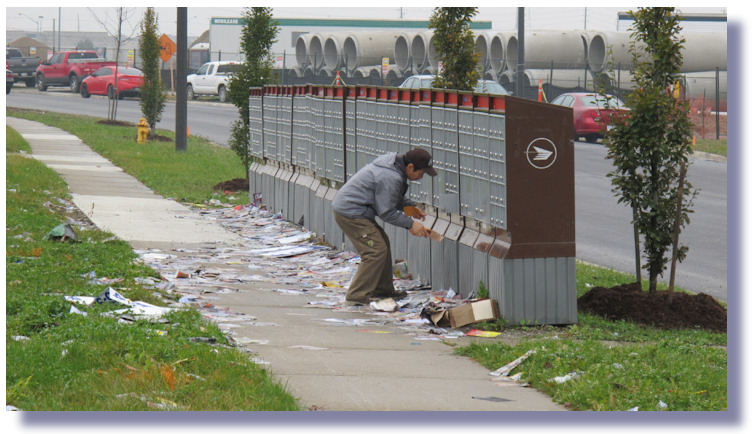 Thank You, Canada Post.



| | | |
| --- | --- | --- |
| | Thieves target them to steal credit cards, passwords, bank account details, and other data they can fake your ID from. | |
A goldmine for thieves.
The fronts of the boxes open in one master-key movement for the Contractor to add mail quickly, and thieves just crowbar that door open at night etc.

The stampboards thread has news stories and Police photos of large quantities of stolen mail that thieves were caught with.

tinyurl.com/CanadaCMB is a heated 150 post discussion on stampboards of the CMB spread, and recent large postal rate increase there.

"This change will provide significant savings to Canada Post and will have no impact on the two thirds of Canadian households that already receive their mail and parcels through community mailboxes, grouped or lobby mailboxes or rural mailboxes" Canada Post claimed.

I think these blocks of boxes look ugly and weird, but they certainly were widespread, and are becoming even moreso as time goes on.

No idea why the population of large Canadian cities have meekly accepted them, but they appear to have done so. Saw dozens driving about in Newfoundland today, and they looked terrible.

Stamp Serendipity.
| | | |
| --- | --- | --- |
| | Travelling around the world a lot as I do, there is often an unexpected stamp connection along the way. | |

Near all population of the country!
This month I flew to the tiny French "colony" of Saint-Pierre et Miquelon, surrounded by Canada.

Not often do you travel to a country with NO traffic lights - even tiny Nauru has some of those! The photo above shows nearly the entire population of this little place

The tiny little Air Saint-Pierre plane landed back in Newfoundland, whilst gale force winds from Hurricane Arthur were beating down, and I really thought the plane would flip on landing.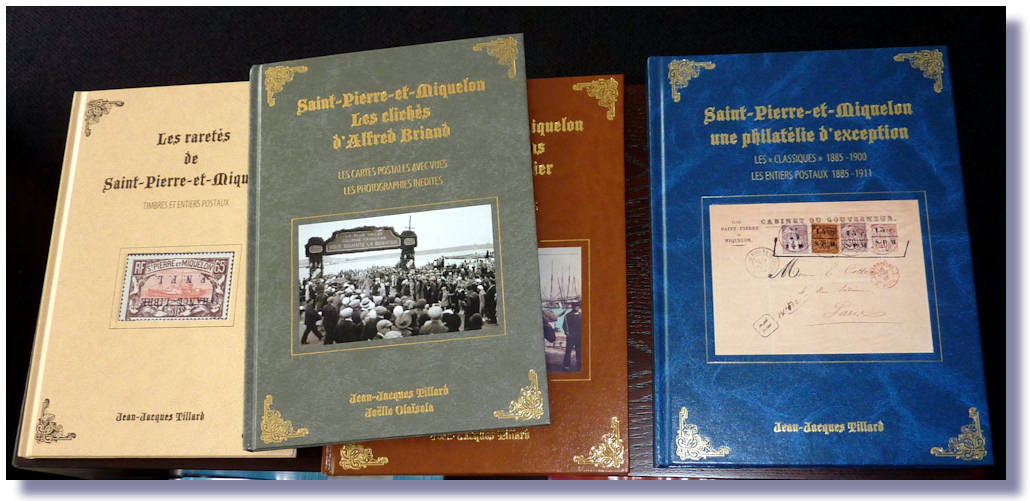 Odd thing for hotel lobby!
When checking into my tiny little 12 room hotel in Saint-Pierre (about the largest on the island!) I saw several large and impressive hard-bound books on stamps in the lobby, for guests to peruse.

I asked the owner who fortunately spoke some English (unlike most on the island) what was the story on those thick and impressive philatelic books.

He seemed to respond the author was a local born resident, and the stamps inside were from his collection of the stamps of Saint-Pierre et Miquelon, and would I like to meet him?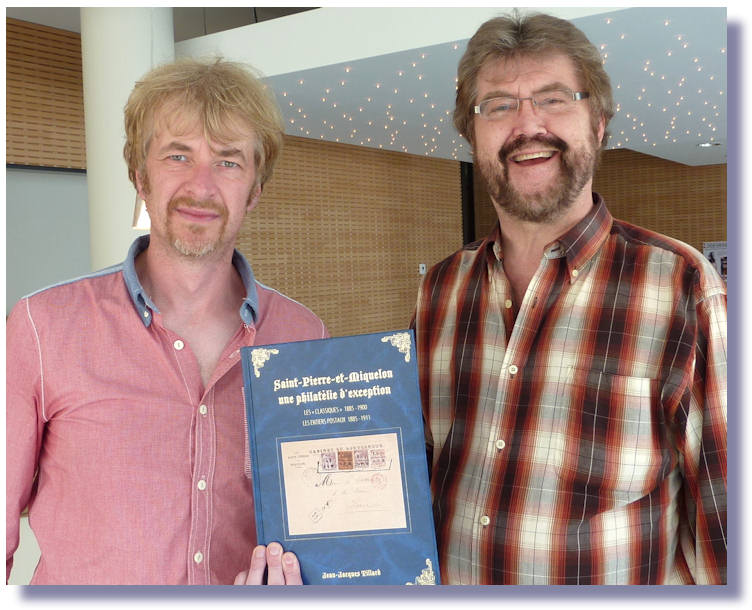 J. J. Tillard: world SPM expert
| | | |
| --- | --- | --- |
| | Naturally I was very keen to do that, and we met up the next day. What a small world we live in! | |
Stamp world is very small!
The author was Jean-Jacques Tillard, and reading the credits it was clear his Saint-Pierre collections had won him an amazing bevy of a dozen or so Gold Medals or better recently - including one at the huge Melbourne 2013 EXPO.

His English was very good, and we had an interesting chat over coffee. The lavish books he does in numbered editions of about 500 copies each, and it seems most sell.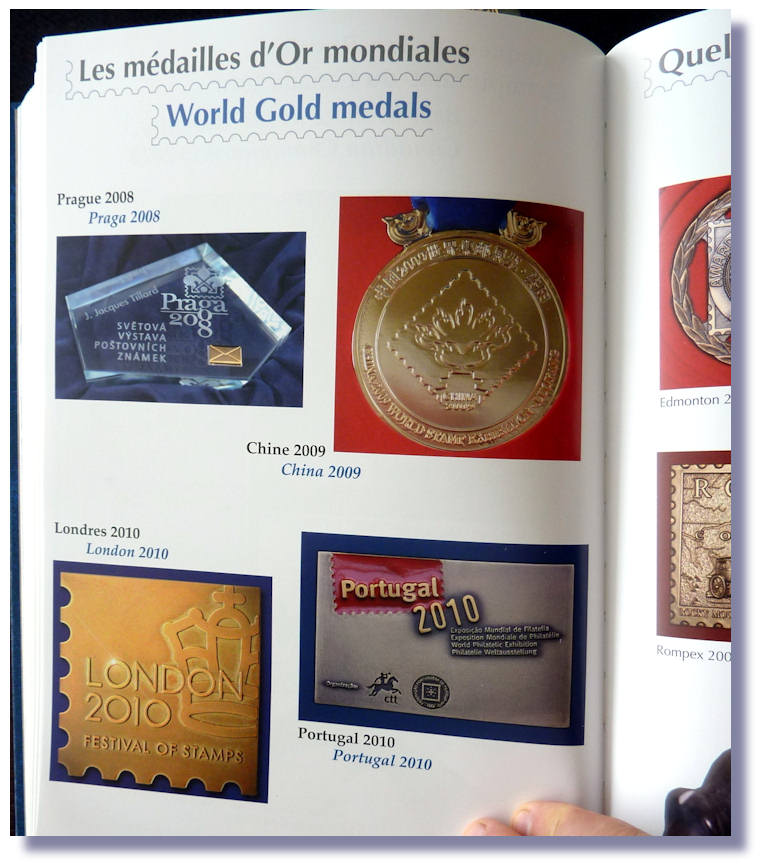 Dozen or so Gold Medals
Tillard owns near every known rarity from this country. From the fabulous nineteenth century overprints of which some are unique, to the complex wartime 1941 and 1942 France Libre issue overprint errors etc.

In WW2, Charles deGaulle dispatched vessels to seize the archipelago on behalf of the Free French from the Vichy Government, on Xmas Day 1941.

This secretly planned assault breached the Monroe Doctrine, and apparently infuriated the Americans, creating lasting mistrust between Roosevelt and deGaulle.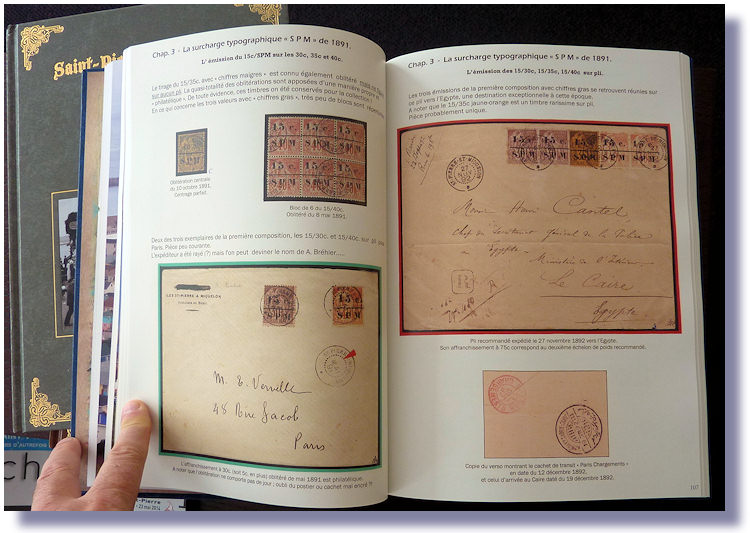 Owns all major SPM rarities.
Tillard is the world's foremost expert on this country, and he issues Expert Certificates on all aspects of that country's stamp issues.

Until I leafed through these volumes, I had NO idea the issues of Saint-Pierre et Miquelon were so long-lived, so complex, and so attractive.

Tillard is very enthusiastic about his passion, and has even persuaded the FIAF to stage an exhibition there September 24-28. Most of the official Judges will stay in our 12 room hotel.

Judging will be by an internationally-accredited panel using the standards of the International Federation of Philately (FIP), and eight levels of medal will be awarded.
New SA & NT Cancel Books
The South Australian Study Group has after 30 years of work and collaboration, issued this huge 3 volume opus work on cancels.

"The hand-held Postmarks of South Australia and the Northern Territory" is the full title and the set of books really fills a carton, I can tell you as I've mailed out quite a few!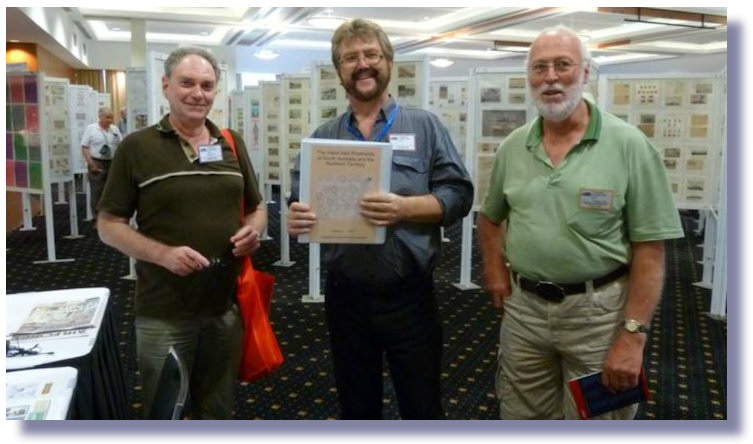 New SA/NT cancel books
The Committee kindly gave me an advanced "nearly final" review set at the Canberra National stamp show earlier this year, and two of the authors Neville Solly and Tony Presgrave are shown nearby with their new "baby"!

The other main local contributor, Martin Walker was also in a group shot, but I sadly lost that image on my computer here in Canada!

It lists all Post Offices in South Australia and the Northern Territory and their numeral cancels and date-stamps (including each type illustrated and rated for rarity) along with opening and closing dates, and ancillary illustrations.

The set was on display at the stampboards.com stand, and dozens of folks who were specialised in all kinds of others areas perused it with great interest, so their timing was superb.

Near 1000 large pages.
| | | |
| --- | --- | --- |
| | This is a huge set - near 1000 pages, and the retail price of $A199 for such a set is well justified, as locating just one scarcer cancel, or earliest or latest date will repay many times over. | |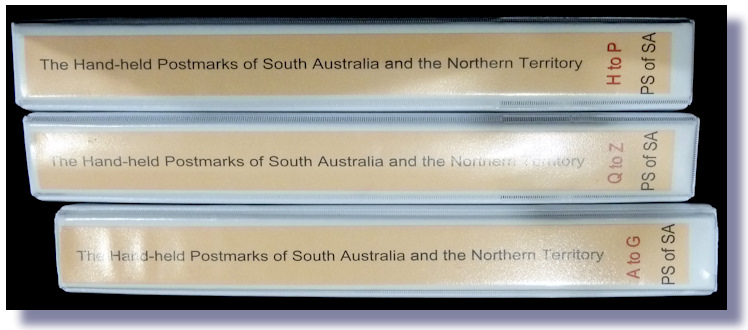 Thirty years in the making.
The detail inside is quite enormous, and is well outside the scope of a monthly magazine review, but suffice to say if you collect or are interested in this area you must secure a set.

The nice strike nearby of the Squared Circle "EVELEEN SA" cancel sold at Australian Prestige auction in September 2011 for $A4,140 when all fees were added.

The estimate was just $A750, and the stamp is worth about 20¢ without the postmark. Would you have known it was a $A4,000+ piece?

Other SA "Squared Circle" postmarks can get massive prices too, and if you own this book set, you may well stumble across some.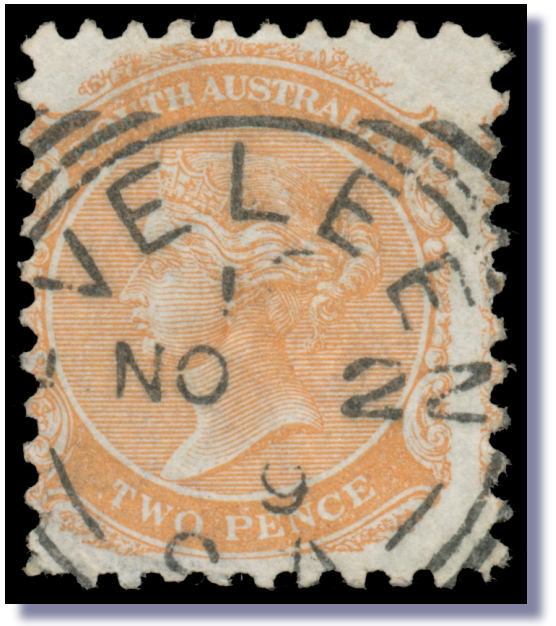 $A4,140 for a cancel!
tinyurl.com/SC-SthA is the near 1,600 post discussion on South Australia "Squared Circle" postmarks, started on stampboards.com by "Stamp News" columnist Tony Presgrave.

If you have an interest in this area, it contains a ton of data recorded nowhere else, and maybe you can add some new info to the database, and update any new strikes recorded?
Canada Cancel Treasure Trove!
Whilst in Canada we attended a large dinner at his home kindly organised by David Hopper, a long-time client, and active member of stampboards.com

David owns the unique $4,140 "Eveleen" cancel shown above, and has a huge stamp den packed to the ceiling with other SA/NT and other state cancels, and many scarce Australian "usage" covers as well.

Along with fellow Torontonian, Greg Ioannou, they between them have probably the finest collection of these cancels in the world - all 10,000 miles from Adelaide! They are in the photo nearby.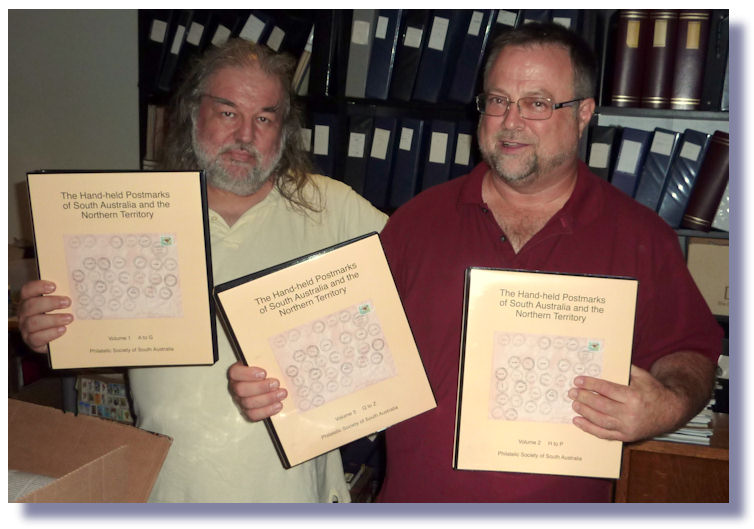 Best collections of these in Canada!
All new books of this nature will see a ton of info and updates and corrections. And advice of new finds and dates and codes and types etc.

Stampboards has special thread set aside for such amendments to the data base, and please record them there, so the SASG can amend the discs - tinyurl.com/SASGbook

Been a busy period for new states literature. Bernie Manning has just totally re-done his huge 2 volume QUEENSLAND cancel books, and I'll review them soon.

I have a carton of those ready to mail to clients, and they are very easy to follow books and rarity rate 1000s of Queensland cancels, numeral and town date-stamps.

I was mailed an interesting one on Western Australian postmarks too I'll take a look at in due course. Along with Hugh Freeman's opus "NSW", the postmarks fiends are very served well in the past year!








Get my regular market update emails FREE. Stamp gossip, price trends, record sale prices, and many one-time stamp specials, wholesale bargains, and exciting offers and breaking philatelic news. A mini stamp magazine in every email! "KNOWLEDGE IS POWER". The ONE stamp list you MUST be on, to keep in touch with the rapidly changing world market. One client made $65,000 profit in a few months after following my specific advice. Sign up securely and quickly by clicking HERE to access my automated data base. And wiser still ADD your home AND work email, if I only have one right now. Add a stamp friend's email address if you wish. One short click and you are subscribed to probably the most read email list in the stamp world!




If you would like to be notified of updates to this website,
Click HERE.
If have any questions,
or comments regarding my site, please email me at glen@glenstephens.com
| | |
| --- | --- |
| | Search all my 300+ web pages! Simply type in what you are looking for. "Penny Black", "Latvia", "Imprints", "Morocco", "Fungi" "Year Books", etc! Using quotes ( " ) is more accurf used with no quotes. Search is NOT case sensitive. Tip - keep the search word singular - "Machin" yields far more matches than "Machins" etc. |


I am a Dealer Member in Good Standing Of:

Full Time Stamp Dealer in Australia for over 30+ years.
Life Member - American Stamp Dealers' Association. (New York)
Also Member of: Philatelic Traders' Society. (London)
GLEN $TEPHEN$

Full Time Stamp Dealer in Australia for 35 years.

Life Member - American Stamp Dealers' Association. (ASDA - New York) Also Member - Philatelic Traders' Society

(PTS London) and many other philatelic bodies.

ALL Postage + Insurance is extra. Visa/BankCard/MasterCard/Amex all OK, at NO fee, even for "Lay-Bys"! All lots offered are subject to my usual

Conditions of Sale, copy upon request .

Sydney's

BIGGEST STAMP BUYER: Post me ANYTHING via Registered Mail for my same-day cheque. Avoid copping the Now normal 45% Auction "Commissions" (15% Buyer + 20% Seller + GST, etc) AND their five-month delays!

Read HERE for details.

"Lothlórien", 4 The Tor Walk, CASTLECRAG (Sydney), N.S.W. 2068

Australia

Phone 7 Days: (02) 9958-1333

PO Box 4007, Castlecrag. NSW. 2068


E-Mail: glen@glenstephens.com The Number #1 Web Sites: www.stampboards.com

This line is 12 point
This line is 13 point
This line is 14 point