Click To Go Back To The Main www.GlenStephens.com Stamps Homepage

Welcome! - You are visitor number
To - www.Glenstephens.com


May 2019


---
Buy high face value FDC in REGISTERED.
I have aways been surprised why so many earlier FDCs were not sent Registered mail. The Registered fee was only 3d for decades here, so in most cases, frankings of even 6d covered the 2d or 3d postage cost, plus the 3d Registered Fee. So even just 6d covered both services, yet was often not used - oddly.

When we get into the high values it really becomes a mystery why the sender did not ask the PO clerk to add a Registered label. The fee for that, plus post, was often overpaid DOZENS of times by the franking on the cover, so it seems a no-brainer to me anyway, to have asked for it.

It is much like buying a First Class ticket on Qantas to London for $9,000, and then choosing to sit back in row 48 for some reason next to the $900 seat passengers! No-one EVER does that, so why spend sometimes a week's wages on a FDC, and then be happy it went totally untracked mail? Back then, Registered mail was treated as IMPORTANT. Covers were backstamped along the journey.

This was most important. Back then in the 1940s, FDC here were NOT cancelled and handed back as POs cheerfully do today. They HAD to go via the mailstream. PO staffers needed to sign for all Registered mail that passed through their hands. So "losing" a pretty envelope, with a new stamp set or high value, especially sent overseas, simply did not occur. I have aways been surprised why so many earlier FDCs were not sent Registered mail. The Registered fee was only 3d for decades here, so in most cases, frankings of even 6d covered the 2d or 3d postage cost, plus the 3d Registered Fee. So even just 6d covered both services, yet was often not used - oddly.

When we get into the high values it really becomes a mystery why the sender did not ask the PO clerk to add a Registered label. The fee for that, plus post, was often overpaid DOZENS of times by the franking on the cover, so it seems a no-brainer to me anyway, to have asked for it.

It is much like buying a First Class ticket on Qantas to London for $9,000, and then choosing to sit back in row 48 for some reason next to the $900 seat passengers! No-one EVER does that, so why spend sometimes a week's wages on a FDC, and then be happy it went totally untracked mail? Back then, Registered mail was treated as IMPORTANT. Covers were backstamped along the journey.

This was most important. Back then in the 1940s, FDC here were NOT cancelled and handed back as POs cheerfully do today. They HAD to go via the mailstream. PO staffers needed to sign for all Registered mail that passed through their hands. So "losing" a pretty envelope, with a new stamp set or high value, especially sent overseas, simply did not occur.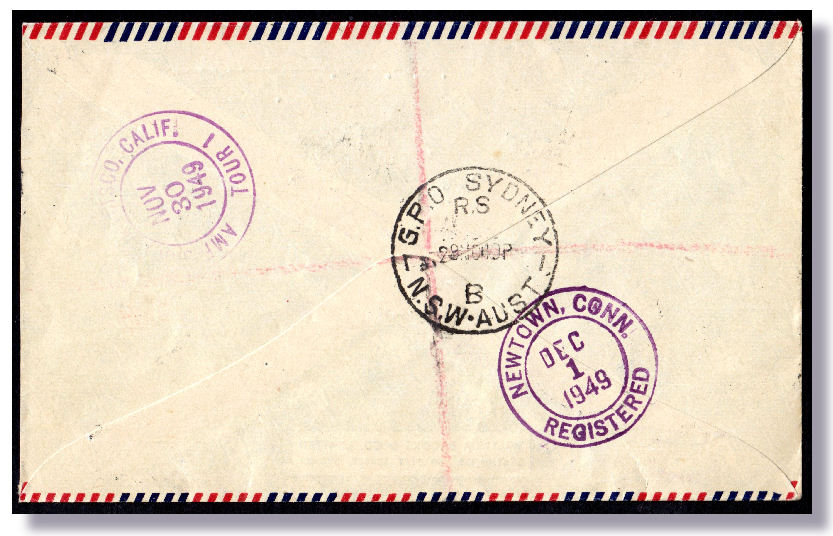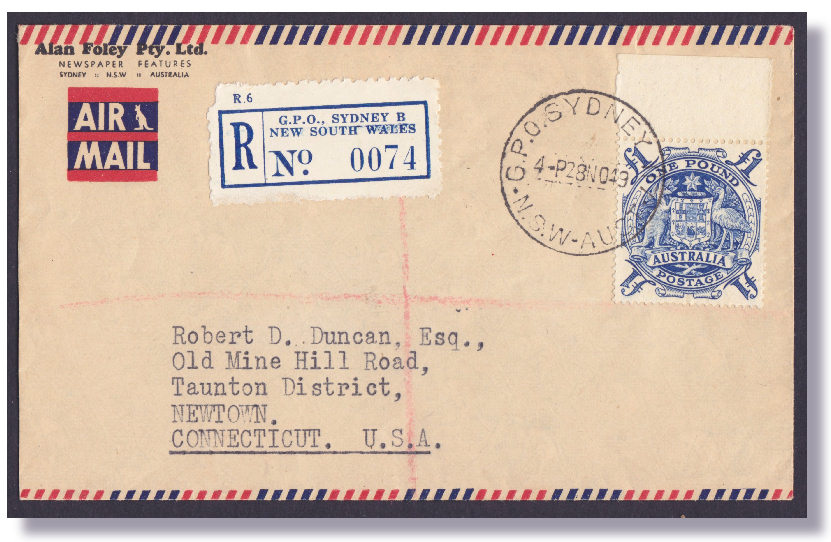 Half a week's gross wages.

I sold the FDC shown nearby and it is a fine example of my point - Australia 1949 £1 "Arms" stamp, on a superb Registered FDC to USA, and was amazed how clean it was after 70 years. Having literally travelled 10,000 miles via many plane flights, and as can be clearly seen, has all the relevant transit backstamps.

The AVERAGE annual UK wage in UK 1950, was just £100, I kid you not – tinyurl.com/UKwage - around TWO quid a week gross before tax. That was the average national wage, not the minimum wage. Our wages here were rather similar, so this FDC cost half a week's gross wages basically - or $500 on today's relativity, so little wonder not many are about!
No backstamps - be suspicious.
I am always pleased to see such high face values sent Registered, as they have all the relevant "Proving" backstamps. As you can see, this has these backstamps - "Sydney GPO RS" of Nov 29, 1949, then a San Francisco transit of November 30, and Newtown CT arrival of Dec 1 - way faster than it would go today to East Coast USA! And remember they were using fairly tiny and slow planes back then.

WARNING - Wesley or WCS "FDC" of these "ARMS" high values exist, that were created a decade or more after issue date, at the Largs North PO, using John Gower's backdated PO cds. Often using the modern nylon date wheels not produced in 1949 etc! That is WHY one should strive to buy REGISTERED of the high values where possible - they can't be faked later on.

I sell a lot of older and scarcer FDC, and concede that sourcing them in Registered form is a tough ask at times. But they DO exist in most cases, even if elusive. It is like buying a "MUH" pre-war stamp - it will cost you 3 or 4 times what a hinged one does. Some do not care, but MANY do, and they will patiently await for their "MUH" to appear.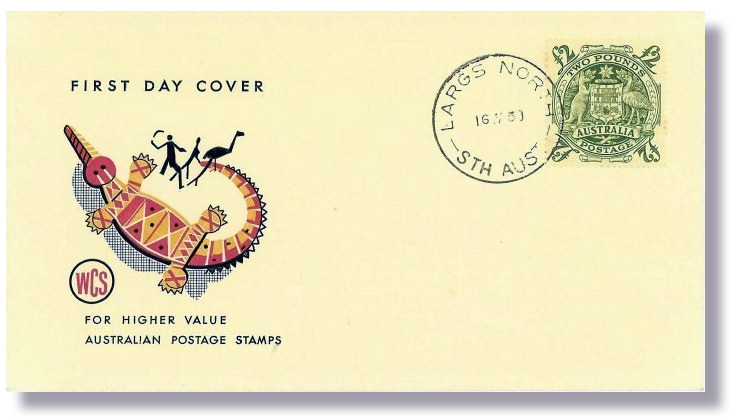 FAKE FAKE FAKE - Reserve $1,500.
This 1950 £2 Arms "FDC" shown nearby was offered at auction with a RESERVE of $1,500. Why is it a fake? Well there are two compelling reasons. (a) That "Generic" WCS Aboriginal envelope design cachet was not printed until 1961, for use on the 5/- Aboriginal stockman FDC. (b) This canceller with "Sth. Aust" and not "South Aust" was not manufactured until about 15 years after this £2 stamp was issued!

How was it done you may ask? Some local collectors "helped" the wheelchair bound John Gower, who owned Wesley Covers AND was also Largs North Postmaster, and clearly had access at the time to the genuine Post Office handstamps - and the blank covers. Thus a "backdate" like this was always possible.

Wesley Covers published a little retail price list book of all Australia FDC's, and I have one in my library - going right back to the 1913 Kangaroo High Values - which of course do NOT exist on FDC. It is rumoured that if Gower got a cheque for any of the scarcer older FDC, the creative juices flowed! Fortunately, little chicanery is evident from the pre-Wesley era, i.e. pre 1950s.
The Tale of Two Sydney Thompsons.
Not all "FDC" of this 1940s and 1950s era were really serviced on the day, it seems very clear. A vast array of "impossible" FDC exist - most in pristine shape, addressed to "J. C. Thompson, Rushcutters Bay Sydney". This Thompson is not to be confused with the also well-known and very serious Sydney collector of that same era, (Lieut-Colonel) "F. V. Thompson".

Clearly the Thompson "FDC" never went near the mailstream - that was a firm requirement back in this immediate post-war era. J.C.Thompson and Hayward Parish between then seem to have assembled them, (using the same typewriter?) and certainly the same unusual "GPO SYDNEY 130" cds steel cds. Near all "impossible" FDC of Australia in that era are addressed to them.

Coil pairs, booklet panes on FDC (even the unissued 3d red KGVI pane!) Perf changes, colour charges, watermark changes, new paper printings like the 10/- and £1 Robes on thin paper etc, etc. Things no-one else in the country managed to get. So to me, clearly this was an "inside job" of some type, and I will bet these covers were NOT done on the days of the postmarks.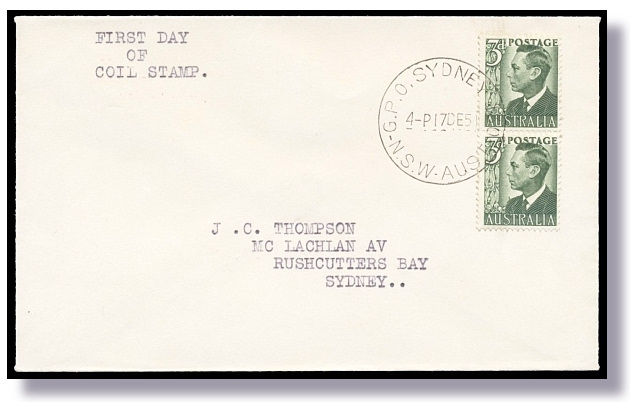 6d covered Registered - so why not??
The FDC shown nearby of the 3d green KGVI coil pair sold for $2,700 at Prestige Auctions in 2009. Addressed to Thompson it clearly never went near the mailstream, and has the distinctive "GPO SYDNEY 130" back room cds cancel, that sat on the desk of him, or a buddy, or relative etc.

This 6d franking paid for postage and registered anywhere in Australia. If you were creating this FDC a week or a month later, you cannot manufacture the transit and arrival backstamps, hence none of the Parish or Thompson confections have either, or were sent Registered. Case closed.

Are they genuine FIRST Day Covers - of course not. Are they valuable - well the market clearly tells us they are, as no-one else with insider contacts in the PO bothered creating them, even after the fact, so they remain the only ones buyable, in very many cases. The £1 Thin paper Robes "Thompson" FDC sold for over $10,000 at Auction.

I sold the 3½d red QE2 booklet pane FDC shown nearby for $1,750 last year, ex Arthur Gray. Cat $4,000, another elusive "FDC". Addressed to Hayward Parish by apparently the same typewriter used for the Thompson covers, and of course tied by the ubiquitous "GPO SYDNEY 130" steel cds.
Who worked where - and when?
Rod Perry advised on stampboards.com the juicy Hayward Parish FDC's never appeared on the market until the 1990s, via one of his auctions. Those with suspiciouos minds might feel they could have been made closer to 1990s, than to the 1940s, if the "SYDNEY 130" cds ever went 'walkabouts'! We will never know, although they were likely done within weeks of real isue date I'd guess. No Registered backstamps = huge doubts.

Gary Watson in his sale catalogues in the past selling these pristine FDC typed "Like JC Thompson, HC Parish worked at the Sydney GPO, and it is noteworthy that this cover is cancelled with the same No. 130 cds, usually applied to the Thompson covers." Where Watson got that info from, I have no idea. But his research is generally very good - it might have simply been assumed by the trade and collectors.

Rod Perry in an article in "Stamp News" of November 2017 stated: "Parish was employed in the Distributor of Stamps office at Sydney GPO at the time of the 1940s change of perforation, and later appearance of unwatermarked paper for Zoological, and some contemporary definitive issues. As the new printings arrived in stock, Parish prepared FDCs for himself, and a small band of family/friends."

Rod claimed on stampboards in October 2018 that he had recently been advised by a source un-named, that he was mistaken above, and that neither Parish or Thompson had ever worked for the Post Office. Rod also went on to say his advice was that J.C. Thompson's sister was married to the Distributor of Stamps contact at Sydney G.P.O., via whom these "scarce" FDCs of that era magically materialised.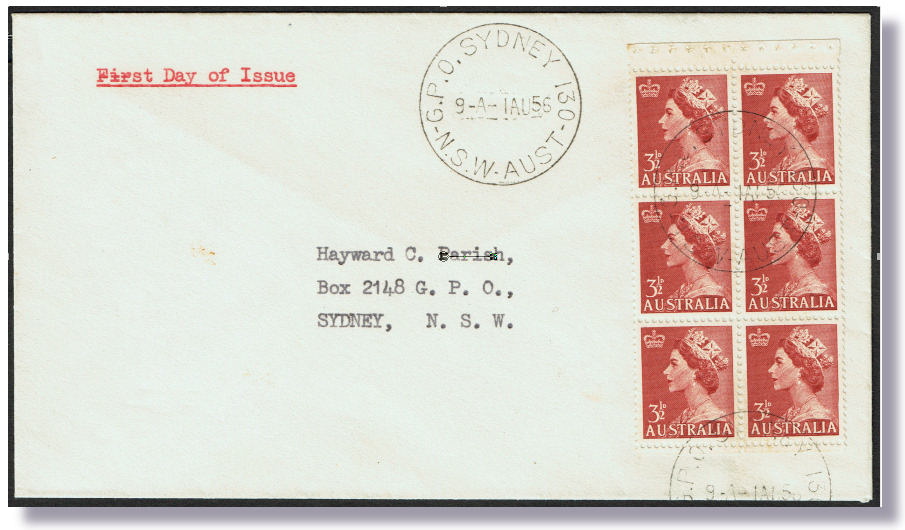 The Infamous "SYDNEY 130" steel cds cancel.
Anyway, my firm view remains these Parish/Thompson things were basically fabricated after the relevant issue dates, by an PO insider. Who it was is really of no relevance, and 75 years on, we will NEVER know for certain, and all our theories are just that. The covers exist, and only a few of each are recorded.

The clear fact that NONE of these rare FDC are known, serviced from anywhere else in Australia - especially from Melbourne, points to some long running "funny business" in Sydney. They are in catalogues, and collectors like them, and sell for strong prices - some into 5 figures, and that will continue I am sure.

Stampboards has a long running 1000+ post thread discussing all the early Australia FDC cachet makers - many of whom are very scarce. A bevy of real experts discuss these questions, and ID obscure cover cachets, and have solved dozens of puzzles for keen FDC collectors - take a look here and see if you can add any info - tinyurl.com/SBFDC - real teamwork here!
How to attract young collectors?
I know for a fact that many of today's top line collectors started off with an "ETA Peanut Butter" type stamp album, when they were young chaps. As probably did MOST older readers of this magazine. And slightly less older ones like myself were "hooked" via the Ampol Petrol promotion in the early 1960s in Australia.

And American and British etc readers doubtless had similar local companies, who produced free or cheap albums for kiddies, and sold them via enticing ads in the comic books and magazines etc, aimed squarely at young collectors, back in the day. All kids collected stamps back then, and these clever marketing promos were part of the reason.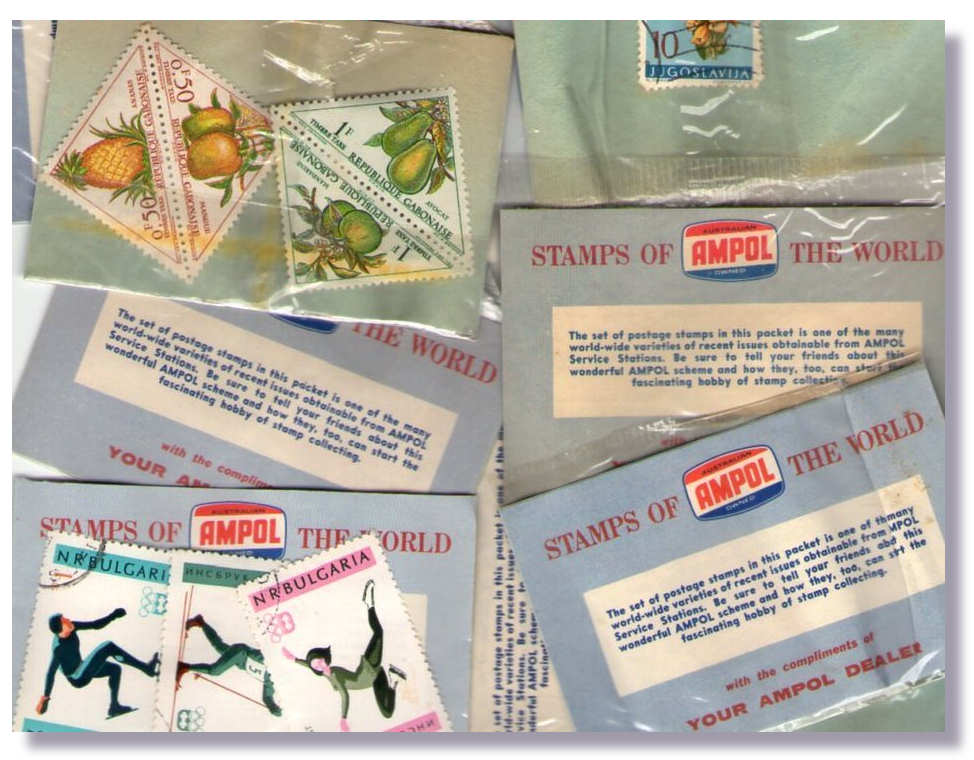 Remember these - AMPOL stamp packets!
Mirroring the growth path of many large US based companies in the 1950s and 1960s, most comic and adventure magazines sold in Australia contained premium offers and enticements for approval stamp packets. Hundreds of thousands of Australian youngsters signed up for these offers. I certainly did! And many other readers too I am sure.

Many very senior medal winning collectors in Australia today will sheepishly admit they got their start in stamp collecting from this comic book approval campaign. The late Arthur Gray, who formed the finest collection of this country ever assembled, freely admitted as a youngster the ETA Peanut Butter album below was his first foray into stamp collecting.
The 1960s "Ampol" Petrol Promotion
If you did a survey of the Large Gold Medal winners at the last big stamp EXPO here, I suspect you would find a surprising percentage started their collecting via massive companies like Seven Seas Stamps who locally in Australia were pre-eminent then among these mass stamp marketers.

The same Seven Seas Stamps were also very aggressive in using stamp packets as promotional premiums to large companies. In the early 1960s one large campaign of theirs involved over 20 million packets of colourful world thematic stamps being given away, with the purchase of one brand of petrol - AMPOL.

These Seven Seas Stamps packets contained an incredible 70 million world stamps in sets - many of them MUH, and they "entirely excluded cheap definitive stamps" Bill Hornadge assured everyone who cared to ask! Given that the 99% bulk supply of stamps back then were common definitives, that was a pretty big undertaking.
20

MILLION stamp packets made
| | | |
| --- | --- | --- |
| | Australia at that time had a population numbering only about 10 million people, so 20 million stamp packets was obviously a vast amount, being about two packets given away for every man woman and child living in the country. Be like someone in the USA giving away 250 million stamp packets etc. | |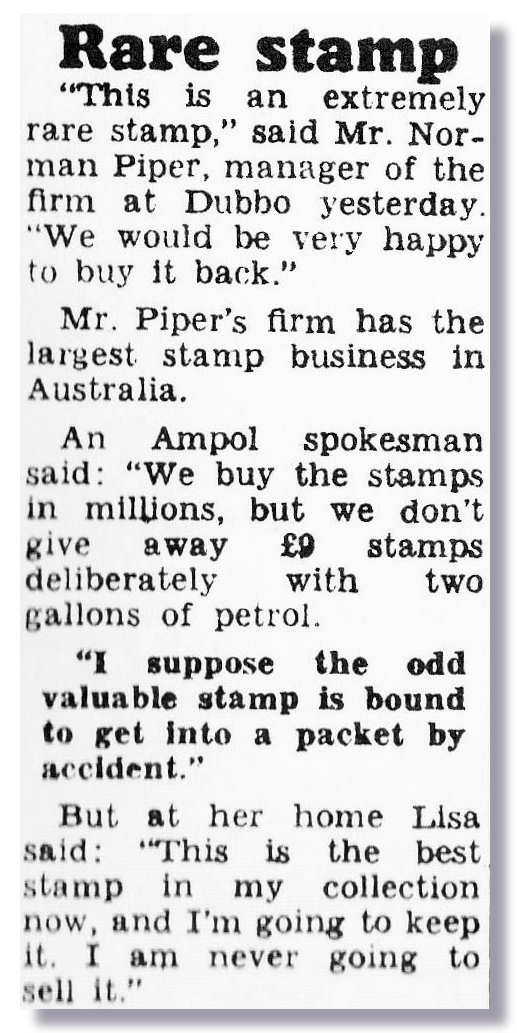 Media went crazy over "rare finds"
At one point Seven Seas Stamps in Dubbo were tearing up, packaging and dispatching 400,000 packets a week to meet the demand - which was many times the budgeted estimate, according to owner Bill Hornadge. AMPOL estimated the usual "request rate" for a promo item would be the industry typical 15%. However, it immediately ran to around 50%, and stayed that way.

Young migrant dealer Max Stern was sent off packing to Europe with a blank cheque book from Bill Hornadge, with orders to buy anything pretty in packet material he could lay his hands on. Max spoke about 8 languages, so the perfect buyer. Kids like me badgered Dad to fill up only at AMPOL - so I could get the attractive freebie stamp packets.

It was not all junk. China was not permitted to deal with the USA then (!) so they dumped large numbers of China stamps onto Bill for pennies a set. A good deal of it was the now super scarce Cultural Revolution issues - the Poems Of Mao Tse Tung strip 5 (retail $100s today) I have found in dozens of these Ampol kiddies albums.

Bet we all now are annoyed we did not keep the AMPOL packets un-opened - the few depicted nearby sold on ebay for $A32! I wish Seven Seas Stamps or someone else would get McDonalds, Shell, Woolworths, etc, to run such a campaign today. Don't laugh ... the concept certainly worked for AMPOL - very big time, with big sales increases, and public awareness

The Chairman of AMPOL (a huge company here, the size of BP) was reported widely in the financial press in 1964 speaking at the company AGM, stating National sales and profits had gone up 12% over the year before. He stated to his shareholders that stamp packets were the specific reason for this upsurge in business. I still have the newspaper clippings that Bill Hornadge gave to me!
"ETA" Peanut Butter stamp albums
| | | |
| --- | --- | --- |
| | The same idea had also worked 30 years earlier. A new brand of peanut butter spread was introduced, named ETA. In pre-war 1937 they also decided to use stamps to draw attention to the new ETA peanut butter brand in Australia. Some 25 million postage stamps were given away. | |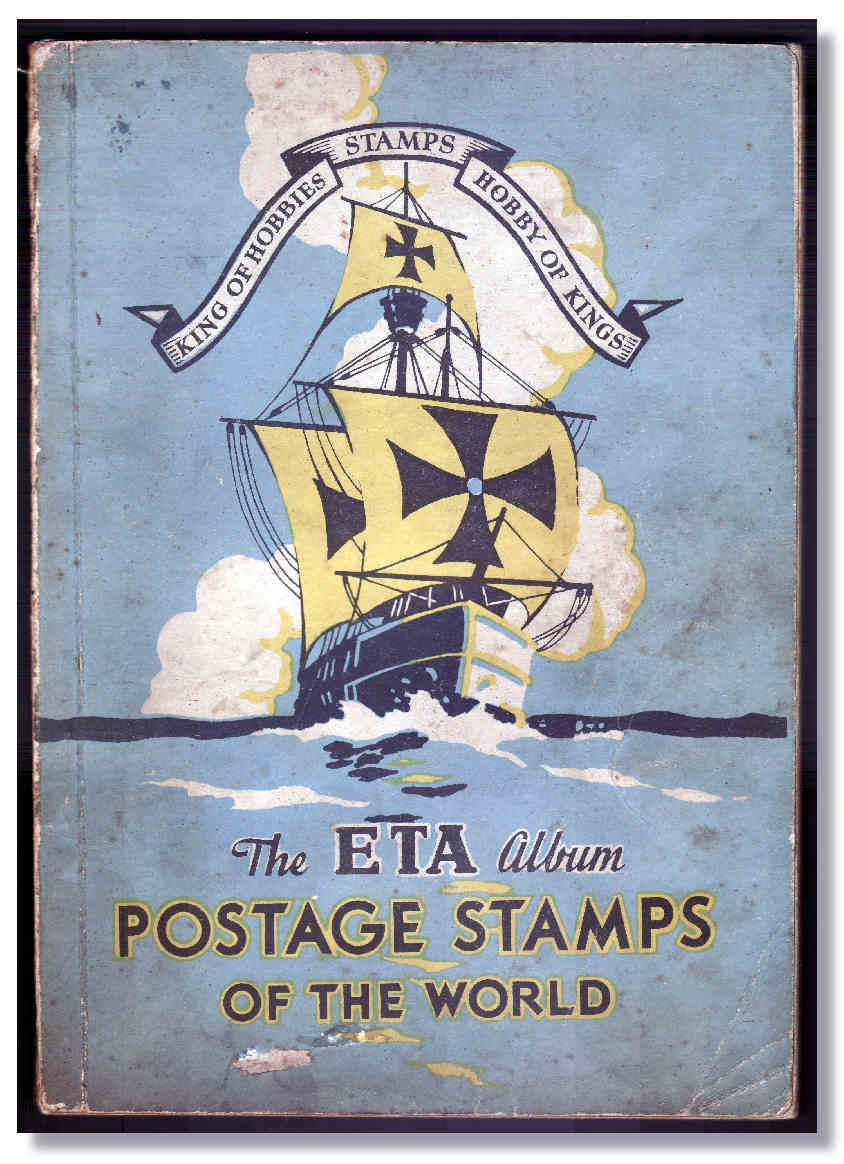 Battered 1930's "ETA" Stamp Album
In the first year, some 275,000 printed albums were sold of these Sailing Galleon ETA albums compared to a bullish estimate of the company marketing department of only 75,000 being needed! Some 80 years later, that "new" brand is still the market leader peanut butter in Australia. Stamp promotions work!

Both AMPOL and ETA albums turn up regularly in auctions and dealer shops to this day, showing the enduring power of stamp collecting as an advertising medium. An inexpensive and very basic printed "Ampol" kids album was also made available. As I recall it sold for a pittance - 1d or 3d or something, just to get kids wanting to fill it up.

A massive 300,000 albums were launched into this small population country then, and again this was the formative spark that attracted many of today's leading collectors and dealers. This writer was certainly introduced to philately via those AMPOL packets of exotic Triangulars from Mongolia, and Goya Nudes from Spain. (Surprise, surprise, I still have the Nudes!)
300,000 AMPOL Albums sold
| | | |
| --- | --- | --- |
| | The packets were cleverly "salted" by Seven Seas Stamps with the occasional valuable "goodie." When these were "found" (coff, coff) the overjoyed child owner often got widely reported in the daily papers, creating more excitement and demand from AMPOL - and Seven Seas Stamps. As can be seen, "Lucky Lisa" aged 9 "found" a £2 Roo in her packet the media gleefully reported, and these "plants" got national media in those days. Remember this was 55 years ago. | |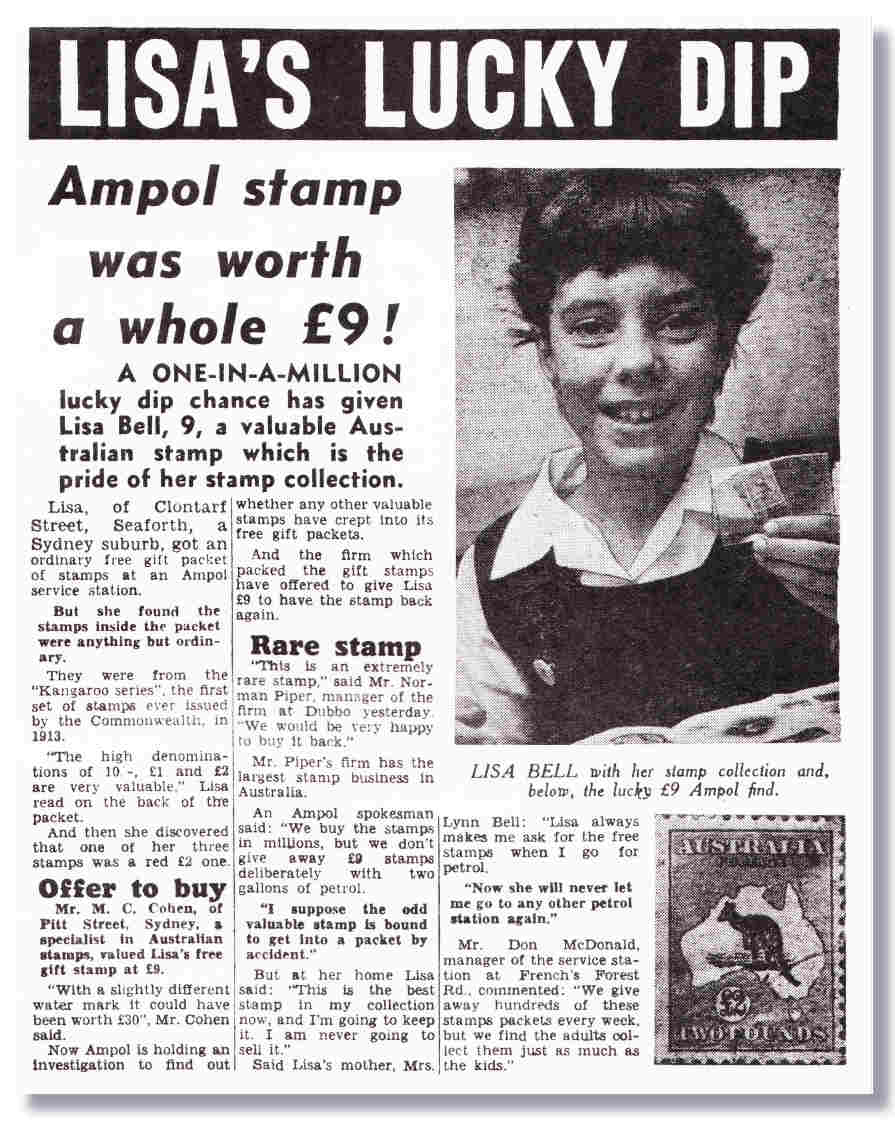 "Lucky Little Lisa" indeed!
AMPOL would always claim to have initiated "an urgent investigation" as to how a 5/- Bridge or £2 Kangaroo got into their cheapie packets. Seven Seas would profess in the daily media it was a major error, and they hoped there were not more similar packing errors, but could not guarantee that. The mainstream press lapped it up.

A stamp worth a few quid (even if it existed!) would get them $100,000s worth of free media in today's money. The headlines re a "£9 find" sounds paltry now, but 55 years ago that was a good deal of money. A week's wages for some.

My thoughts are that getting youngsters exposed to stamps is an ESSENTIAL thing for this hobby, and the entrepreneurs that do this are doing philately in this country a great service. Be wonderful to see McDonalds or the like, give out stamp packets for a change as a promo, instead of cheap plastic Disney action movie promo tokens etc.
New ACSC Catalogue Duo.
Copies of these 2 huge new Brusden-White ACSC catalogues arrived on my desk the very day of my editorial deadline here, so will hopefully take a more detailed look next month, when I have compared the old versions with the new in the next week. A quick peek was a pleasant surprise.

In full colour for the first time, and in the new large A4/Quarto type size for the first time too. Lots more data, and superb Dr Geoff Kellow research, and the KGVI includes all the BCOF issues of course. All Proofs and essays and trials, and errors and imprints, and plate numbers, and the usual vast amount of ACSC data found NOWHERE else.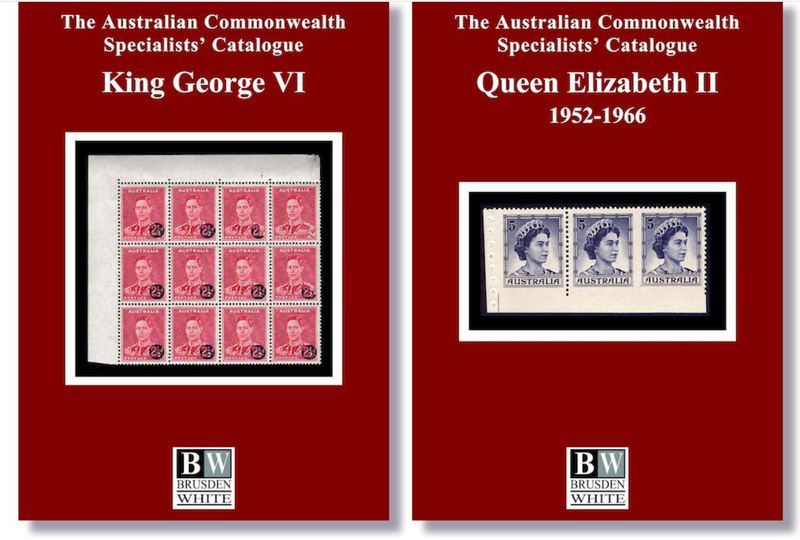 Now large A4, and now in full colour.
These new editions supersede and update the previous 2015 editions, and colour and in the new big A4 format, means tons more info is in each book. The listings have been fully revised, with some additions and corrections, and with additional illustrations and larger ones in many cases. Over 500 pages of superb info here.

Two on-cover prices are now provided for every stamp - for solo usage, and for other uses of each stamp. With prices that will often gob-smack you! The rather common 1945 2/- CofA Kangaroo is cat $1,000 for solo use on cover etc. THAT will surprise many.

The relevant Postage Due issues have also been included in each volume - a HUGE plus not in earlier Editions - and 2 x on-cover prices for all those too. QE2 includes Australian Antarctic Territory and the Cocos (Keeling) Islands issues. With on cover prices of course.

As I have typed often - "Knowledge Is Power" and using these just ONCE, can easily pay for themselves. Finding a solo use on cover on ebay etc, from a foreign dealer, of a very common stamp, now Cat $1,000, like the 2/- above, just once in your life, will in fact pay for these 2 books FOUR times over! Retail is $230 the pair, and sales are very strong already
USA Inverted Jenny sells for $A2,250,000.
A USA 1918 24¢ "Inverted Jenny" Invert airmail error stamp, from position 49 on the unique sheet of 100 was sold by Robert A. Siegel Auction Galleries in New York for nearly $US1.6m (around $A2.25m) in November. Been slow in reporting this!

It pays to keep your stamps safe and sound. Good storage is everything. That is the undeniable lesson of that sale of the fresh MUH original gum condition copy, of the recently re-discovered example of this 24¢ Inverted Centre airmail error.

It is the highest price ever obtained for a single copy of an Inverted Jenny. However, Bill Gross in is the midst of selling his mega $$ Gazillion USA collection right now, and he of course owns blocks 4 of these rather famous stamps.

This 1918 USA stamp had lain secretly hidden away in a bank safe-deposit box for a full century. It was rarely exposed to light, and had never been hinged. It sold for $US1,593,000, including the 18% Buyer's Premium, but before any taxes or insurance, beating the prior 2016 record of $US1.35 million set for the position #58, 24¢ Inverted Centre.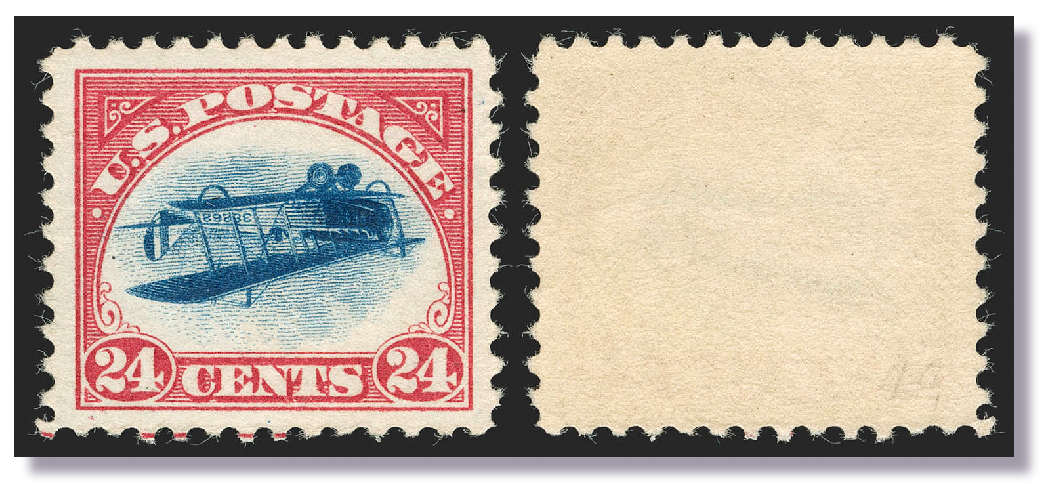 Believed lost for a Century.
The auction, which was broadcast online with live audio, opened at $US625,000. It quickly surged past $US1m, with duelling internet bidders and others on the phone, and in the room. It then advanced steadily to $1.25 million, where it paused before the hammer finally came down at $US1.35m, going to an internet bidder identified only as "I-350".

Selling the stamp was "one of the highlights of my career," said Scott Trepel, President of Siegel Auctions. "That blank space on the Jenny website bothered me for a long time" he added, referring to the Siegel online census of all known examples on invertedjenny.com - only one spot was vacant on that page until late 2018.
Been in a bank vault in Chicago.
During its 100 years of solitude, the stamp was essentially lost to philately, and many felt it has been lost forever to the hobby. Then in 2018, an anonymous Chicago-area family came forward, and submitted the stamp to the Philatelic Foundation in New York for Certification.

The Foundation had previously certified 85 other examples of this 1918 inverted-centre error (Scott C3a) of the 99 known to exist. Position #49 is one of just six to still have genuine full original gum, and was assigned a grade of "extremely fine-90", which to non-Americans, means it has among the best centering of any Inverted Jenny.

So the Chicago family who saw their long held Jenny example sell for $A2¼ Million, might have wondered WHAT their long dead relative paid for the stamp a Century back I am sure. The relative might have left a note with it of course. What do you suppose that figure was? $100,000? $50,000? $10,000? No - It was just a few hundred dollars!

History makes it very clear that the copies sold to collectors in 1918 were priced at between $US250 and $US325 retail by Klein. Taking a higher end everage of $US300 let's assume that was correct. If $300 were placed into a bank account in 1918 does anyone think that would reach $A2.25 million in 2018 with compound interest? Who say there is "No Money In Stamps".
Inflation took purchase price to $5,000!
I asked the accountants and bankers on stampboards exactly what $US300 would have risen to with inflation over the past century, and the answer was literally $US5,050.14 using the widely used usinflationcalculator.com - I'd far rather have the millions!

Most readers know some of the story. Stockbroker employee and stamp collector William Robey bought a sheet of 100 stamps for $24 face value at a Washington DC Post Office on May 14, 1918, all of which had inverted centres in error.

United States PO inspectors later visited him, and heavied him to turn it over, and he told them to get lost. As he was legally entitled to do. He had simply got lucky and paid face value. No other copies were ever found. A lucky break for him.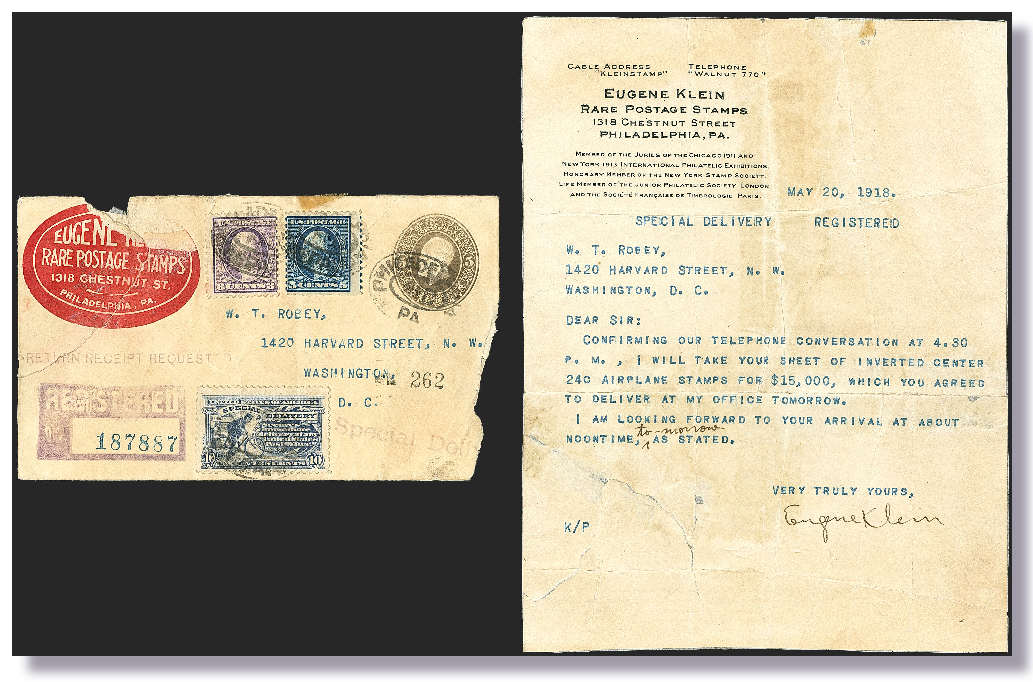 $15,000 very well spent!
Robey sold the sheet of 100 to leading dealer Eugene Klein in Philadelphia for $US15,000 - several other dealers had made him offers. Stanley Gibbons USA offered him $US250 for it - probably assuming 100 times face value would tempt him. Klein handed over a bank cheque for $US15,000 on May 21 for the sheet.

Klein's original letter confirming his $15,000 offer to Robey is illustrated nearby, sent by Registered and Special Delivery mail, with AR Delivery Confirmation. Even this battered and torn letter and outer envelope pair sold for over $US50,000 in 2017 - many times estimate!

Dear Sir: Confirming our telephone conversation at 4.30 P.M., I will take your sheet of inverted center 24c Airplane stamps for $15,000, which you agreed to deliver at my office tomorrow. I am looking forward to your arrival at about noontime to-morrow [in manuscript], as stated.

Very truly yours, Eugene Klein

Klein was clever - he had already pre-sold the sheet to the infamous and incredibly wealthy, and eccentric New York collector "Colonel" Green, for $US20,000. So Klein made $5,000 in a day (a fortune, a century back) plus also made a cut on all the copies he later sold retail, on behalf of Green.

Green authorized Klein to divide the sheet into singles and blocks, and to sell what Green did not retain for his own collection. Before doing so, Klein lightly pencilled the sheet position number on the gum side of each stamp, enabling future philatelists to cite every stamp by its exact location in the sheet.

Klein and Green discussed pricing, and changed the prices over the next three months. As Klein reported, by the end of July 1918 most of the singles without straight edges had been sold for prices ranging from $250 to $325. Not all sold at such "High" prices, and Klein eventually returned 18 singles to Green, unsold.

When Green's collection was sold in the WW2 era (what a terrible time to sell anything!) Green still had 38 Jennies including all the blocks. Green was careless when handling stamps. EIGHT of the unsold straight edged at side "Jennies" were found stuck together in an envelope, and needed to be soaked apart, hence ended up having no gum.

In the series of 28 auctions held from 1942 to 1946 to disperse Green's stamp collection after his death in 1936, 38 different Inverted Jenny stamps were offered. Included in this total were the block of eight from the bottom with the plate number selvage, three blocks of four, five full perforated stamps, and 13 of the original straight-edge stamps.
"Jennies" have that allure.
The 1918 24¢ Inverted Jenny airmail stamp is by no means the world's most valuable stamp, as a full sheet of 100 were found and sold, and all still exist. However it certainly is the best known of all the Twentieth Century stamp issues, no doubt about that.

"Jennies" have an allure, and they of course fetch FAR higher prices than anything should, of which 100 copies exist. A few $1000 each is more logical not a few million! I have handled a number of literally UNIQUE Australasian issues, that sell for a few $1000 apiece. Strange but true.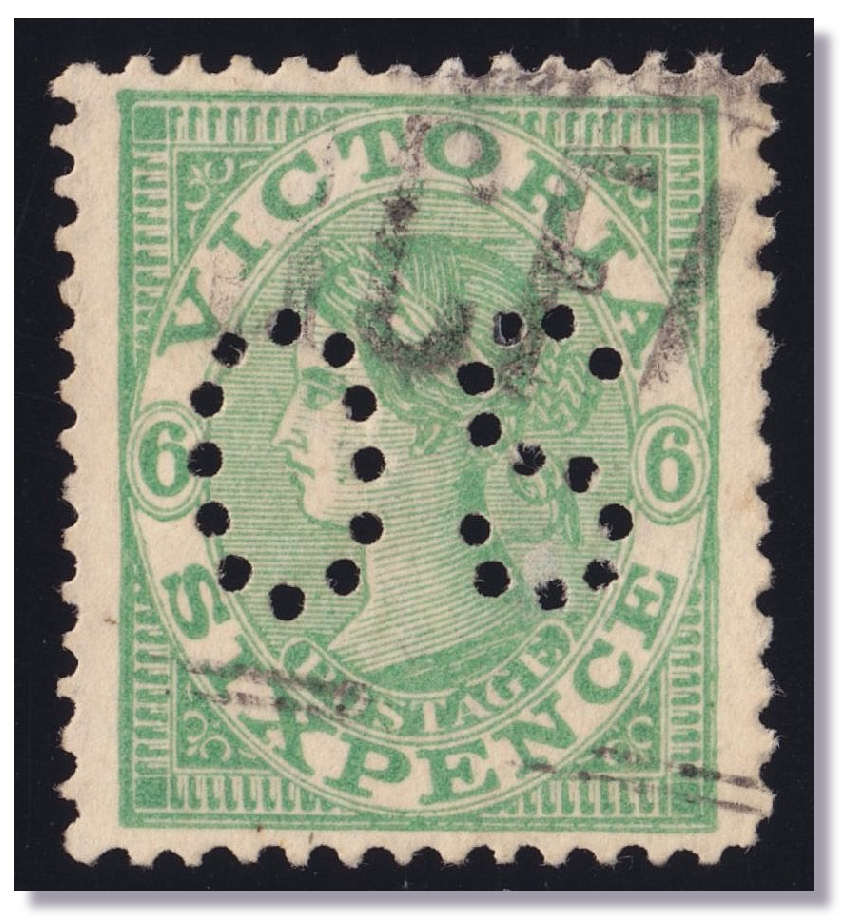 UNIQUE, but still chicken feed here!
I have one on offer now from Victoria, with recent Photo Certificate. 1912 6d green "OS", compound group of comb per 12.2 x 12.4, and single line perf 11, for $A1,750. First issued after Federation, it is a unique AUSTRALIAN stamp, so 6 or 7 figures each for each of the 100 Jennies is quite loopy, but that has always been the market.

Jennies are a "sexy" stamp issue, and they have often been purchased by wealthy Americans who have little interest in stamps generally. Bought BECAUSE it is a well-known and "sexy" issue, that their friends at the Golf Club or Yacht Club will have heard about most likely, when doing the brag stories at the 19th Hole after 4 scotches!

An entire 250 page book has been written on this one stamp sheet - "Jenny!" by George Amick - first published in 1986. That book pre-dates the Barnum and Bailey $US4 million "Swap" of the Jenny Plate Block of 4, and 1¢ "Z" Grill by Bill Gross and Mystic Stamp Company of course. That book was been updated by another author, but remains the "Bible" for many.

Robey's historically lucky purchase was on 14 May 1918, the very first day the stamps went on sale, in all the three principal airmail route cities - Washington DC, New York City, and Philadelphia PA. A shame he did not create a few FDC as well! Now THAT would be a gem cover.
"Hand Back The Sheet!"
The US Post Office security officials later tracked Robey down, and demanded he hand back the error stamps and he refused - as was his perfect legal right to do. Robey sold his windfall sheet soon after to Eugene Klein, a well-known Philadelphia stamp dealer.

Klein subsequently sold the intact sheet of 100 stamps to the eccentric millionaire collector "Colonel" Edward "Ned" Green for $US20,000, who had Klein break up the sheet into singles and blocks of 4. Green had just inherited $US50 MILLION from his mother Hetty's passing, so $20K was mere chicken feed.

Green kept some of the stamps (damaging many due to appalling storage - 8 sticking together in a blob, all now "no gum") and later sold some others. Efforts have been made to track the history of each stamp from the sheet of 100, ever since the story of this fabled stamp began, over a century ago.

Leading USA stamp auctioneer Robert A. Siegel Auction Galleries in New York in recent years launched a detailed website devoted to the "Inverted Jenny". That Jenny site pictured 98 of the 100 error stamps, along with description and images and past sales and owners of each example. Now it is 100% complete.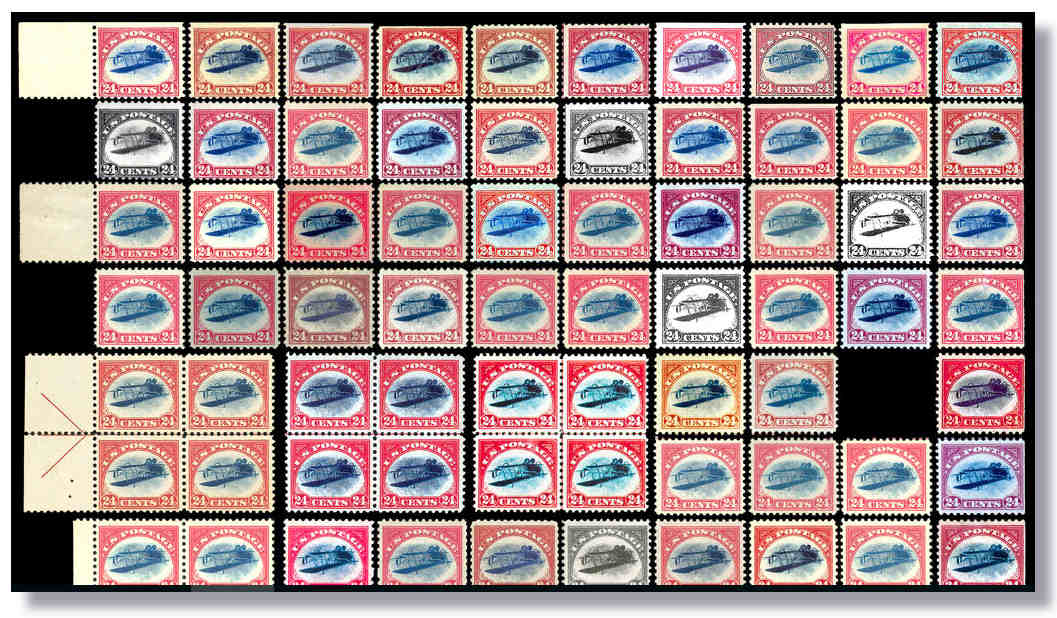 ALL 100 copies NOW accounted for.
An excellent site - invertedjenny.com and a fascinating read for all those with some time to spare, even if you do not collect USA. Wonderful rundown on the history of this issue, and the finders, and all later owners of every stamp etc are fully documented. There is a Hollywood script in there for sure!

As you can see from the photo nearby where they have assembled images of 99 of the 100 stamps, several of the copies on top row have had the natural straight edges re-perforated over the past ~100 years. And oddly LH margins have been removed/reduced from several stamps on the left row.

The only one of the 100 original stamps with zero information recorded on it (other than being owned by Robey, Klein and Green in 1918) was stamp sheet position number 49. ZIPPO data existed on stamp #49 until this recent discovery.
Never been on market before.
Stamp position 49 has now surfaced, 100 years from when last being sold. It had never been on the stamp market before, never exhibited, and the whereabouts of it was totally unknown to many generations of collectors and dealers.

In recent years, the Philatelic Foundation in New York authenticated another long-lost 1918 "Jenny" Invert, the Position 76 stamp that had been stolen in 1955 when it was part of the McCoy block of four.

The block was purloined from an American Philatelic Society stamp show exhibit in Norfolk, Virginia, and turned up 60 years later in Northern Ireland, where it was found among non-stamp items allegedly purchased in a flea market setting years ago.

The stamp was returned to the rightful owner, the American Philatelic Research Library, by the Irish finder, Keelin O'Neill, during a public event at World Stamp Show in New York 2016 - see photo nearby of the handover.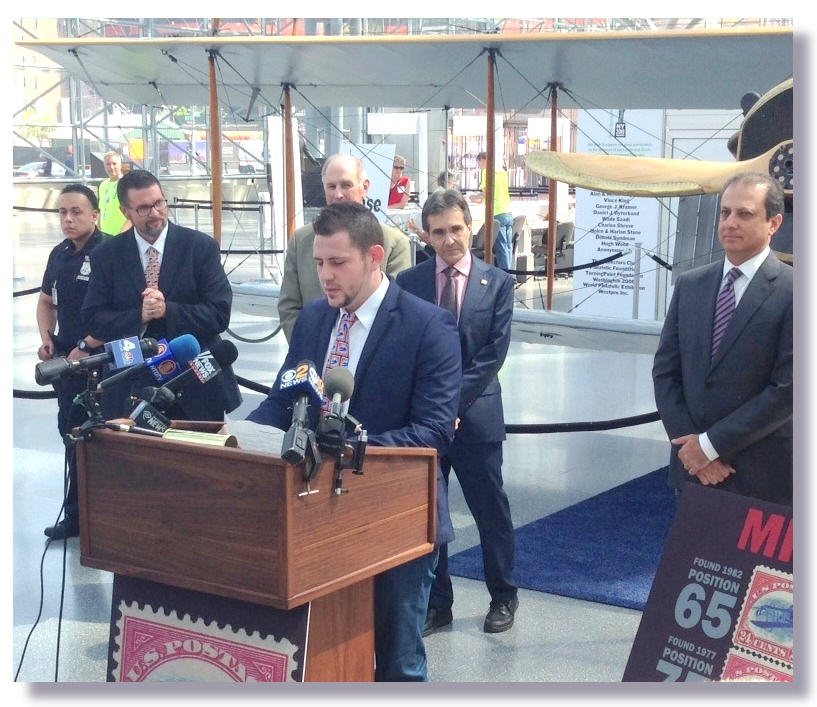 $US50,000 reward for stolen stamp.
That rather curious "Inverted Jenny" story unfolded one day I was at the NY Expo, related to me by George Eveleth and Richard Debney of Spink USA. As reported in my column in May 2016, an example of this stamp was consigned to Spink NY for auction, by a young man from Ireland, who claimed he inherited it from his dead Grandpa, who owned no other stamps. Hmmm.

Investigation showed this stamp was stolen from the USA Exhibition in 1955 and had been missing since. The then legal owner willed it to the APS Library, should it ever surface. The stamp was later re-perforated, and some idiot also removed most of the gum, in order to hide the light pencil sheet number on reverse, rather than simply soft erase it.
Truth is stranger than Fiction!
It appears the young "owner" was essentially given a "choice" of accepting the long ago offered $US50,000 Mystic Stamps "reward", or possibly getting charged with handling stolen goods! He wisely took the money. The FBI had opened a Criminal case on the matter, and obtained a Federal Court order over movement of the stamp.

So here in the photo nearby I took, we have the cheque handover during the NY Expo 2016. The Irish "finder" Keelin O'Neill is at microphone, flanked by a glum and $US50,000 poorer Mystic Stamps, an FBI Agent, a NYPD cop, the New York District Attorney, and the rather pleased APS official rubbing his hands in glee, to finally get their stamp back!

It was all like some Barnum and Bailey movie script, but it all happened one day when I was at the New York show, with many onlookers, and mainstream press and TV cameras, and all done in front of the real Curtiss Jenny bi-plane suspended from the roof, at the entrance to the hall, as can be seen in photo. The Americans DO love razzamatazz.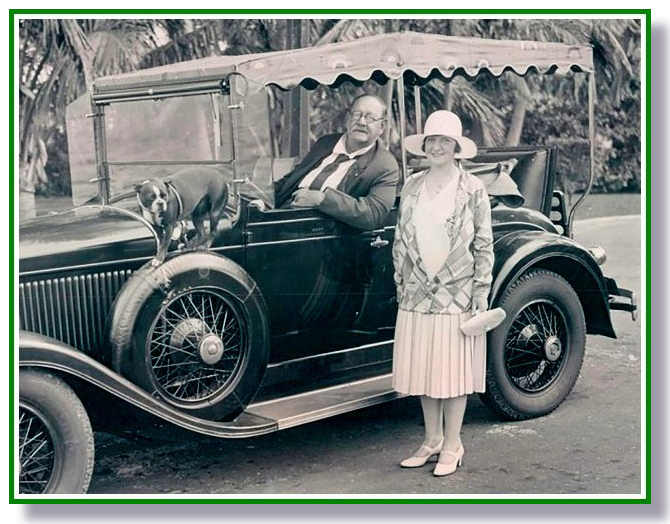 Ned Green and his "Exotic Dancer"
| | | |
| --- | --- | --- |
| | One single Jenny in particular, stamp 9 from top row, Green set aside for special treatment. He had it placed in a pendant made of two convex pieces of glass with a gold rim, and ring for a chain, back to back with a normal 24¢ Jenny airmail stamp. 100 years on, miraculously, the stamps had not "stuck" to each other due to humidity etc. | |
"Locket Copy" re-opened.
This so-called "Locket Copy" example was opened for the first time in recent years to examine and have expertised. Despite bent and creased and cut corners etc from being placed in a locket a little too small, it had totally unhinged gum.

It "apparently" sold for $US164,500 to a coin collector mid-2015, despite 3 un-successful attempts to find it a new home at other auctions including some clown peddling it on ebay of all places! With these recent sales of 10 times that, it does look like value at that.

Not surprisingly, considering the auction was run by a coin firm, Stack's Bowers Galleries, the buyer was a coin collector. The Virginia retiree who apparently bought the stamp for $US164,500 thought it was "cheap" despite being straight edged at top, poorly centred, with a missing NW corner perf, and totally bent lower corners, with a crease and gum bend.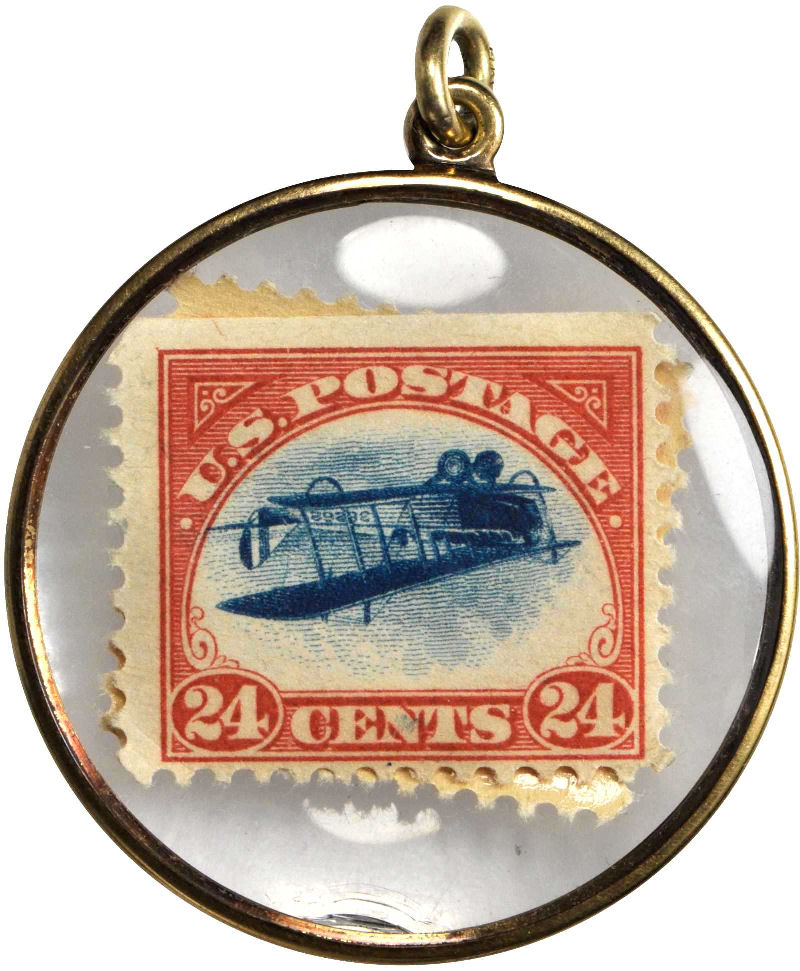 The Inverted Jenny "Locket Copy"
Green had presented the encased bauble to Mabel Harlow, a woman he had wed in 1917, just a few months after the passing of his mega-millionaire mother, Hetty Green ("The Witch Of Wall Street") who had very deeply disapproved of Mabel, whom she called "Miss Harlot". Green was single into his 40s, as Hetty felt all women were "gold diggers."

In July 1916 Hetty Green died, and Ned inherited $US50,000,000.00 and soon married "Miss Harlot". In complete contrast to his late mother, Ned Green began to spend. He spent money on everything, but he especially liked spending his inheritance on stamps, coins, cars, and Mabel.
World record price for stamp item.
Ned had been married for a little over ten months when he purchased the sheet of inverted "Jennies" for $20,000.00 from Eugene Klein. At the time, this was a world record price for any philatelic item, and would stand until the Ferrary Sales began in France in 1922.

What ex-prostitute and "Exotic Dancer" Mabel thought of this curious gift is unrecorded, but there's no evidence that she ever wore it. It was unknown to the stamp world until 1956 when a dealer casually mentioned it in a magazine. Thirty more years would then pass until anyone else saw it. More detail on the Locket Copy here - tinyurl.com/24cLocket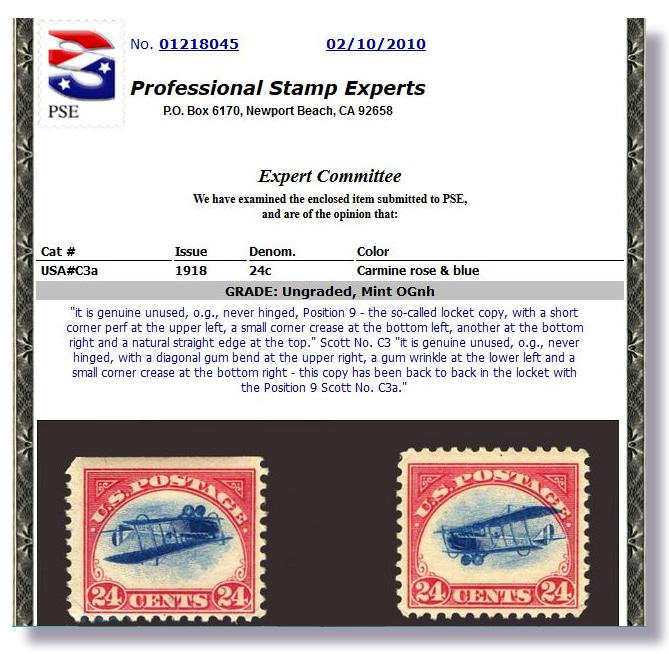 "Short perf top left". Coff.
This locket had not even been seen until 1950s when Mabel died, and then only briefly by a dealer who appraised it for her Estate. George Amick tracked it down to a female companion of Mabels, and when she passed in 2002, it was offered at auction for the first time, where it did not sell.

This "Locket Copy" continued to be offered in subsequent years, via the usual corny American Circus razzamatazz. Some spiv in California in 2012 had it listed on ebay of all places. And it still could never get a buyer of course.

Green inherited about $US50 Million in 1917 (Bill Gates league today) when his frugal mother passed - having amassed a larger fortune than J.P.Morgan. It was Hetty's stinginess, and frugality, and unwillingness to spend money on basic medical treatment, that led to the amputation of her teenage son's left leg. I kid you not.

He spent the rest of his life hobbling on a cork prosthetic leg. His visits to New York City's Nassau Street stamp district were legendary. Green would sit in his huge limousine, with his artificial leg propped up on an outside stool. Dealers would bring him their offerings, and he would pay in cash for the pieces he liked.

When died in 1936 Green left his estate to his sister, not to his wife. It totalled about HALF what he inherited from his frugal mother 20 years earlier. She simply placed the vast fortune into her non interest paying cheque account.

Green's stamp collection was dispersed in a series of 28 auctions over four years, comprising some 50,000 lots. A number of US States circled the Estate, all claiming he legally lived there, and wanted their mega millions.
Jennys start to rise again.
| | | |
| --- | --- | --- |
| | Dealers reported to me of record high prices being obtained for top end material, during the 8 day New York Expo I attended in 2016 at the massive Javits Center, for a wide range of stamps. | |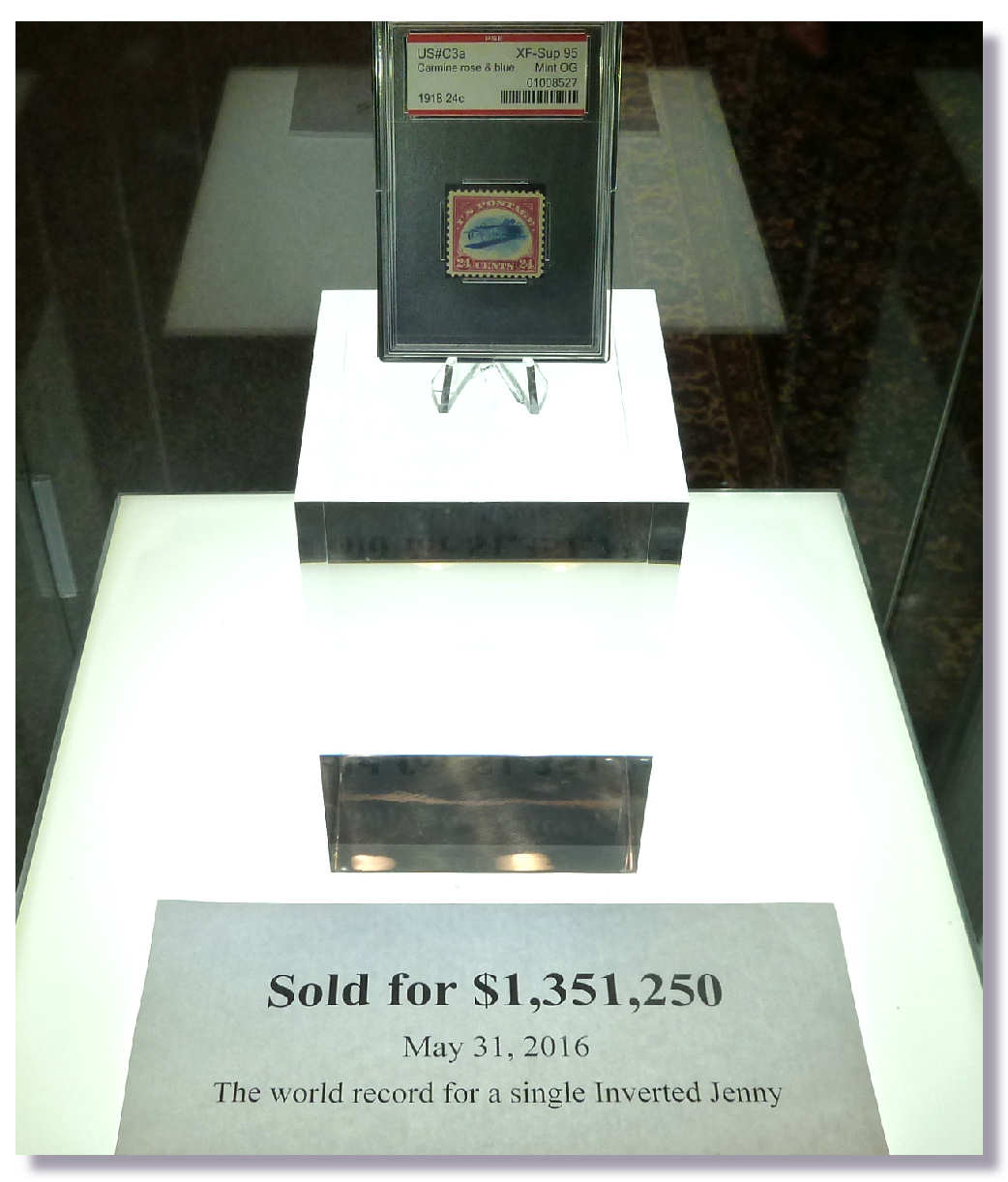 HINGED Jenny fetches $US1,351,250
I saw a 1924 USA 24¢ "Inverted Jenny" on display at the Robert Siegel auction super-booth. It had just been invoiced for an amazing $US1,351,250, at their Expo sale. My photo is nearby. Excuse the quality - it was behind Perspex!

This was for a HINGED example, and blew away by miles in price, what any other "Jenny" has ever sold for to that time - even the unhinged mint examples. I spoke in New York to VP's John Zuckerman and Charles Shreve from Siegels, and they were over the moon with this record price.

So we now have seen even that record price surpassed by the stamp sold recently, that was lost and unknown to the stamp world for 100 years, and the circus moves on. The "Jenny" story has many twists and turns, it really does.

"Jennies" had been rather soft in recent years in price, so these last mega sales have seen an amazing "about face", and is a great sign that the market for better material is strongly on the rise from all areas. Super low global low interest rates always do this.
More ebay stamp madness
I've written before on the stupid prices many stamp fakes and forgeries obtain on ebay. Most often it is unscrupulous sellers offering regums and forged overprints to the army of often clueless, but well cashed up buyers. In that case most blame lies with the sellers, who almost always realise what they are selling is forged, and the material is described as "Superb" and "genuine" etc.

Stampboards.com has exposed 100s of these cons in the past, and have saved the Bunnies literally millions of dollars by having these sellers closed down. It is like holding back the tides sadly - 100 new spiv sellers take their place, and the Bunnies hoover it all up all over again. They bid this landfill up to $A65! Brain dead.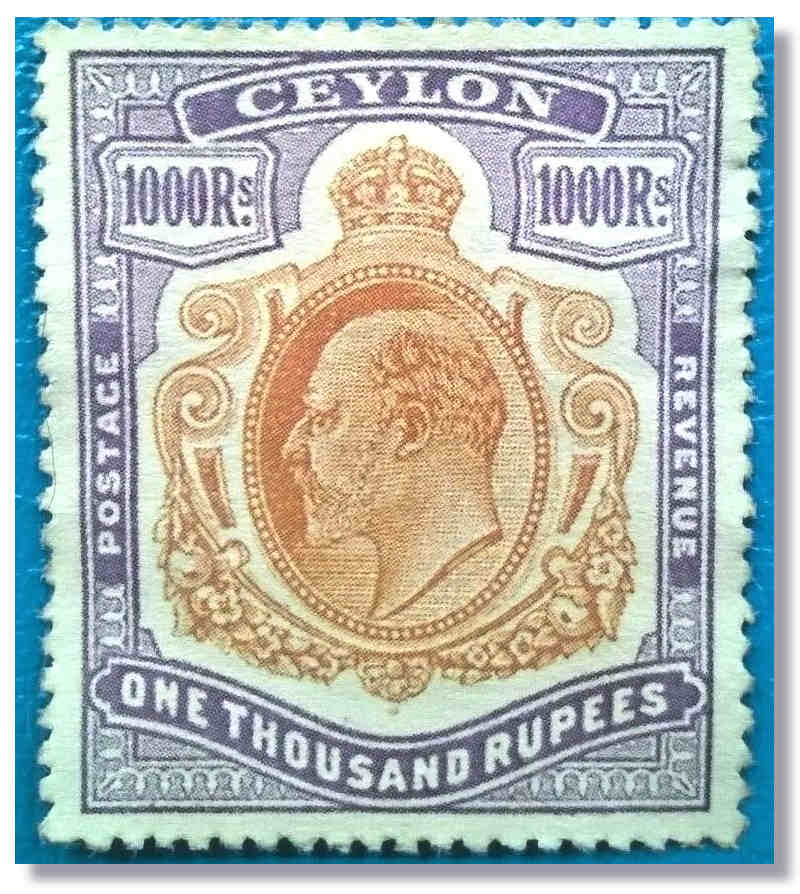 If anyone thinks THIS junk is real –
Stampboards exposed an ebay seller societystreet offering vast conga lines of ink-jet printed crude copies of scarce stamps. No watermarks, perfs done with a blunt pin, incredibly coarse impressions on rumpled OfficeMax paper - see the Ceylon nearby. None described as crude copies made 5 minutes ago, as ebay rules allegedly insist on. When negative feedback is left, he gets it removed.

tinyurl.com/CeylonFake is just one everlasting conga list of exposes of what the lowest IQs in the stamp world regularly list up - take a look and be gobsmacked. You really cannot make this stuff up. They are dead serious. Reporting this stuff to ebay now and again sees a bored drone in Mumbai do something, but sadly eBay make VERY good money from fakes, in fees.








Get my regular market update emails FREE! Stamp gossip, price trends, record sale prices, and many one-time stamp specials, wholesale bargains, and exciting offers and breaking philatelic news. A mini stamp magazine in every email! "KNOWLEDGE IS POWER". The ONE stamp list you MUST be on, to keep in touch with the rapidly changing world market. One client made $65,000 profit in a few months after following my specific advice. Sign up securely and quickly by clicking HERE to access my automated data base. And wiser still ADD your home AND work email, if I only have one right now. Add a stamp friend's email address if you wish. One short click and you are subscribed to probably the most read email list in the stamp world!




If you would like to be notified of updates to this website,
Click HERE.
If have any questions,
or comments regarding my site, please email me at glen@glenstephens.com
| | |
| --- | --- |
| | Search all my 300+ web pages! Simply type in what you are looking for. "Penny Black", "Latvia", "Imprints", "Morocco", "Fungi" "Year Books", etc! Using quotes ( " ) is more accurf used with no quotes. Search is NOT case sensitive. Tip - keep the search word singular - "Machin" yields far more matches than "Machins" etc. |


Full Time Stamp Dealer in Australia for over 35 years.
Life Member - American Stamp Dealers' Association. (New York)
Also Member of; Philatelic Traders' Society (London) IFSDA (Switzerland) etc


GLEN $TEPHEN$

Full Time Stamp Dealer in Australia for 35+ years.

Life Member - American Stamp Dealers' Association. (ASDA - New York) Also Member - Philatelic Traders' Society

(PTS London) and many other philatelic bodies.

ALL Postage + Insurance is extra. Visa/BankCard/MasterCard/Amex all OK, at NO fee, even for "Lay-Bys"! All lots offered are subject to my usual

Conditions of Sale

, copy upon request .

Sydney's

BIGGEST STAMP BUYER

: Post me ANYTHING via Registered Mail for my same-day cheque. Avoid copping the Now normal 45% Auction "Commissions" (15% Buyer + 20% Seller + GST, etc) AND their five-month delays!

Read HERE for details.

"Lothlórien", 4 The Tor Walk, CASTLECRAG (Sydney), N.S.W. 2068

Australia





Phone 7 Days:

(02) 9958-1333

PO Box 4007, Castlecrag. NSW. 2068




E-Mail:

glen@glenstephens.com

The Number #1 Web Sites:

and www.stampboards.com