Click To Go Back To The Main www.GlenStephens.com Stamps Homepage

Welcome! - You are visitor number
To - www.Glenstephens.com


April 2019


---
Cocos Covers go Gangbusters.
Interest in all things philatelic, from the very tiny Cocos (Keeling) Islands in the Indian Ocean is raging Red Hot at present. Anyone who owns any of the better material from there, will be over the moon with delight I am sure, after reading this article!

The remote islands are FAR closer to Asia than Australia, (and were of course administered by Singapore prior to Australia taking over in 1955) and the current population of around 600 people consists mainly of Cocos Malays, who practise Sunni Islam, and speak a dialect of Malay as their first language.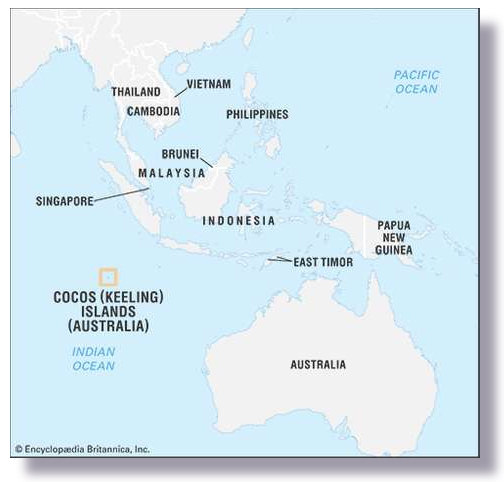 Far closer to Asia than Australia.
The Islands were first settled early 1900s, and one early Scottish settler John Clunies-Ross, set up a personal fiefdom that lasted about 150 years. In 1886 Queen Victoria, by indenture, granted the islands in perpetuity to John Clunies-Ross. The head of the family enjoyed semi-official status, as Resident Magistrate and Government representative etc.

Germans landed in WWI and disabled the wireless station, and the Battle of Cocos then ensued in 1914, where HMAS Sydney beached the German Cruiser Emden on one island, and the Germans lost the lives of 134 sailors, and the survivors created some of the first POWs of the War.

It was one of the first naval battles of WWI globally, and the 2014 stamp set shown nearby marks the Centenary of that famous big-ship gun battle. Again, a relevant stamp issue, that they have a strong history of.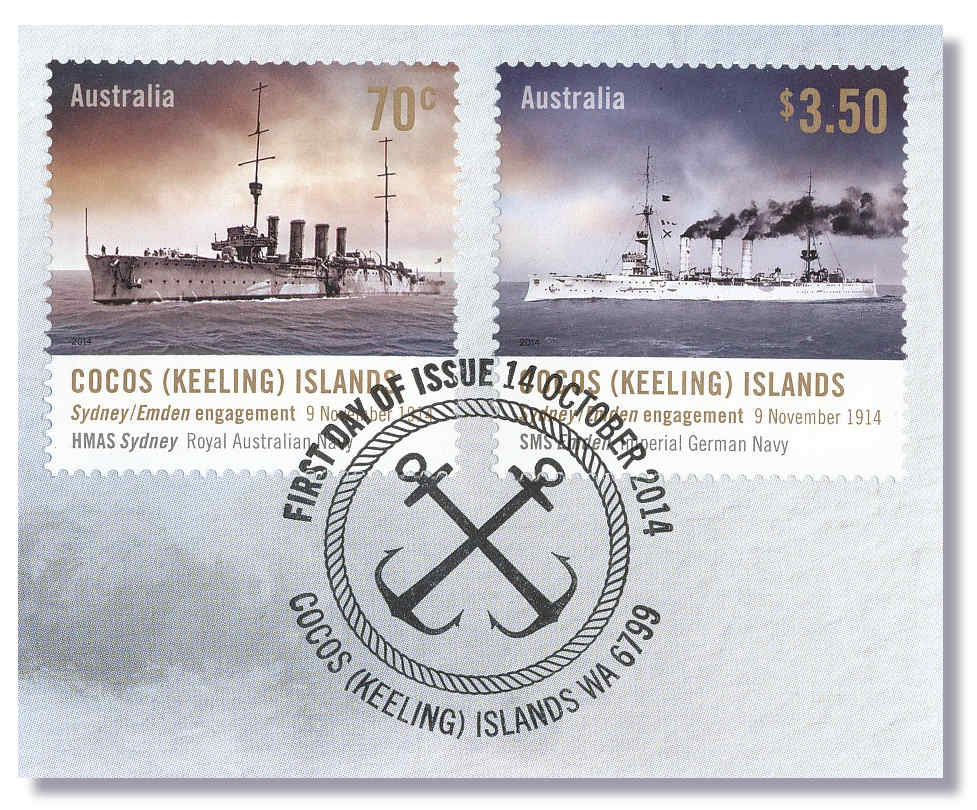 "Battle Of Cocos" 1914 Stamp Centenary pair.
| | | |
| --- | --- | --- |
| | Australian collectors have had a long affinity with the stamps on this region, but global interest in them is also huge, and indeed much of the auction mentioned below sold to foreign buyers. Cocos (Keeling) Islands stamps were first printed and issued in Australia in 1963, and were fully valid for all mail within Australia of course. There are also highly sought Flight covers before that date. | |
Seven Seas Stamps Savvy!
The then massive stamp dealership of Seven Seas Stamps in Dubbo NSW, used Cocos Islands stamps heavily on outward mail in the 1960s and 1970s. Founder of Seven Seas, and "Stamp News" - Bill Hornadge, was a very savvy marketer, and knew that collectors receiving their approval packets and accessories, and magazines, all franked with "exotic" stamps, would just love them.

Abacus Auction had a large collection of Cocos material in an Auction in March, formed by the late Colin Riddell from England, and it all sold - 100% clearance, and often got simply mind-boggling prices. Some examples of which I'll outline below. Being all "T" lot material, 10% GST was added on top of the bid for local buyers, and then ~20% Buyer Fee added on top. Ouch.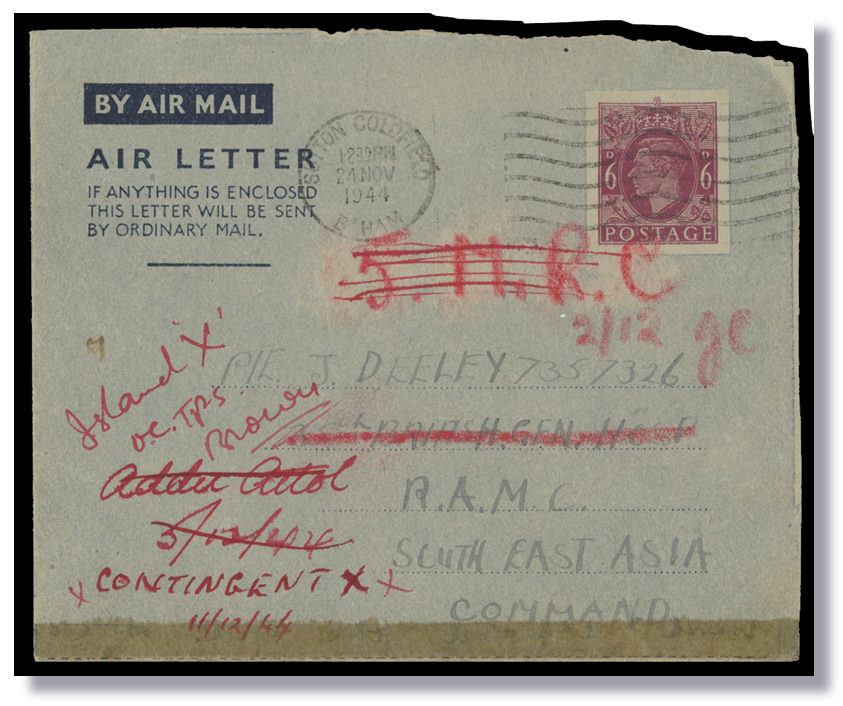 Invoiced for over $31,148. True!
The GB WW2 era Air Letter/Aerogram was one example that caught my eye. It is the common 6d civilian type used by the millions, and worth a dollar or so to most destinations. There was nothing interesting in the contents. It had a faint and indistinct backstamp, that the collector or auction house did not mention or decipher. All value was on the FRONT.

The estimate was $A600, and for most readers I am sure, that was more than a generous looking price level?! It was torn at top, and both sides of it had ugly cellotape staining along base. If it turned up in a box of junk here, that is very likely where it would have stayed.

tinyurl.com/CocosCov was where I ran a guessing poll at to what such an Air Letter was worth. I closed the poll after 50 responses, and bear in mind many folks voting knew full well the airletter had been sold, and got a huge sum, and even that did not skew the results too much!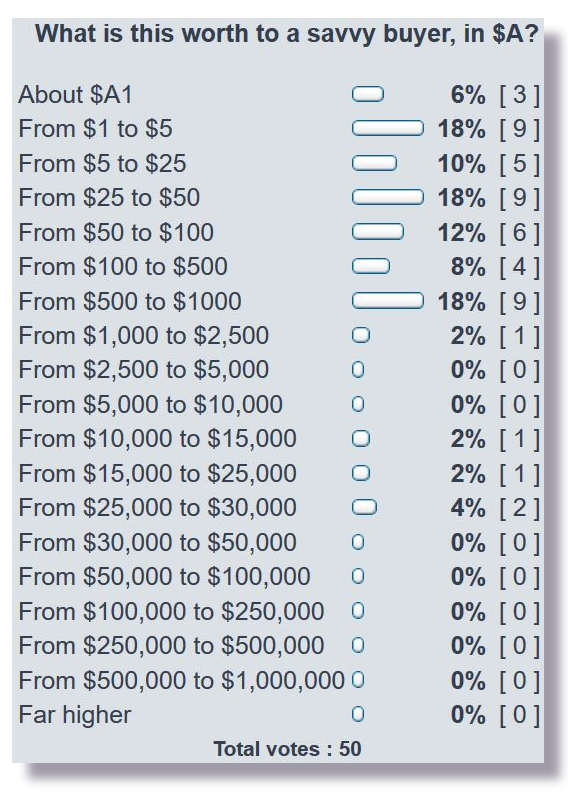 50 votes, and not ONE of them correct!
| | | |
| --- | --- | --- |
| | The Air Letter estimated $600 was invoiced by Abacus for $A31,148 before any shipping or insurance changes were added, and BEFORE the 10% GST was added to hammer price on top, if bought by an Australian collector, as it was a dreaded "T" lot. "Secret Island" in British Military Jargon, was the Cocos Keeling Islands. | |
64% guessed at less than $100.
So the correct answer was ''$30,000 to $50,000'' and that, as can be seen, was selected by none of the 50 voting. 64% of those 50 guessed the value at less than $A100, and indeed fully 82% of those voting guessed that the market value was $A1,000 or less. "Knowledge Is Power" as I often type. I certainly learned something.

I learned to research this kind of material a lot more closely! I sold a handful of early Cocos covers back to 1930s last year on stampboards, for $100 or $200, and was very pleased with the sale. The buyer, a Singaporean, clearly knew a lot more about his area than me, and that will not be the first or last time that has occurred!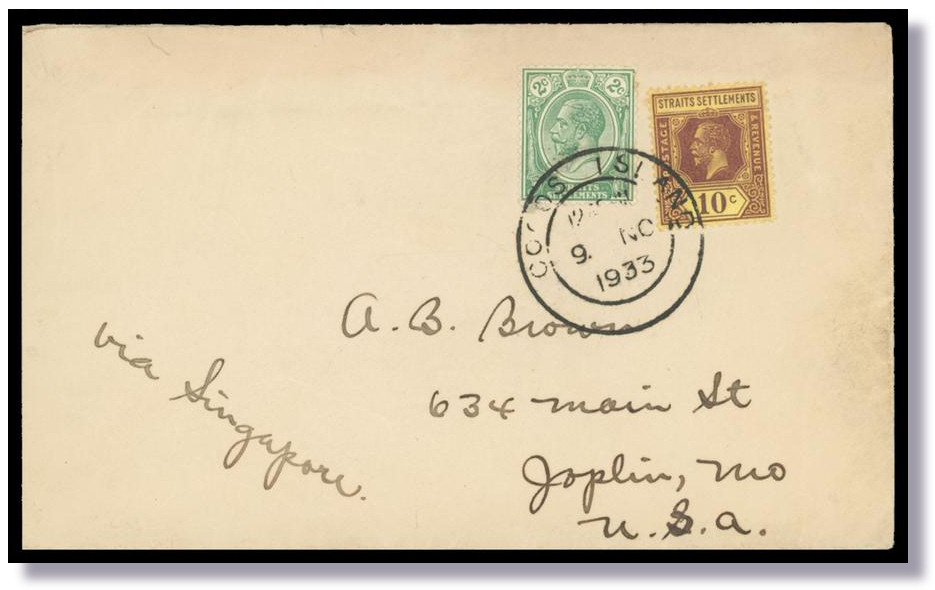 Take a guess at value of this!
Another pretty ordinary looking (to me!) cover from 1933 shown nearby with a 2 common stamps to the USA, also was invoiced for a gob-smacking $A36,539 before any "T" Tax GST was added, if relevant for any local buyer. Be honest - if you saw this cover at a stamp club auction, or in a dealer box marked at $100, would you have bought it?

Even quite modern Cocos material got amazing prices. The 1990s 90¢ Coconut Official stamps x 3, on a large cover to Canada, (detail shown nearby) estimated a bullish $1,500, was invoiced for $A4,800 before any "T" 10% tax was added, if applicable. That is the price of a Mint £2 Kangaroo! That stamp I see monthly in sets of 8 of the 1991 Overprints I mail out, but used on cover, agree it is certainly most unusual.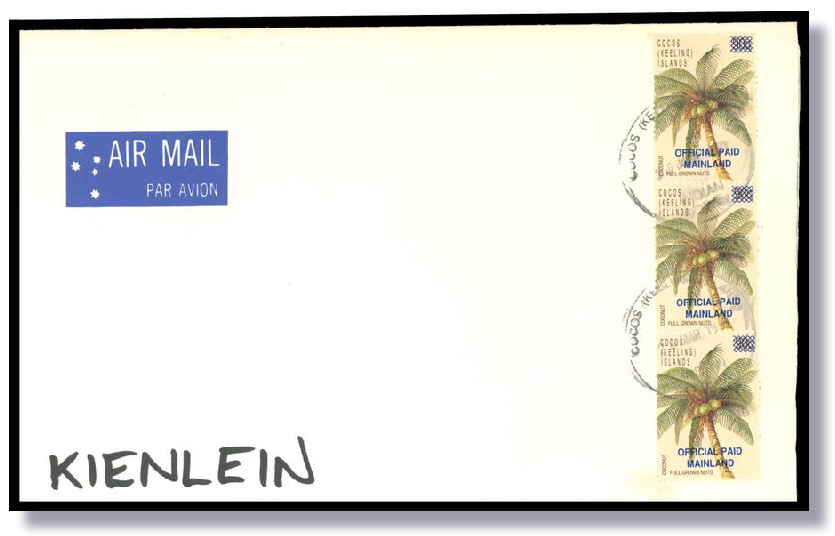 Don't soak this from Mission Mix!
Even those sets of 8 x 1991 Cocos Emergency overprints shown nearby have hardened up a lot in price in recent years. I used to ask $A200, and now it is well over $A300, and assembling COMPLETE sets is very tough, trust me. NEVER buy part sets of these, as filling in the few gaps, you will find is near impossible.

Like the equally scarce PNG 1994 "Emergency Overprint" set of 11, a few values of both sets were always plentiful in the trade, and sell even today for peanuts, but buying the few cheapies for a song is not very wise, as both sets have 3 or 4 KEY values in there, and those are the ones you never see offered inexpensively.
No Elvis stamps from Cocos Islands!
| | | |
| --- | --- | --- |
| | Cocos (Keeling) Islands stamps, have like AAT stamps, remained VERY popular here in Australia, and indeed internationally. I suspect the very conservative and relevant New Issue policy helps. They are both an object lesson to PNG etc, who started spewing out Marilyn Monroe, Abraham Lincoln, Elvis Presley, and Ben Franklin subject matter wallpaper, just to make money. | |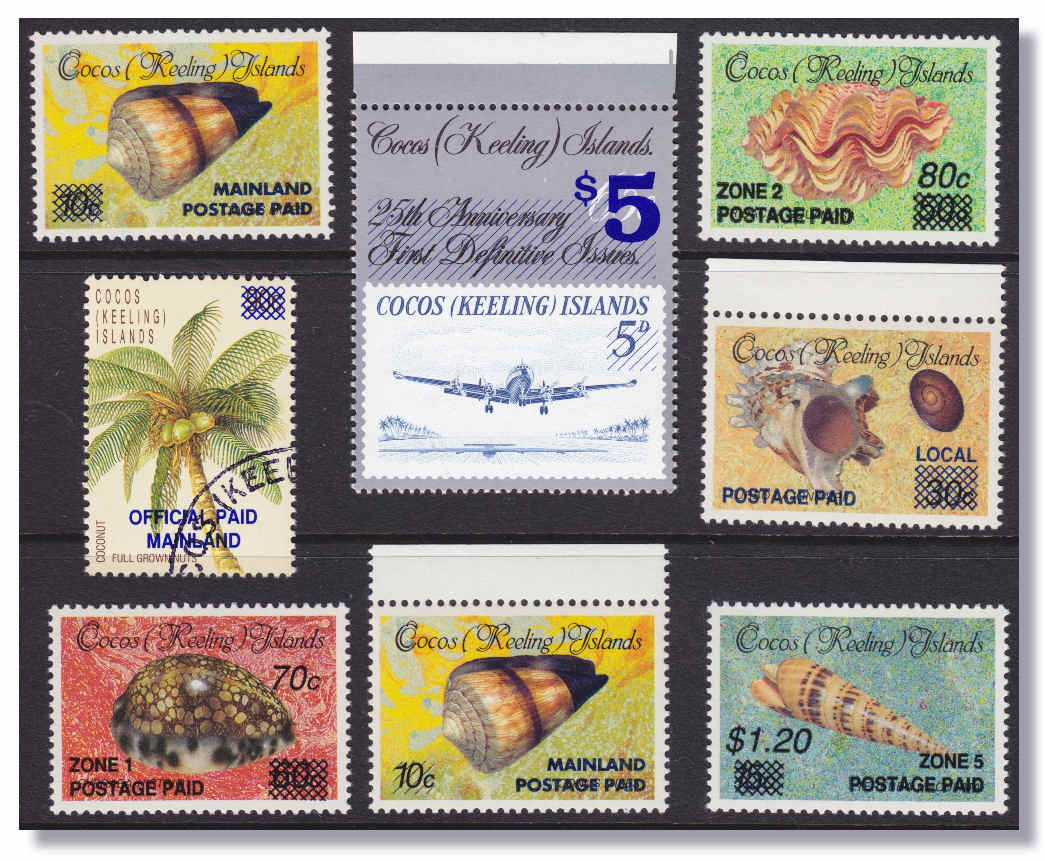 Now elusive Cocos Island stamp set.
The Clunies Ross Family, who owned the Cocos Islands like a mini unofficial Kingdom for about 150 years, paid their Malay workers in special Store Tokens - that could only be spent at the Clunies Ross owned store on the island! A very nice payment system if you can swing it.

Co-incidentally, I added to stock this week, a quartet of these 1913 Clunies Ross "Private Currency Tokens" in Ivory, including the 3 high values to 5 Rupees I bought cheap in an Estate. Never owned even one these before, in 40 years of dealing.

Only 1,000 sets of these Tokens were ever made, and they are fully catalogued, for $100s each, even in the local Renniks Coin catalogue. Many readers also collect coins, so more detail on the background to these curious things is here - tinyurl.com/Clunies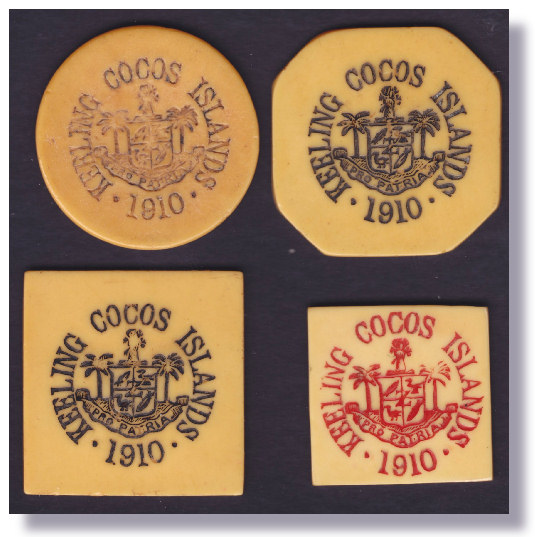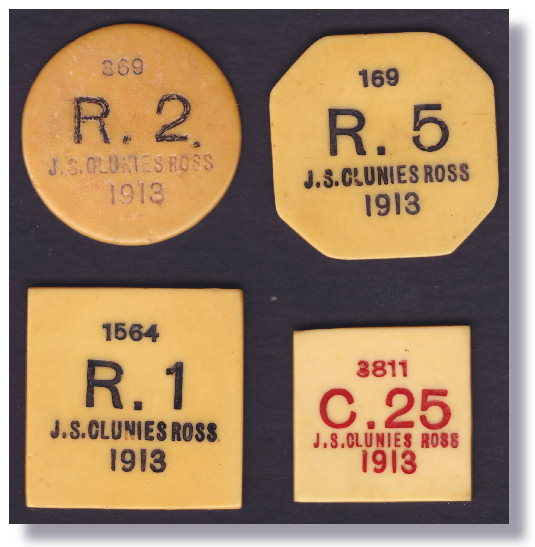 Clunies Ross Private Ivory Rupee coinage.
| | | |
| --- | --- | --- |
| | An interesting month for all collectors of Cocos Island, and it certainly proves beyond doubt that the hobby is evolving in many ways, and many directions - often some very surprising ones. Even ten years ago, such prices were totally unthinkable I am sure - to anyone! | |
Win a FU pair of GB 1d Blacks!
Not often in the stamp world globally does anyone give anything away. Much less something of this value! Stampboards.com is the world's largest Stamp Bulletin Board by miles, and in April reaches many MAJOR milestones, and the party is on.

Stampboards celebrates Birthday 12 in April, and it will reach member number 20,000, and pass message number 6 MILLION, and also reach the 80,000 different topics milepost. All in that same month, and all huge achievements that no-one ever dreamed of, at its inception in 2007.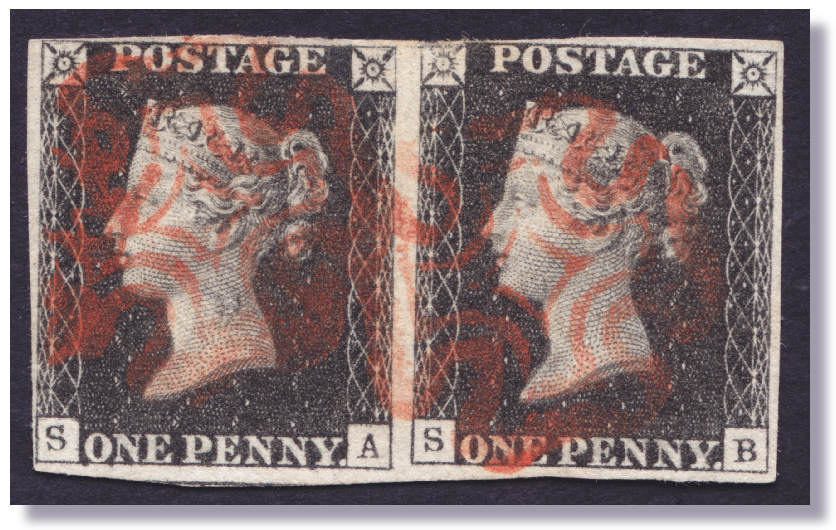 Like to own this gem pair FREE?
| | | |
| --- | --- | --- |
| | A hard working team of volunteers has worked for a year and managed to convert the near one MILLION stamp images there, to be hosted on the large stampboards servers in the USA. In the past, stamp images were added that were hosted by a bunch of free image hosting sites, personal sites, work sites etc, which often vanished overnight - and so sadly did the pix. | |
Wikipedia - for stamps!
Right now, google ANY stamp or stamp related term, and the first google match for that term or image generally goes direct to stampboards, and those terms and images are all now securely self-hosted - for perpetuity. Rather like a global Wikipedia - for stamps! A very deep resource, that supersedes the large philatelic libraries we once needed to own.

So the party is on, and during April ANYONE can join the fun, and stand to win a huge range of superb stamp prizes donated by stampboards members, and they will be mailed to all winners globally - for free. You can enter as many times as you wish - fast and simple, and these things become a fun daily experience for many.

Anyone who can 2 finger type can enter. Stampboards has members as young at 10, and as old as 90, and everything in between, so you CAN manage it. FREE and fast to sign up - tinyurl.com/SBjoin so join the 20,000 others globally, in the planet's largest stamp club in the sky!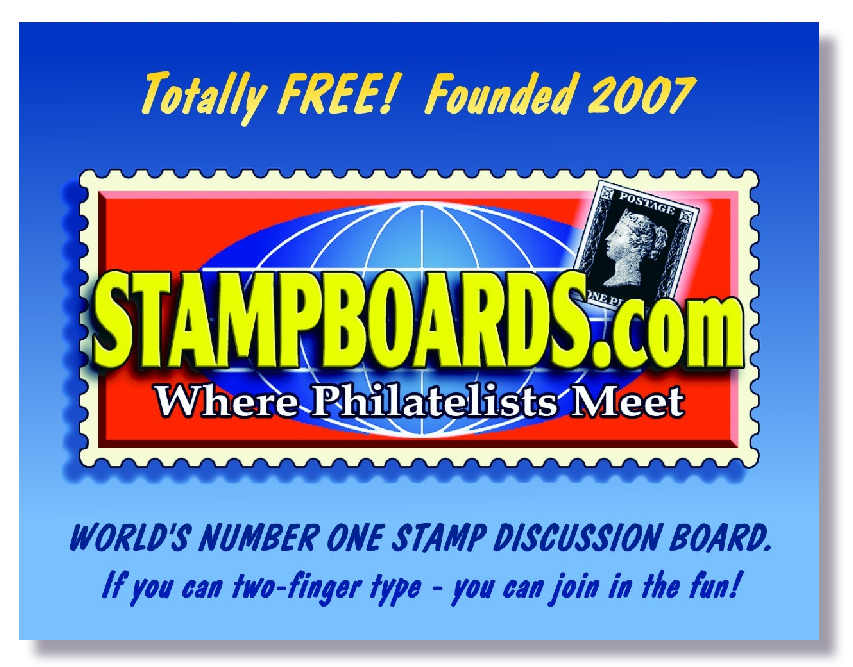 Headed for 6 MILLION messages in April
| | | |
| --- | --- | --- |
| | One English member donated the main prize, as a "Thank You" to stampboards for the benefit he has derived from it, and has asked to stay anonymous. There are many other prizes being pledged as I type this, and the list is growing nicely. This link is where all the action will take place all through April - tinyurl.com/WIN1dPair - pass it on to all your stamp buddies! | |
A £1,500 type catalogue piece.
That member purchased this fresh 4 margin pair from the leading UK dealer in 1d Blacks, and it is on his dealer card, typed with full details: "SG Spec, AS41a" etc. He sought one with the corner letters of "S.B." for StampBoards of course. The unit on left has strong re-entries in both top corner stars, as can be seen in detail on link above.

Used PAIRS of any 1d Black are very scarce, as of course all POs had the 2d Blue issued same date, on hand for that rate. The SG Specialised cat values a used pair from Plate 6 at £1,250 (and a used block 4 at £25,000!) A pair lettered SA/SB, with the Re-Entry is probably unique, and of course SG do not list that, but they rate the re-entry at 20% more than a normal, so clearly a £1,500+ type multiple.

For many readers, such a valuable pair in excellent fault free 4 margin condition, would be the most valuable stamp item in the collection, so well worth adding a few 100 entries during April - tinyurl.com/WIN1dPair Someone certainly will win it on April 30! A lot of fun too, and a mass of other generous prizes on offer too.
We didn't like KEVII?
Curiously, despite Queen Victoria dying in January 1901, nearly all stamps on sale across Australia, right up until the Kangaroo series was issued in 1913, featured her image - which itself was over 70 years old. I have NEVER understood why the next monarch was not depicted on the letter-rate stamps.

A person licking a 1d or 2d Queen Victoria stamp onto every letter they mailed for 12 years after she had died, as there was no other design choice, seems incredibly bizarre. If you lived in Victoria or Queensland or South Australia, that Monarch was your ONLY option. Entirely new designs issued well after her death depicted Queen Victoria - and not the reigning monarch, King Edward VII. I cannot fathom WHY?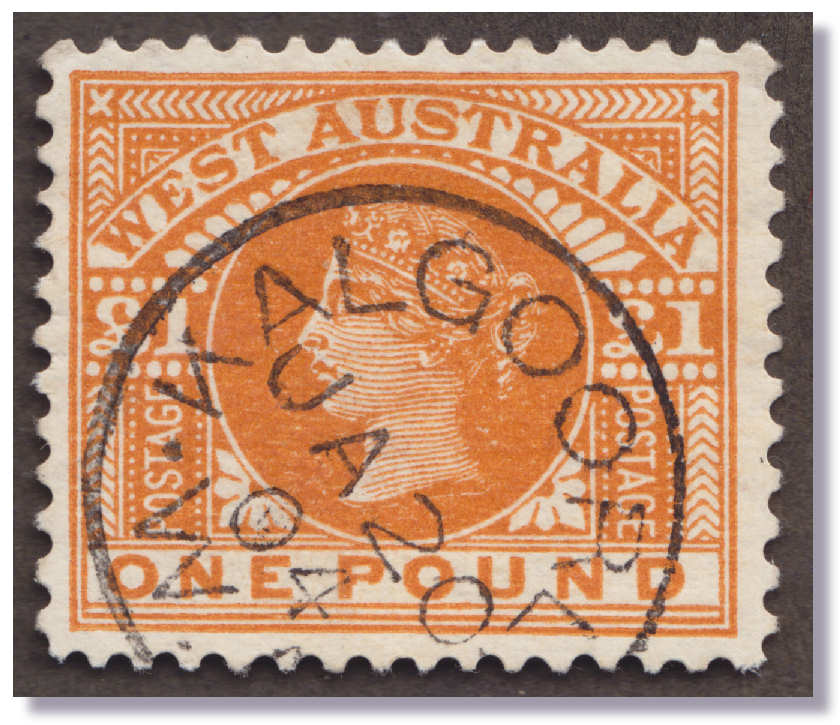 First issued November 1902.
The Western Australia 2/6 to £1 quartet were first issued latter 1902 - and all depicted QV, despite her dying nearly 2 years earlier. As were the South Australia vertical "Postage" series issued late 1902. The "Thick" Postage new design was not issued until 1904. All depicted Queen Victoria.

The £1 orange shade Western Australia top value shown nearby has a Kalgoorlie 1904 cds, and was FIRST issued in November 1902. Why they did not use King Edward VII's portrait is a constant mystery to me.
Who said women were vain!?
The youthful image of Queen Victoria on that WA stamp was about 65 years old - looking very much like the same portrait used on the 1840 GB 'Penny Black'. Who said women were vain about their photos?! (QE2's Machin image on all GB stamps is unchanged, for more than 50 years of course.)

King Edward VII's Coronation was 9th August 1902. Other than the well-known Victoria state £1 and £2 high values, KEVII was not depicted on any other state's postage stamps. (But curiously, was on many Queensland, NSW and South Australia DUTY stamps!)

There were certainly a number of KEVII finished stamp design essays in existence here, with the KEVII portrait, from at least 3 states, but none progressed into issued postage stamps.
KEVII Stamp Essay fetched $A25,500.
| | | |
| --- | --- | --- |
| | The unique 1905 2d Blue essay shown nearby (ACSC E30) I have always loved. Ex Field, Kilfoyle, Ambromovich and Gray, it sold for $A25,500 in 2007, (Estimate $US10,000-15,000) despite today's wacko ACSC value of $A10,000. The South Australian one recorded as ACSC (E20a) was in fact the design basis for that state's 1902 Duty Stamp series to £10 - or so it appears to me anyway. | |
Issued well BEFORE the Coronation.
Interestingly, the £1 state of Victoria first printing KEVII high value was issued in November 1901, eight months BEFORE his Coronation! They were only issued as Victoria urgently HAD to have high value 'Postage' stamps above 5/- for parcel and telegraph use, as the "Stamp Statute" and "Stamp Duty" high value issues were demonetised for postal use on June 30, 1901.

So very clearly new designs COULD be created, engraved, approved and printed with quite commendable speed back then - IF the PO wished to act. Victoria and Tasmania both also issued KEVII postal stationary. KEVII died in May 1910. The "Commonwealth Stamp Design Competition" that gave us the Kangaroo & Map series, was not announced until 1911.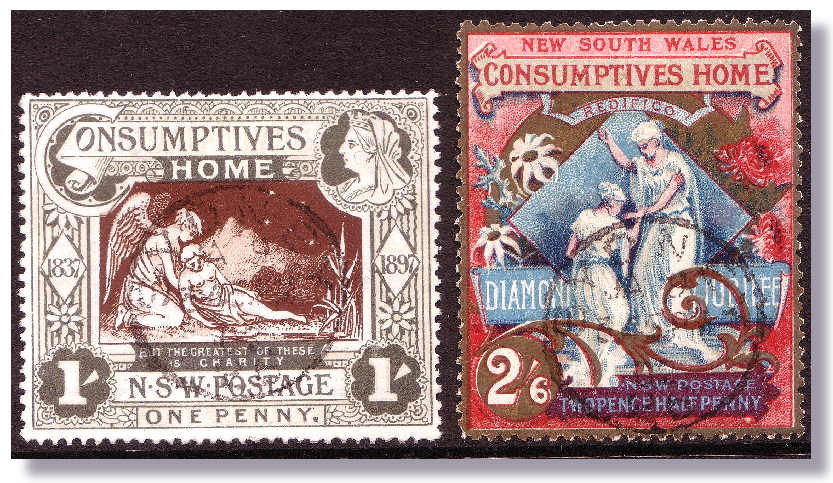 Charity Stamps - low numbers printed.
The oft-given argument that "cost" was an object to issue a new design is totally and completely spurious. The Australian States had discovered around this exact time, that new and interesting stamp designs were popular - and highly profitable from the ensuing collector revenue. And Post Offices have preyed on that ever since!

The 1897 and 1900 large sized "Charity" issues from 3 different states all quickly sold out. The 1900 Queensland Charity pair had only 6,500 sets printed, so it was clearly economical to print even that small a number, and make money. The cost of designs, engravings and plates etc for such a tiny run was enormous.
Some CTO cancel dates scarce.
| | | |
| --- | --- | --- |
| | Some of the Victoria KEVII stamps can be very scarce. The corner CTO and "OS" are pretty often seen, albeit still pricey, but not this one. The one illustrated nearby I sold to a client. This is ACSC V127D, the May 1910 printing, in Dull Rose, perforation 12.4. Literally an AUSTRALIAN stamp, given only to the 100 or so Federal MPs, so few have survived. | |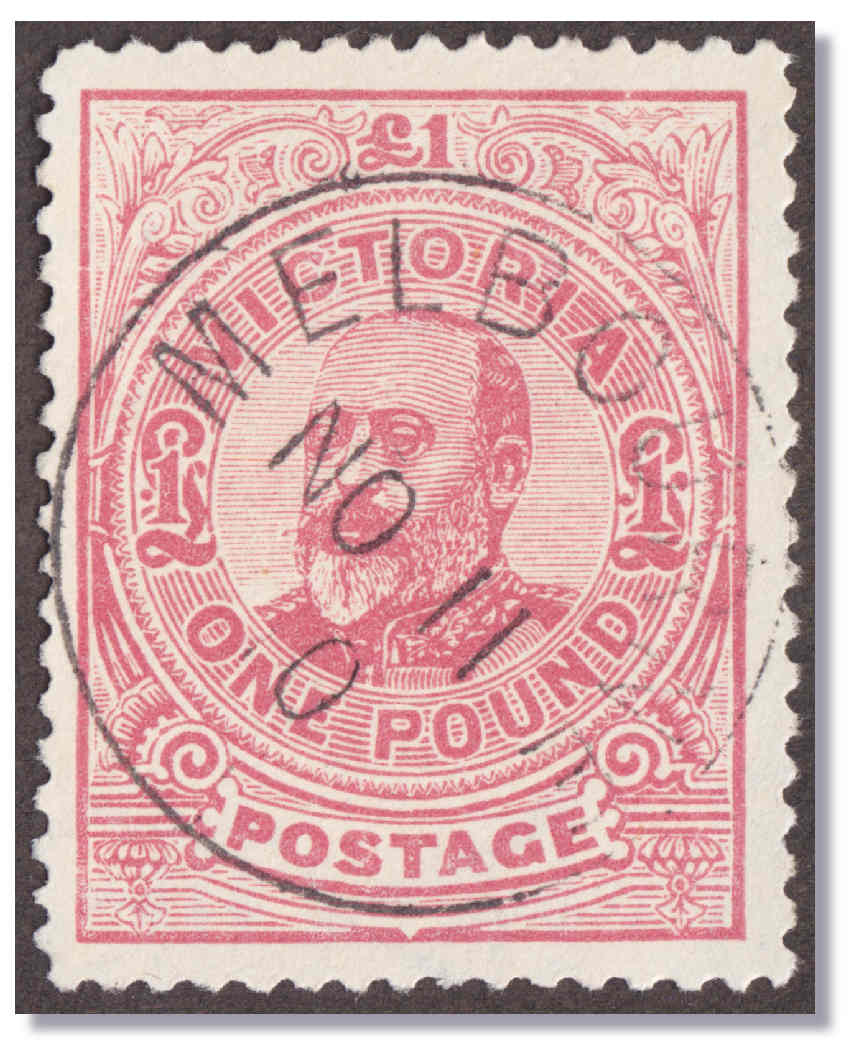 About 100 examples ever made.
Geoff Kellow "Stamps Of Victoria" handbook page 336, tells us that Oct and Nov 1910 CTO cancelled Victoria stamps were given to each Federal MP, to mark the recent Federal Legislation of October 13. Under the law, all State stamps were now decreed truly COMMONWEALTH issues, and were totally interchangeable in all States. There were then 75 Federal MPs, and 36 Senators.

This MP presentation was the same as the "Dec 5 :13" cancel CTO set with exact same cancel, given to all Federal Members Of Parliament on the issue of the Kangaroo series. (The "Dec 3 :13" identical crisp steel cds with shiny ink cancel is of course relatively common on Kangaroo 1913 values to 5/-.)
A 100% "Australian" stamp issue.
The £1 Kangaroo of that "Dec 5" cancel set is of identical scarcity to this KEVII, and was presented to the same persons in near all cases. That is ACSC 51wb, Cat $4,000, over 5 times the selling price of this KEVII stamp. As this Victoria £1 is absolutely an AUSTRALIAN stamp issue, the astute will be mindful of that, as this "cusp" period era is not YET widely sought, but one day most certainly will be.

The market for the various official Government CTO cancels on this early era has gone totally ballistic in recent years, now they are (mostly) all listed and priced in the recent ACSC catalogue. Things like 1913 3d Olive Roos CTO have got $A1,864 at public auction (and were actually more numerous than the £1 KEVII!) with the scarcer type official cancels, as regular readers will be aware. More detail here - tinyurl.com/ozCTOs

Remember in the case of the Federal MPs sets, the nearest young relative was likely given them as a curio for his collection, and of the 111 sets presented, doubtless most are now lost to philately. There are many similar examples in this KEVII era, and the wise buyers are grabbing them at today's silly low prices. A current Post Office year book costs near the retail of these!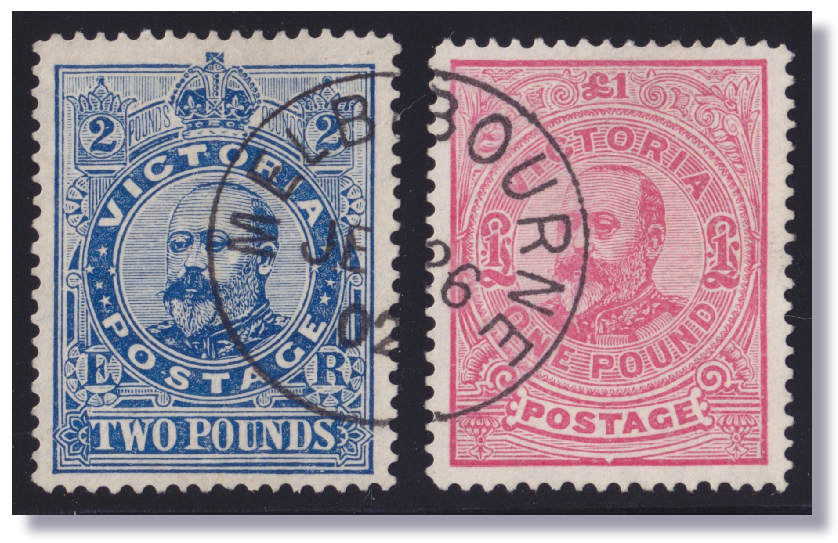 Heavily under-rated by catalogues.
The superb looking pair of the Victoria £1 and £2 KEVII shown nearby I mailed to a client this week, for just a few $100 the pair. That oddly is market value. If these were the £1 and £2 Roos that replaced these, in similar superb CTO, the ACSC Cat is $10,000.

Today's prices are ABSURD. Four copies of the current PO Year Book costs what he paid for the pair! Buyers now of these are very savvy. I have the same VFU pair with same cancels, but perf "OS" as well as CTO, for the same silly price - the "OS" Roo pair of these same values is cat $75,000!
Check your Kiloware!
How many folks see modern mail snippings, and assume it is all common fodder for soaking off? A stampboards member recently added a photo of a used Solomon Islands 65¢ stamp he had found in his soakings, and looked it up, and saw it was catalogued $US350!

A set of 5 stamps were printed by Walsall Security Printers in the UK on the usual CA sideways watermarked paper. On arrival of the stock in the Solomons, it was decided not to issue this 65¢ value. In error however, a small number of sheets were delivered to some Post Offices, and they were clearly used on commercial mail.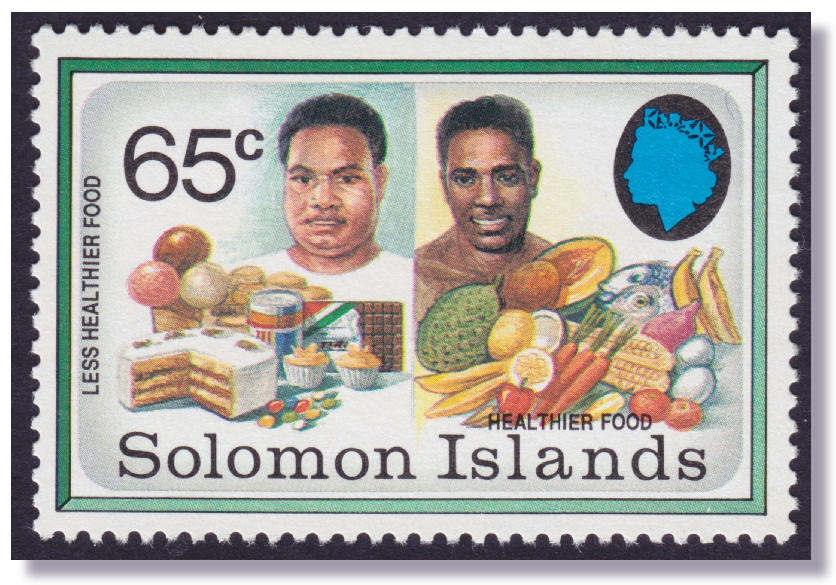 Printed, but never formally issued.
The unissued stamp from this 1991 Health Campaign set was the 65¢ value, depicting "Less Healthier Food" at the left. I have no knowledge of exactly why it was decided to hold this back at the last minute. Possibly McDonalds Solomons objected?! In PNG and Solomon PO's, strange stamp decisions often occurred in the 1990s.

Given the high obesity and Diabetes rates among the people from this region, one would think stamps like this would make perfect sense to the Solomons Government, especially when you have already paid for them to be designed and printed?

Several clearly dated used in period stamps are recorded from charity kiloware - used singles have fetched up to $760 each at Public Auctions. I bought 4 of them plus another Dolphin stamp, correct $3.75 rate, all with a clear "LATA - March 12 - 1992" cds, on dated part cover front to Canada shown nearby.
Town has a population of 553.
| | | |
| --- | --- | --- |
| | The office of sending Lata, is a tiny remote eastern island reached by small plane from Honiara, and is the provincial capital of Temotu Province. As of 2007, it had 553 inhabitants. That appears to be the latest official Government Census figure! There is a Post Office, a couple of guest houses and shops, and not much else there it seems. | |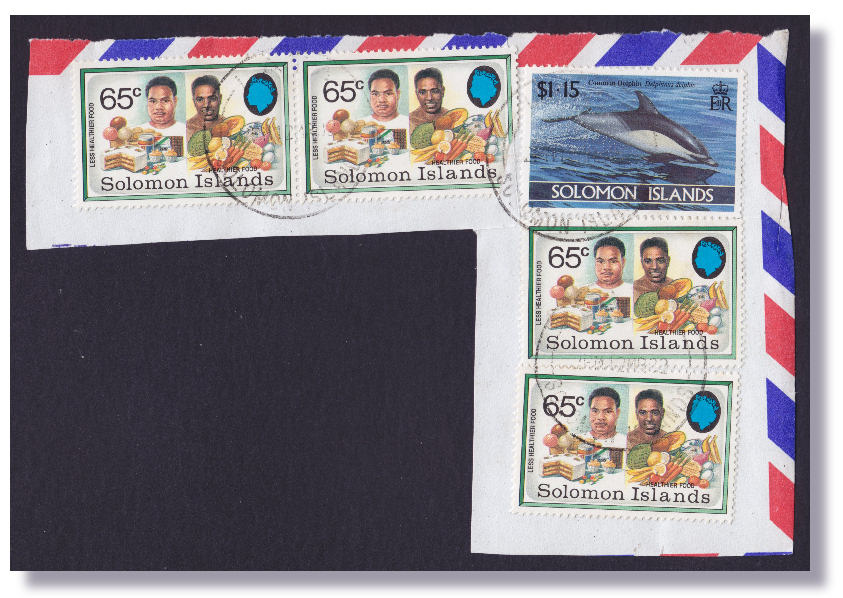 The unique "Proving" piece from 1992.
The seller was veteran Canadian dealer Ron Carmichael, who deals in kiloware and mixture type material etc. He told me last month: "I got them in a load of material from a church group. I'm assuming it was missionaries that were sending stuff here from there - they were in along with a bunch of other regular Solomon Islands used on paper stamps".

The last 2 singles Auctioned by Status Auctions in Sydney (also from Charity Mix) got $A670 and $A760 they confirm - see tinyurl.com/SolsError for details. Anyway one to watch out for if you have any mail snippings from this region, or see any 1990s kiloware material.

They are noted in both Gibbons and Scott - the latter pricing them at $US350 each = around $A500 each, as I type this. I also bought a mint block 6 from another source, and am offering singles for $A100, and a block 4 for $A325, and the unique "proving" kiloware piece of 4 stamps for $A500. Very cheap for totally unissued stamps.
How good is YOUR eyesight?
| | | |
| --- | --- | --- |
| | This had me smiling. These USA "Gold Certificates" were circulated for many decades, depicting many different USA Presidents. Very pretty items. Many of the different styles are on this link - tinyurl.com/1000error | |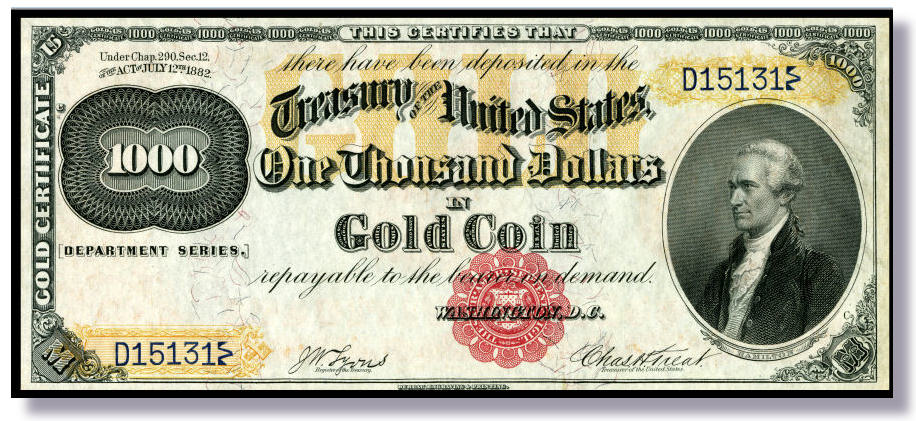 Glen's free eyesight test today.
One of them is depicted nearby - this one is from 1882. $1000 was a fortune back then - you could buy a house with it. Hence, engravings and details were carefully checked and scrutinised by endless staffers and supervisors and engravers etc.

For 138 years no-one noticed a really obvious spelling error - can you see it? Staffers at the Smithsonian were scanning one of these notes recently, and noticed a GLARINGLY obvious spelling error. How good are YOUR eyes? tinyurl.com/Answer1000 contains the answer, if you cannot see it readily here! As you can see, some got it immediately, others took an eternity!








Get my regular market update emails FREE! Stamp gossip, price trends, record sale prices, and many one-time stamp specials, wholesale bargains, and exciting offers and breaking philatelic news. A mini stamp magazine in every email! "KNOWLEDGE IS POWER". The ONE stamp list you MUST be on, to keep in touch with the rapidly changing world market. One client made $65,000 profit in a few months after following my specific advice. Sign up securely and quickly by clicking HERE to access my automated data base. And wiser still ADD your home AND work email, if I only have one right now. Add a stamp friend's email address if you wish. One short click and you are subscribed to probably the most read email list in the stamp world!




If you would like to be notified of updates to this website,
Click HERE.
If have any questions,
or comments regarding my site, please email me at glen@glenstephens.com
| | |
| --- | --- |
| | Search all my 300+ web pages! Simply type in what you are looking for. "Penny Black", "Latvia", "Imprints", "Morocco", "Fungi" "Year Books", etc! Using quotes ( " ) is more accurf used with no quotes. Search is NOT case sensitive. Tip - keep the search word singular - "Machin" yields far more matches than "Machins" etc. |


Full Time Stamp Dealer in Australia for over 35 years.
Life Member - American Stamp Dealers' Association. (New York)
Also Member of; Philatelic Traders' Society (London) IFSDA (Switzerland) etc


GLEN $TEPHEN$

Full Time Stamp Dealer in Australia for 35+ years.

Life Member - American Stamp Dealers' Association. (ASDA - New York) Also Member - Philatelic Traders' Society

(PTS London) and many other philatelic bodies.

ALL Postage + Insurance is extra. Visa/BankCard/MasterCard/Amex all OK, at NO fee, even for "Lay-Bys"! All lots offered are subject to my usual

Conditions of Sale

, copy upon request .

Sydney's

BIGGEST STAMP BUYER

: Post me ANYTHING via Registered Mail for my same-day cheque. Avoid copping the Now normal 45% Auction "Commissions" (15% Buyer + 20% Seller + GST, etc) AND their five-month delays!

Read HERE for details.

"Lothlórien", 4 The Tor Walk, CASTLECRAG (Sydney), N.S.W. 2068

Australia





Phone 7 Days:

(02) 9958-1333

PO Box 4007, Castlecrag. NSW. 2068




E-Mail:

glen@glenstephens.com

The Number #1 Web Sites:

and www.stampboards.com