May 2017


---
"Melbourne 2017" Big Success
| | | |
| --- | --- | --- |
| | The large "MELBOURNE 2017" Stamp Expo finalised in April, and from all accounts it was an overwhelming success. The Caulfield Racecourse venue was easy to access, with free parking, and I feel sure will be a favoured option for any future large shows in Melbourne. | |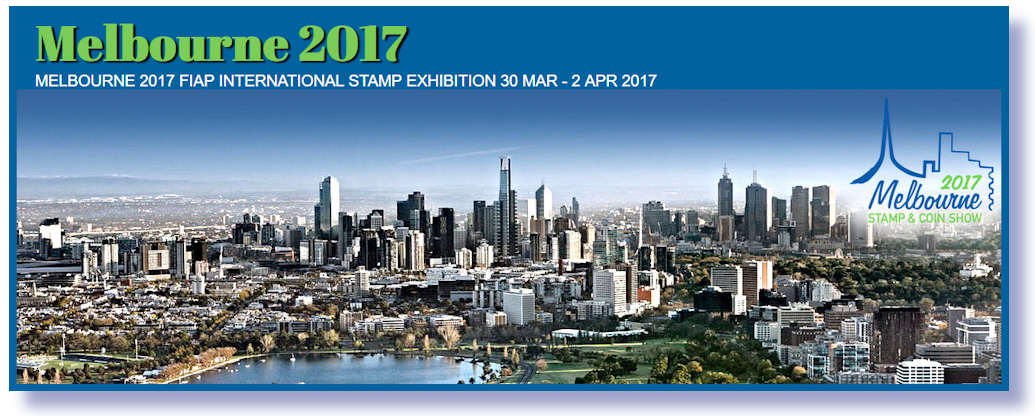 A great success all round.
All dealers I spoke to were pleased with results, and the Philatelic Bureau seemed to do especially well, and their direct client email and postal mail shots really helped bring in the public in large numbers. The line outside the doors each day was 100s of persons long, as you can see from this photo nearby, I took one morning.

I attended the gigantic New York Stamp Expo 2016 in New York at the Javits Center, less than a year back, and it is my STRONG belief there were more people attending Melbourne each day, than they got there, despite their MEGA gazillion American budget!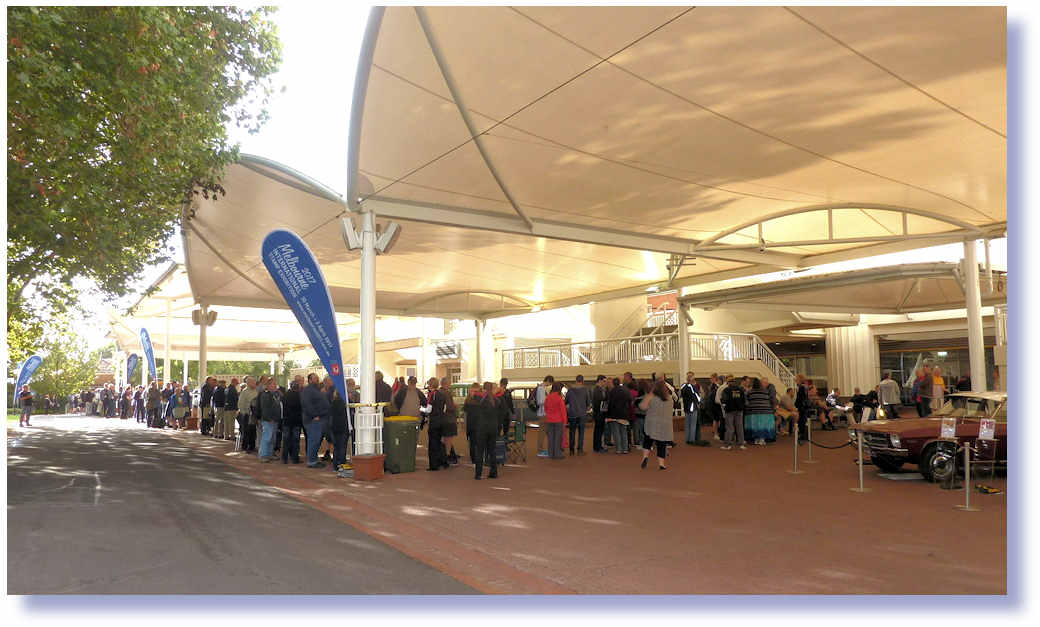 Entry lines like an AFL footy game!

Great to see, and the health of the hobby is as strong as ever, that much is for sure. The Organising Committee did a great job, and these folks are truly the unsung heroes behind such huge events. Stephanie Bromser, Gary Brown, David Figg, Frank Pauer and all the gang must have put 1,000s of unpaid hours into it, and Peter Allen kept the website updated and relevant.

Collectors supporting the show even whilst not attending, by buying the superbly produced souvenirs is essential to fund these events. A range of show product was offered at a reduced rate, some up to $50 off, subject unsold so do take a look and make a donation - good til May 5 only - tinyurl.com/ExpoShop
Hope the website stays put.
| | | |
| --- | --- | --- |
| | I do hope the website is allowed to stay around for years - melbourne2017.com.au - I never understand why these Show sites vanish after a few months generally, when 100s of hours of work goes into them. All the exhibits and results, and product and activity detail, and floor maps and dealer lists, are hence there forever, and cost to keep them up is literally zero. The wonderful "Melbourne 2013" website quickly vanished without a trace. Sad. | |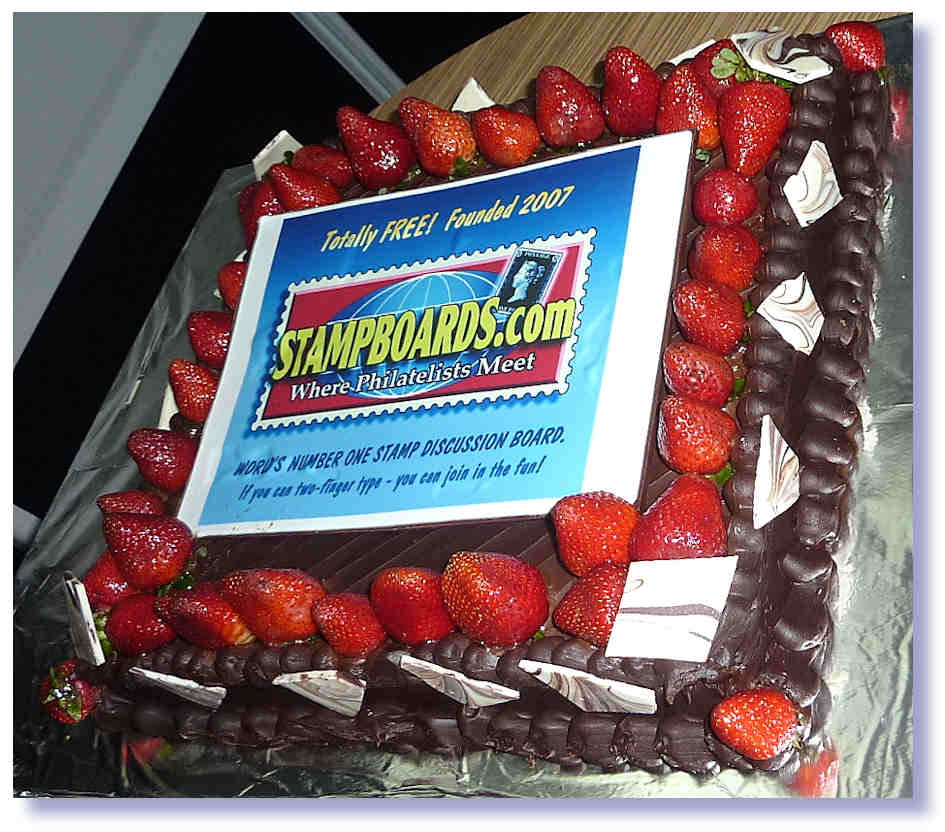 10th Birthday takes the cake!
www.stampboards.com turned 10 Years Old on the Saturday of the show, and we had a well-attended dinner, and then a "standing room only" meeting at the show, with a special chocolate cake hand-made in Collingwood, with the edible logo printed onto the icing somehow! That and other goodies, with guest speakers, "Stamp News" Editor Kevin Morgan, and Phoenix Auctions owner, David Wood.

These shows offer a wonderful opportunity for folks to fly in from around the country and overseas, and see the Exhibits, the dealers, and catch up socially. The Committee offered stampboards a stand area, and it was a constant hub of chats and info sharing, and a "Meeting Point". Members David Benson (left) Paul Howden (hidden!) and Rodney Perry are in the photo nearby.

tinyurl.com/2017Melb contains 100s of photos, dealer stands, and updates taken from the show, and the stampboards Tenth Birthday month is still in full swing - I am giving away a lovely 4 margin 1840 Penny Black right now with corner letters "S.B."(!) that is simple to win.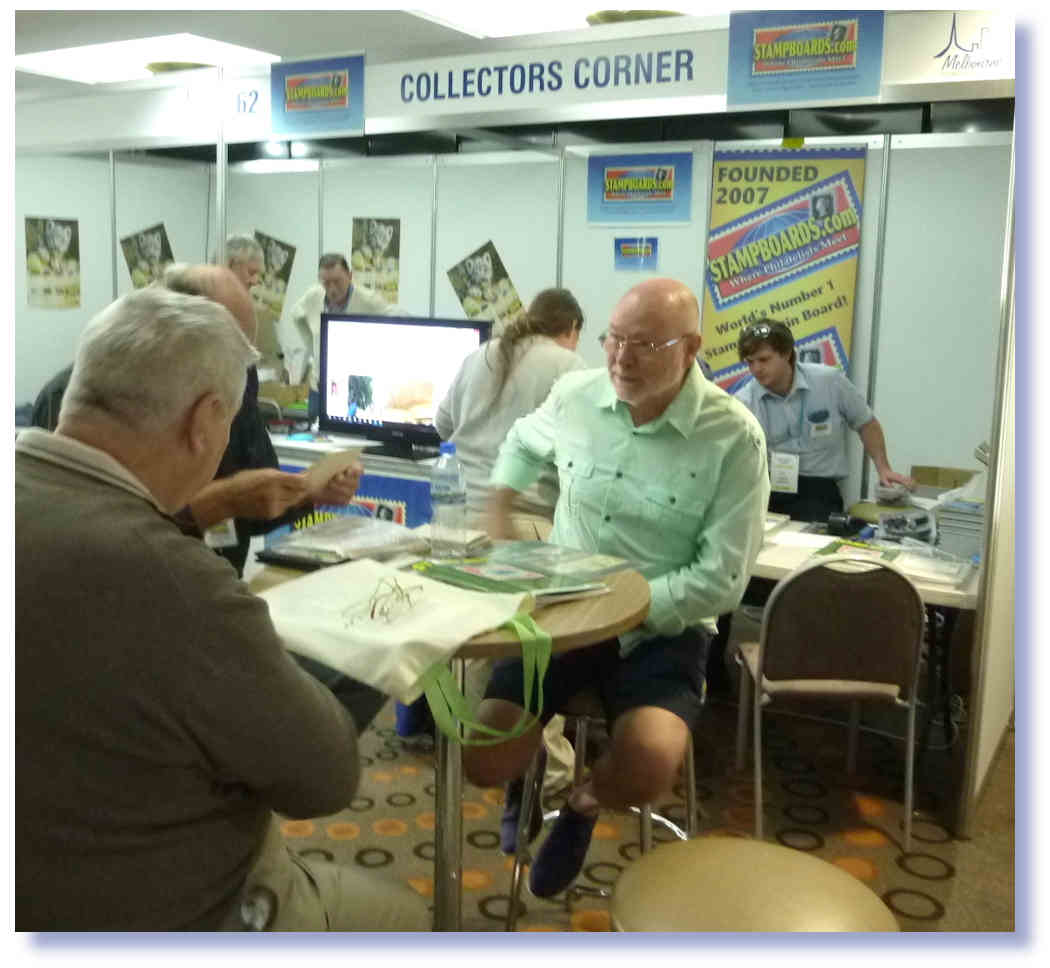 Popular "Meeting Point" for collectors.

| | | |
| --- | --- | --- |
| | Great to see these big shows getting off the ground, and being a great success, and it does prove once again that the hobby is very much alive and vibrant, if these things get the right organisation and support behind them. It also shows they can only be held in Melbourne. Sydney for 30 years has always been a disaster, and lesson learnt hopefully! | |
Quite a "Chunk Of Change"!
Lots of stamp collectors also collect coins, and even if you do not, this is a pretty amazing story. Berlin police say thieves broke into the German capital's Bode Museum in late March, and made off with a massive 100 kilogram (221 pound) gold coin worth millions in bullion value.

Museum Spokesman Stefen Petersen said thieves apparently entered through a window about 3:30 a.m, broke into a cabinet where the "Big Maple Leaf" coin was kept, and escaped with it before police arrived. A ladder was found by nearby railway tracks.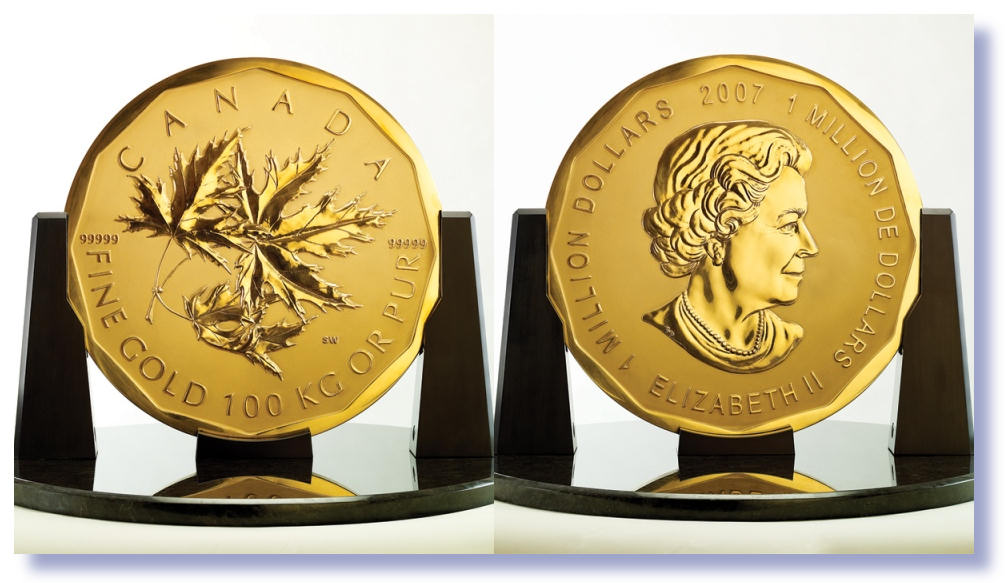 A serious coin - melt value $A5.25 MILLION!

The three centimetre (over 1 inch) thick coin, with a diameter of 53 centimetres (21 inches), has a nominal face value of $C1 million. But by weight alone, however, it would be worth around $A5.250 million at bullion market "melt" prices on today's rates.

In October 2007, the Million Dollar Coin was certified by Guinness World Records to be the world's largest gold coin. The coins are manufactured at the Mint's Ottawa facility, where the Mint operates world-class gold and silver refineries, securely stores gold bullion, and mints all Royal Canadian Mint gold bullion products and collector coins.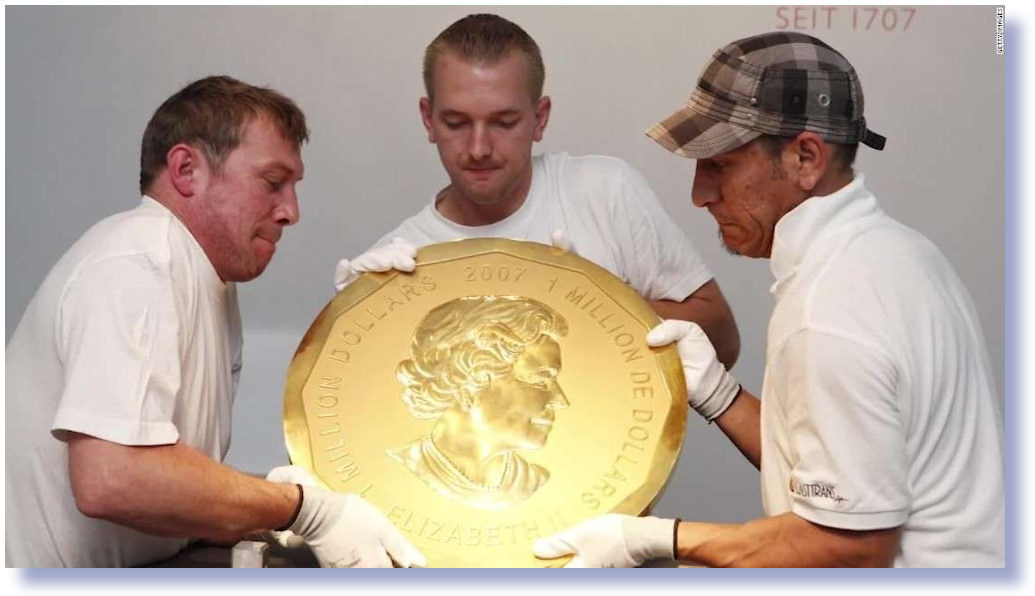 Weight 100 Kilos - 3 men to lift.

| | | |
| --- | --- | --- |
| | After several interested buyers came forward after that publicity, the Mint decided to make a very limited quantity available for sale. To date, five of these gold bullion coins, weighing 3,215 troy ounces each, have been purchased by investors, from Canada and abroad. | |
POW Mail from Australia: Auction.
Last month I ran a piece on a censored POW lettersheet from an Australian POW Camp, written by an captured Italian Army Captain during WW2. To a Melbourne stamp dealer, ordering postage stamps, including a set of the 1935 Silver Jubilee depicting the English King George V! Pretty funny.

Gary Watson from mossgreen Auctions in Melbourne read it, and pointed out to me for collectors of this field, they are auctioning in June, the collection of POW Mail formed by Neil Russell from England which he tells me is very extensive.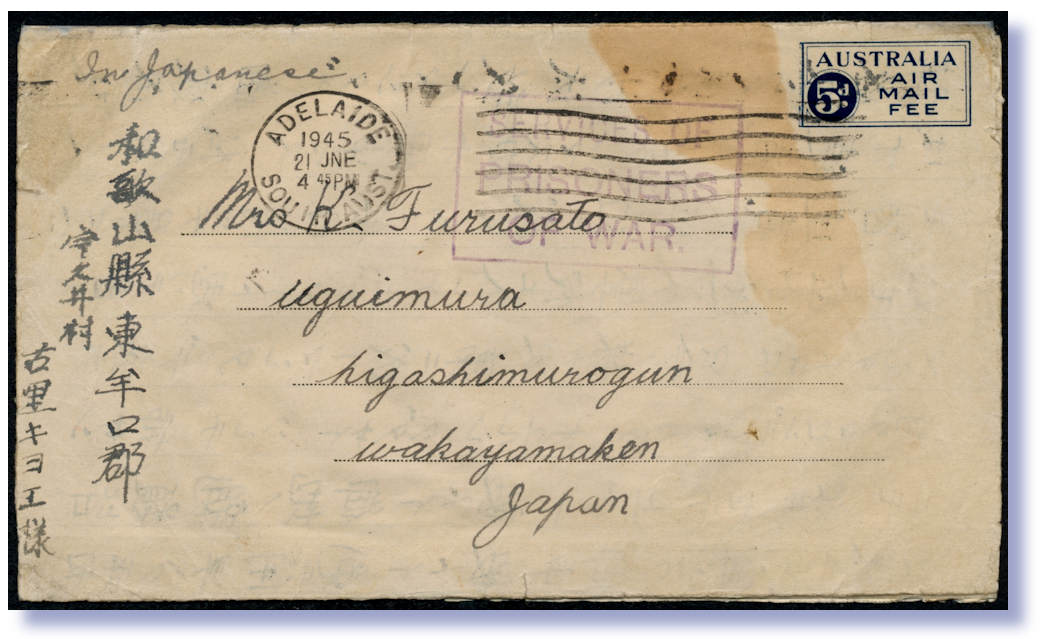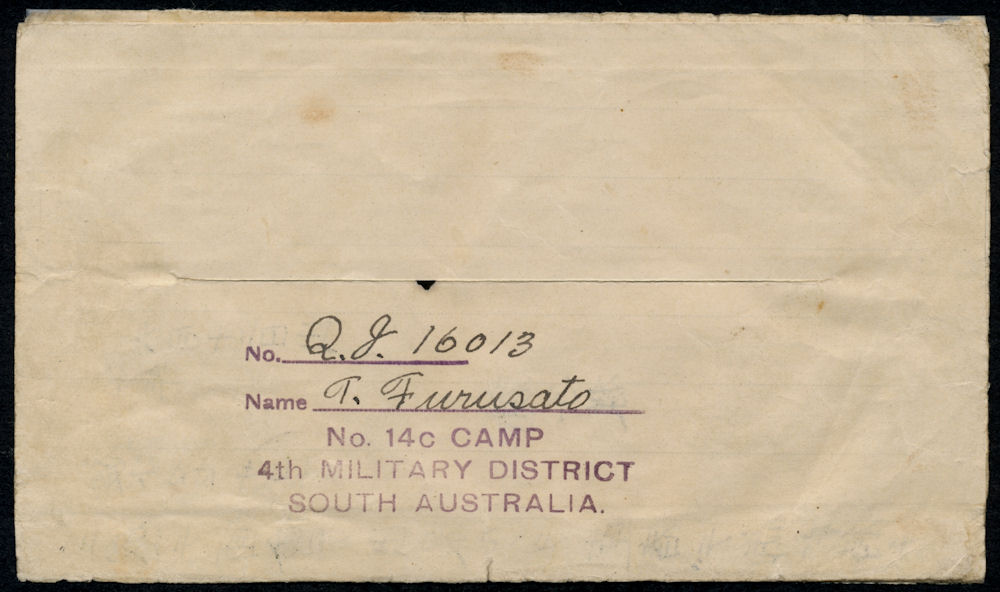 Unique WW2 POW mail to Japan.
Watson told me - "Did you know that Japanese POWs at Cowra in NSW staged the biggest mass escape in Australia during WWII? More than 200 of them were shot & killed. Now there's a story. Because capture was a fate worse than death for the honour-bound Japanese, mail from Japanese POWs in Australia is completely unknown."

"However, Neil Russell's collection includes an extremely rare 5d airmail lettersheet from a civilian internee at the Loveday Camps in South Australia. Catalogued at $10,000 in the ACSC, this is widely believed to be the only example in captivity. Despite having a light stain on the address panel, I expect the estimate of $5,000 will attract plenty of interest" Watson concluded.
NZ 3d "Vanguard" gets $NZ67,850.
I wrote in February in my magazine columns in Australia and the UK, two full colour pages on the forthcoming Auction of this stamp, and on stampboards, adding a good deal of the history of this stamp. The estimate was $NZ25,000, and I predicted it would do far better than that.

That was prophetic, and two clients told me they were going to join in the bidding after reading it. It was invoiced for a huge $NZ67,850. More than double what any of the other examples have sold for in the past.

I mentioned this to John Mowbray at the Melbourne Expo, and suggested he might like to donate a few bottles of bubbly to the stampboards member dinner that night as a tiny "Thank You". Anyone who knows of John's fabled Kiwi generosity will know the response to THAT!

In 1949 a proposed Royal Tour to Australia and New Zealand was cancelled, owing to the poor health of King George VI. The Royal Party was to travel on Battleship "H.M.S. Vanguard", as they had previously done in 1947 on their tour to South Africa.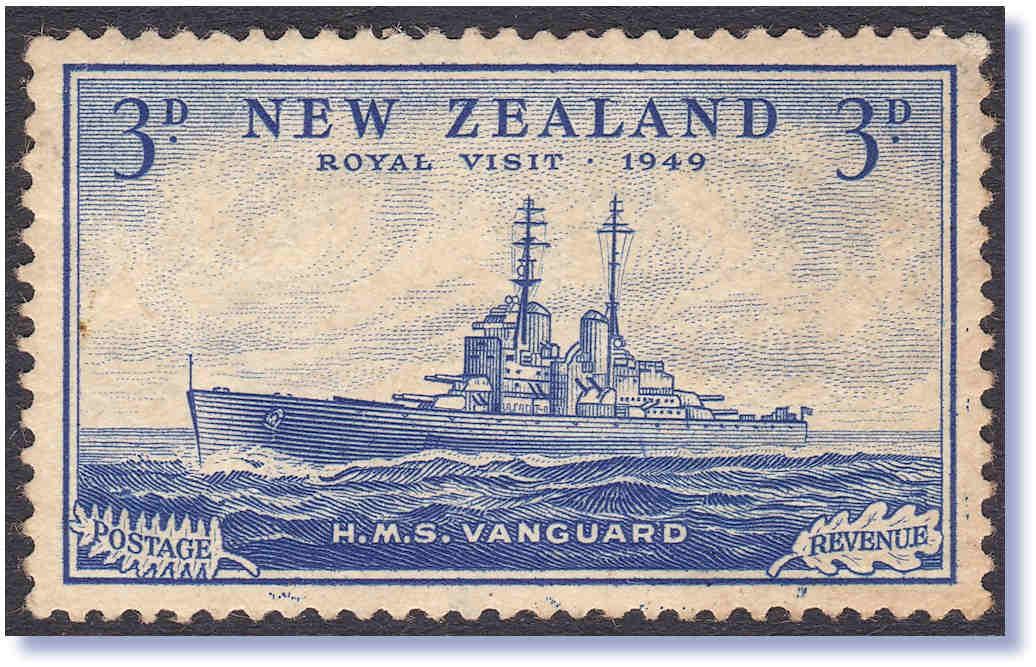 NZ Ship stamp sells for huge price.

| | | |
| --- | --- | --- |
| | A set of 4 commemorative stamps were printed for the New Zealand Post Office by Waterlow & Sons of London. In a total run of 39 million stamps of 2d, 3d, 5d and 6d values. When news that the tour was cancelled was received, the stamps were ordered to be destroyed. | |
All "Printer's Waste"?
Allegedly about 7 stamps were caught in the door of the destruction furnace, and were salvaged by a naughty workman: the rest being consigned to the flames. I doubt this. Stolen "Printer's Waste" more likely. All are creased and damaged, some far more than others, indeed 2 of them have missing pieces. One has a full gum offset!

This aborted 3d "HMS Vanguard" stamp issue is mentioned in a footnote by Stanley Gibbons in catalogues after SG 697. The better looking stamp shown nearby was included in the Mowbray Collectables March 11 Public Stamp auction in NZ, with an estimate of NZ$25,000.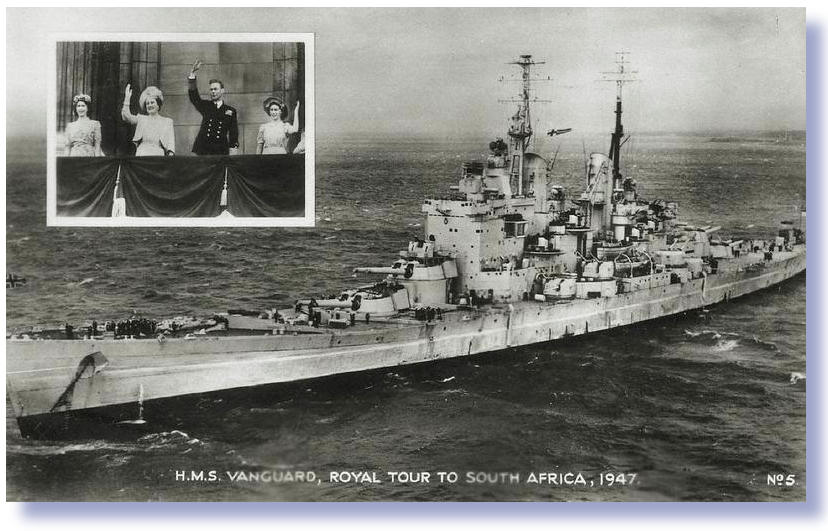 What a way to do a Royal Tour!
The Mowbrays website is truly of appalling 1990s super clunky standard, no search option, and no photos of anything when I first looked for the stamp, but the "Vanguard" listing was indeed buried in there SOMEWHERE I am told by David Smitham, despite 10 minutes of searching, and not locating it!

Anyway, the free global publicity from outside the stone age Mowbray website certainly created a great deal of interest, and the stamp was invoiced for $40,000 more than the estimate. John told me he does not get or read "Stamp News" so I trust he now subscribes! Never know what you will learn.
Fahour gone - good riddance.
The obscenely overpaid, and obscenely under-performing, Ahmed Fahour CEO Of Australia Post, has at last been given the boot. Well, pushed very heavily into a sudden "retirement" is probably the political party line, on his very sudden and WAY overdue departure.

When the Prime Minister of this country is on national media agreeing Fahour was grossly overpaid, your future does not look bright! Very soon afterwards, this Lebanese carpet-bagger made his sudden and unexpected "retirement" announcement. Good riddance to bad rubbish. What a total disaster of an appointment.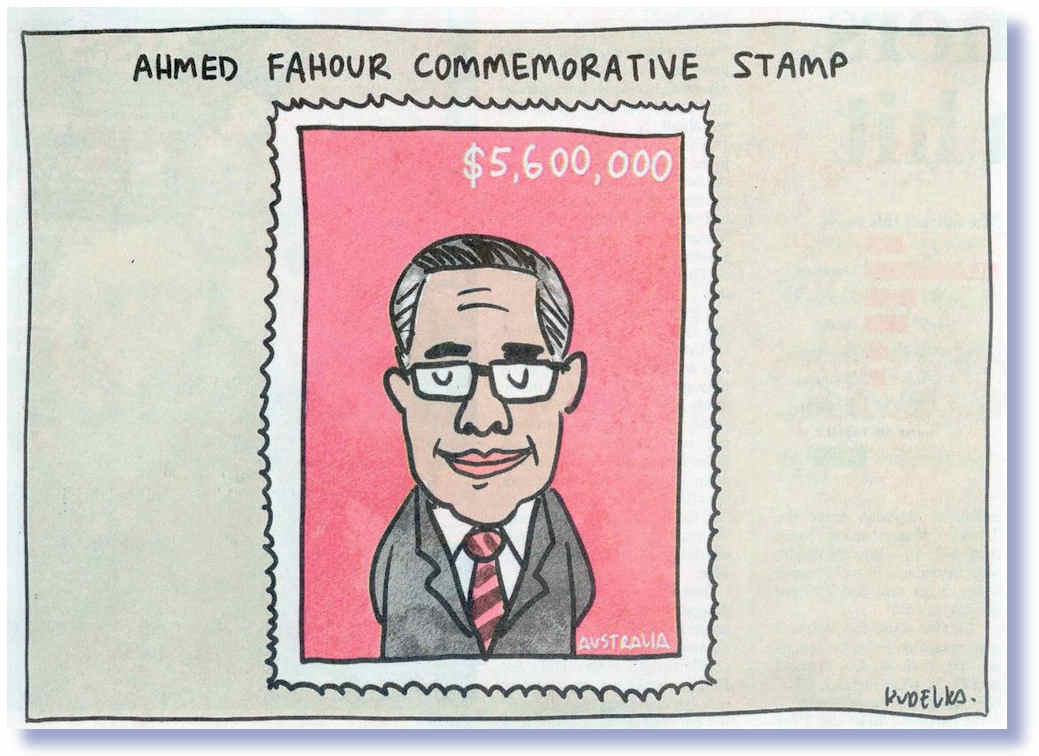 "Good Riddance to Bad Rubbish."
Fahour and his Fat Cat top tier of also hopeless mega paid Executives, tried cunningly to hide their wages from the public and the Parliament this year, and were caught red handed, and exposed. The national outrage that followed sealed his fate. Fahour was getting paid for years, at TEN times what the Postmaster General of the USA gets.

Fahour was a disaster for our Post Office. Appointing a BANKER who knew nothing whatever about a postal system, and paying him $5.6 million a YEAR as per his most recent disclosed salary, was obscene.

Ahmed Fahour also ensured HE got fully accepted into the once mega generous Australia Post Staff Superannuation scheme - and then closed that door for all other employees in future. Lovely chap.

His superannuation payout down the track will also be massive. All Fahour did was crank up postal rates massively - in a few short years a first class domestic letter went from 60¢ to $1.50, and all parcel and overseas rates skyrocketed as well, along with add on services and packing products.

Reliability also went totally down the toilet under his "leadership", and yet the red ink still flowed for his employer - for US, the taxpayers! How can you LOSE money running a monopoly like Australia Post - you must be KIDDING??! The profitable parcels business has totally exploded in size due to online shopping.

Incompetence on a massive scale, and whomever replaces him, no matter how savvy and experienced, will take years to unravel the disastrous mess, and Kooky ideas that Fahour oversaw and implemented. Registered mail across this country now routinely disappears completely, or takes MANY months to arrive. See below.
$10,000 stamp vanishes for 5 months.
| | | |
| --- | --- | --- |
| | Many HOURS of each week is now spend by me, and other mail order dealers, patiently explaining to clients that their missing mail pieces have nothing to do with us. But are entirely down to the barely functioning Australia Post mail system Fahour oversees. It never USED to occur, and I've been doing this for near 40 years. | |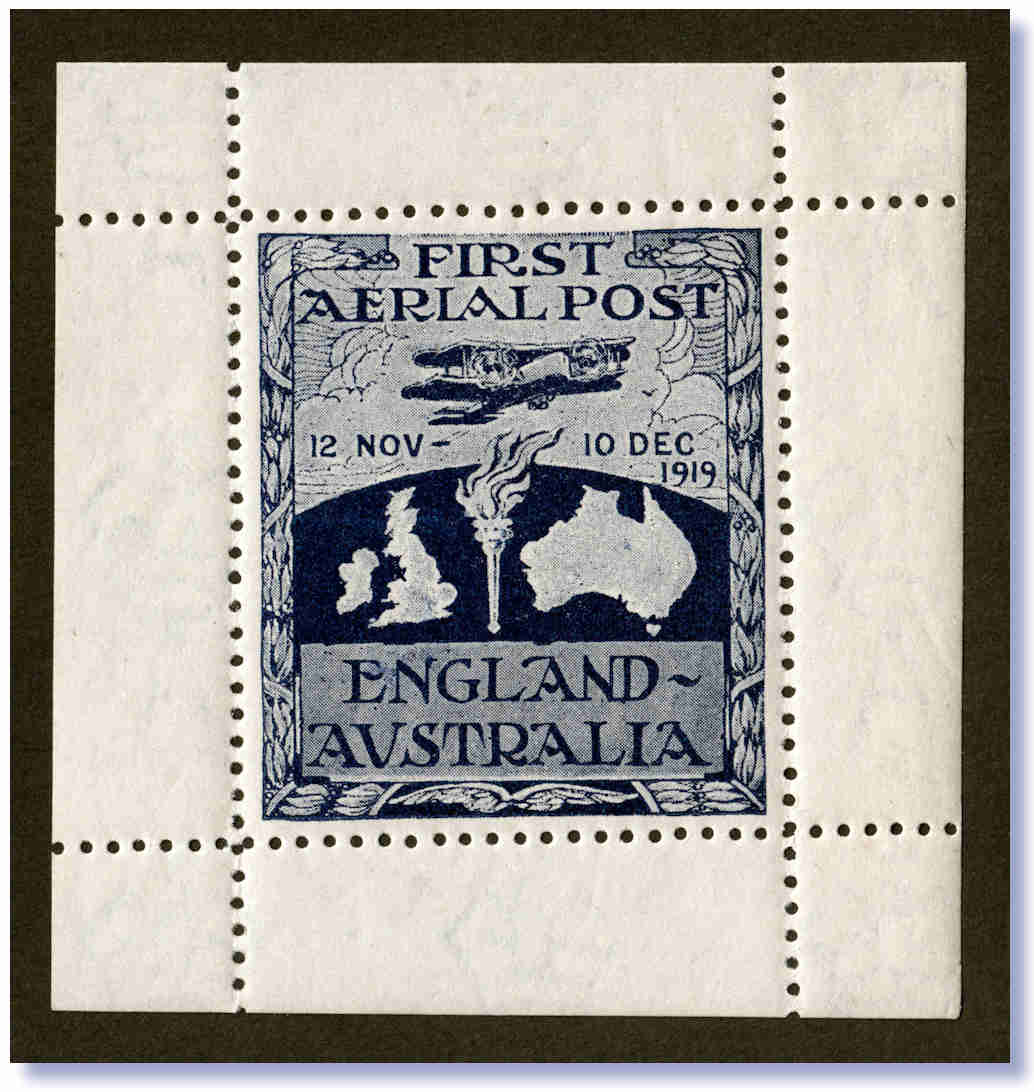 Ross Smith vanished for FIVE months
I mailed a rare 1919 Ross Smith Airmail Vignette stamp to a regular Melbourne client in NOVEMBER 2016 by Registered Mail. He paid in full, paid the high insurance fee, and waited patiently. And waited and waited and waited. This story below seems like it is B Grade fiction script, but sadly, it all really occurred.

Two MONTHS after I mailed it Registered, the sending arrived unopened back in my street letter box late January. No signature sought by the Post Office. Nothing on the tracking to show it even got delivered back. Appalling. Lucky I am honest. So I enclosed the original sending in a larger PostPack heavy duty mailer, added a bland $2 stamp to make sure it was not stolen for the pretty stamps, and re-sent it Registered January 30.

The "3082" postcode for Mill Park Melbourne is correct and clearly written as all can see. I even wrote it in large red numbers as these $500 million Fahour non-functioning sorting machines seem to routinely read postcodes wrong. Again it totally vanished into the AP Black Hole for 2 another months. A $10,000 stamp - missing again.

I frankly assumed it had been stolen or lost. Inexcusably the quite hopeless and farcical Post Office Registration label fee compensation has been UNCHANGED for over half a century, literally at $100 Maximum. Despite the Registered Mail fee being literally hiked TWENTY fold during that time. Much more on that here - tinyurl.com/GlenFeb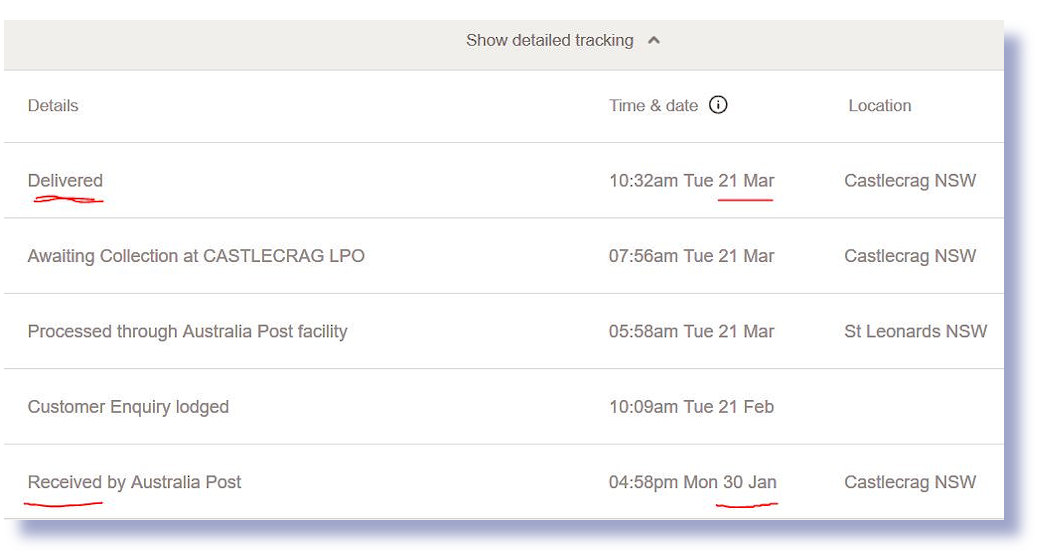 Post Office Massive Black Hole.
| | | |
| --- | --- | --- |
| | A month later, I phoned AP to speak to the Drones there on the "UnHelp" line, who are totally clueless, and cheerfully advised me it had been lodged January 30. I knew that of course. "Where it is NOW?". "We have absolutely no idea Sir, have a nice day". That was the end of that. A MONTH later it turns up back in my PO Box for signature! No tracking events as you can see for 2 months. | |
The letter NEVER left Sydney!
| | | |
| --- | --- | --- |
| | ZERO markings on either side, of the spray-on orange fluoro sorting bars etc. The PO tracking shown nearby clearly proves the letter never left NSW!! It clearly never went near Victoria. HOW these dopes can deliver it back to SENDER after 2 months, only Mr Fahour can advise us. Both sides of the mailing piece are shown nearby. Does anyone agree it was not correctly addressed? | |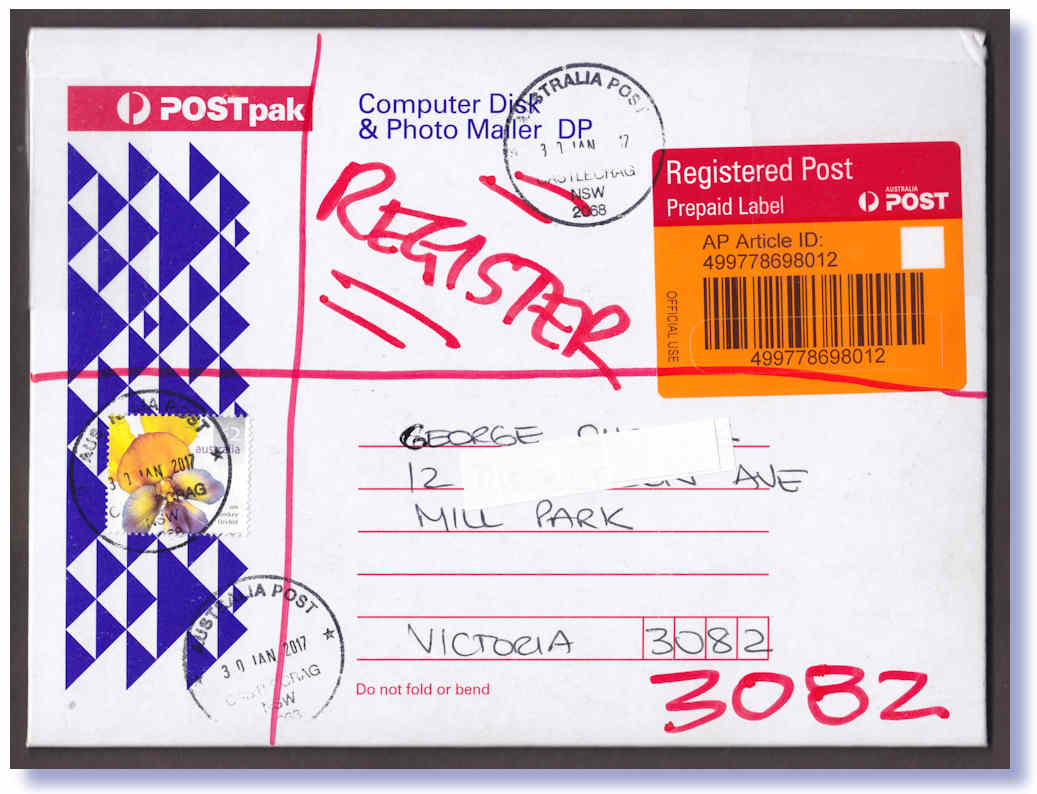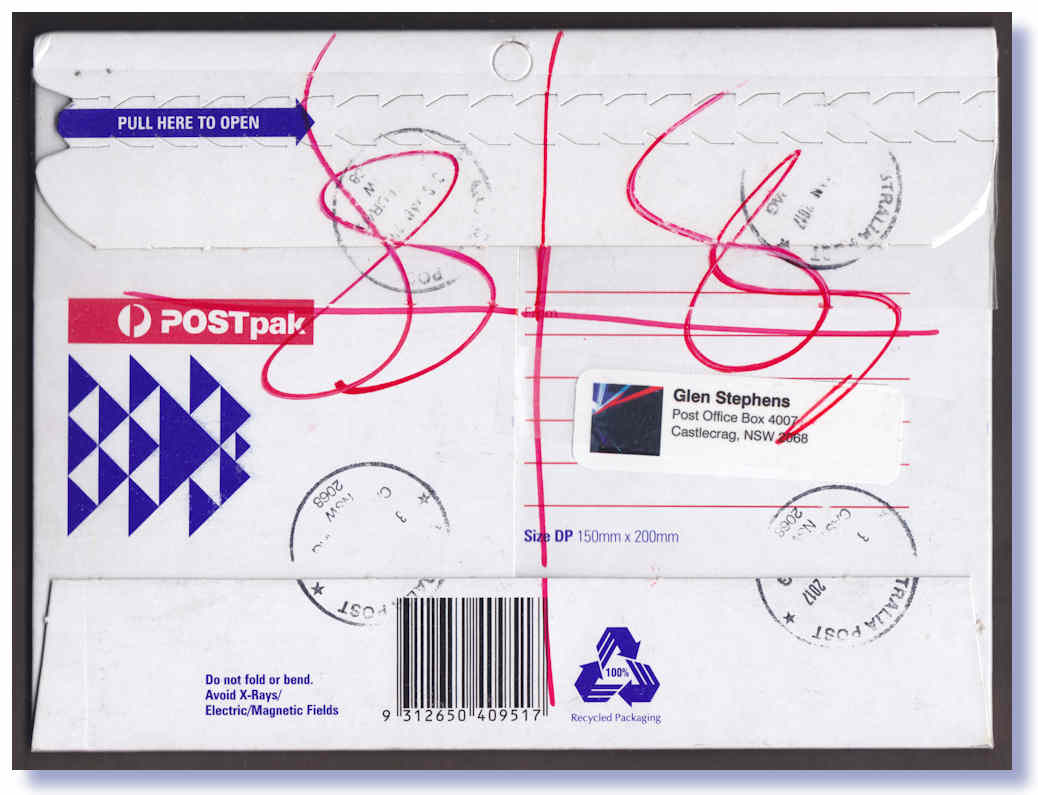 Lost totally for TWO months. Again.
Now remember this client paid me $10,000, plus insurance in NOVEMBER. By late March, 5 months later it is STILL in NSW, and he has never seen it. Let me ask you, if you bought something from a dealer for $10,000, and still had not received it 5 months later, how would YOU be feeling? We are talking the next state here - not a country 10,000 miles away etc.

The buyer, a regular client George, was remarkably patient and understanding, and I publicly thank him. He could see from the 2 lots of tracking data these morons at Australia Post were to blame - not me, but I am sure he was nervous and annoyed all the same - as I would be, and indeed ALL readers would be.
Do we need to use Couriers?
George was talking about getting a quote and organising a private courier to come and collect the envelope and stamp at his expense, as he could no longer trust Australia Post to move a small piece of valuable mail with any certainty. An appalling situation for anyone to be in, but in his case Australia Post had failed miserably. TWICE.

So I did the only thing that I KNEW would work, and got on a plane late March and flew down the stamp, and the 5 month delayed 2 lots of Australia Post Registered envelopes, one inside the other.

I rented a car, and found his home, and the photo nearby is me handing over the errant $10,000 sending in person at Mill Park in Victoria. It seems insane that in 2017 one needs to resort to this, but Australia Post have lost the plot.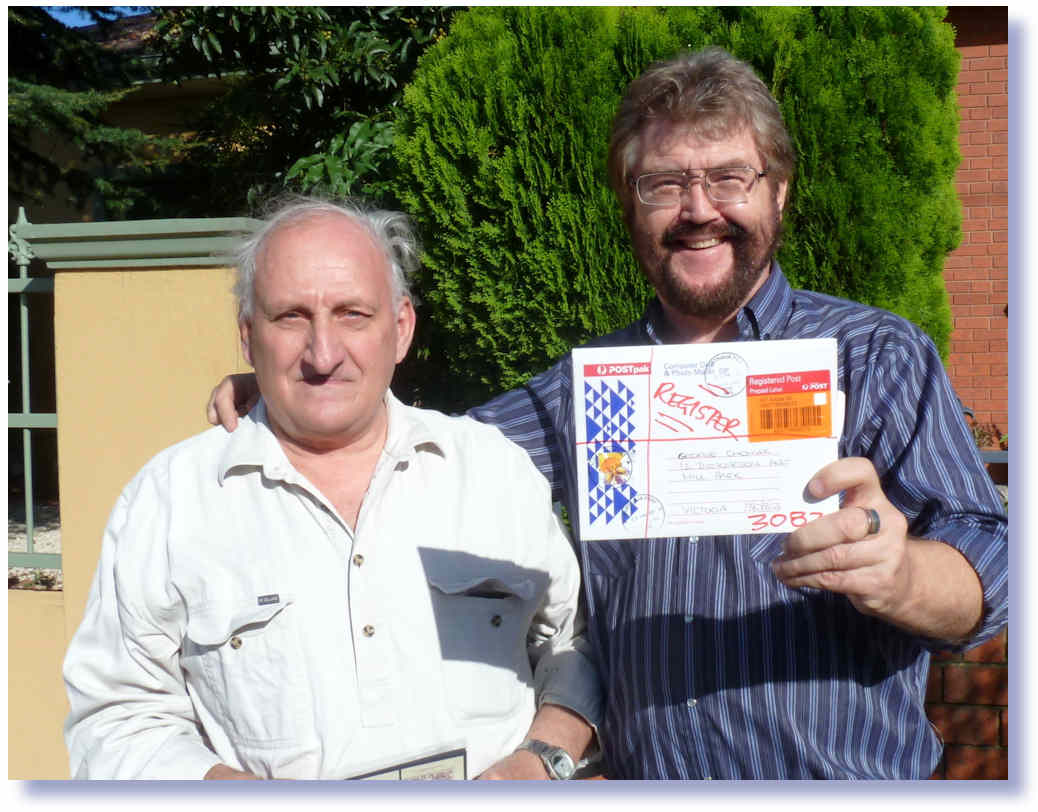 Solution to AP - deliver goods in person!
Will I get one cent in compo from Australia Post for the airfares and car hire and wasted time? I'll let you guess on that. Not to mention two lots of lost Post Office Registered Post, and very costly insurance. If anyone has any media contacts they want to pass this trainwreck onto, be my guest - this stuff should be highlighted to make them improve their game - here is the link to this sad story - tinyurl.com/GlenMay17

These mad losses and delays affect all people who use the mail. It never USED to happen in the days before Fahour, and I have happily used Registered Post for near 40 years with total confidence. To this day when I send ANYTHING Registered to ANYWHERE overseas, neither I as sender or recipient can even see verification it has been lodged. This is ZIMBAWBE level service AP, it really is.

Another Victorian client abused me around the same time for a long delay of his sending, for being "incompetent" and cancelled all future orders. He could see from tracking data his envelope was mailed when I stated. His choice of course, but sad that Post Office inefficiency is causing small businesses all over the country to lose good clients through NO fault of their own. AP really should be accountable.
Stolen Stamp makes it home at last.
| | | |
| --- | --- | --- |
| | Another example of how Registered mail gets stolen from Australia Post, is the 5/- Kangaroo stamp shown nearby. It is a superb looking 1913, 5/- Kangaroo with interpanneau margin piece, and postally cancelled with an "English Mail" TPO cancel, as you can see. A real gem. | |


Kangaroo hops back to owner!
A lovely stamp that I sold 3 years back to an Adelaide collector for several $100s, who collects "English Mail" TPO cancels, and this was to hold pride of place stamp in his collection. I mailed it to him Registered Post. It never arrived. Eventually I paid him the $100 PO Compensation value, and apologised for the AP slackness.

Because it was SUCH a distinctive looking stamp, I decided to start a discussion on this on stampboards, urging folks to keep an eye out for it, in case it ever turned up in Auction or on ebay etc, and hopefully track it down. That thread is here, and is very interesting reading - tinyurl.com/TPO5sh

Strange story, but some guys bought over some stamps for me to buy this month, mostly common kiloware, and this stamp was among them. I bought the stamps and mailed it free to the original buyer who was delighted. He is the CEO of Scouting South Australia, and I am sure their motto of "BE PREPARED" was put to the test, when he heard the news!

Anyway a "Good News" story in this era of bad news near everywhere - he is lucky I am honest, and such a delightful looking stamp finding its way back home is great to see. Dan is a stampboards member, and has confirmed on there it FINALLY reached him this month, so a happy ending all round, to close off this month's column.









Get my regular market update emails FREE.REE. Stamp gossip, price trends, record sale prices, and many one-time stamp specials, wholesale bargains, and exciting offers and breaking philatelic news. A mini stamp magazine in every email! "KNOWLEDGE IS POWER". The ONE stamp list you MUST be on, to keep in touch with the rapidly changing world market. One client made $65,000 profit in a few months after following my specific advice. Sign up securely and quickly by clicking HERE to access my automated data base. And wiser still ADD your home AND work email, if I only have one right now. Add a stamp friend's email address if you wish. One short click and you are subscribed to probably the most read email list in the stamp world!




If you would like to be notified of updates to this website,
Click HERE.
If have any questions,
or comments regarding my site, please email me at glen@glenstephens.com
| | |
| --- | --- |
| | Search all my 300+ web pages! Simply type in what you are looking for. "Penny Black", "Latvia", "Imprints", "Morocco", "Fungi" "Year Books", etc! Using quotes ( " ) is more accurf used with no quotes. Search is NOT case sensitive. Tip - keep the search word singular - "Machin" yields far more matches than "Machins" etc. |


I am a Dealer Member in Good Standing Of:

Full Time Stamp Dealer in Australia for over 35+ years.
Life Member - American Stamp Dealers' Association. (New York)
Also Member of: Philatelic Traders' Society. (London)
GLEN $TEPHEN$

Full Time Stamp Dealer in Australia for 35+ years.

Life Member - American Stamp Dealers' Association. (ASDA - New York) Also Member - Philatelic Traders' Society

(PTS London) and many other philatelic bodies.

ALL Postage + Insurance is extra. Visa/BankCard/MasterCard/Amex all OK, at NO fee, even for "Lay-Bys"! All lots offered are subject to my usual

Conditions of Sale, copy upon request .

Sydney's

BIGGEST STAMP BUYER: Post me ANYTHING via Registered Mail for my same-day cheque. Avoid copping the Now normal 45% Auction "Commissions" (15% Buyer + 20% Seller + GST, etc) AND their five-month delays!

Read HERE for details.

"Lothlórien", 4 The Tor Walk, CASTLECRAG (Sydney), N.S.W. 2068

Australia

Phone 7 Days: (02) 9958-1333

PO Box 4007, Castlecrag. NSW. 2068


E-Mail: glen@glenstephens.com The Number #1 Web Sites: www.stampboards.com