February 2017


---
$75,000 Rarity appears after 108 years.
Most "Australia" collectors imagine the priciest basic face different stamps they will need to secure to be "complete", are the £1 and £2 Bi-Colour Kangaroos. Not even remotely close, I am here to tell you!

As I constantly type here: "The LAST word in philately is NEVER written." We must never, ever, assume that all rare and scarce and valuable stamps are known and recorded in the market. New major discoveries occur each year.

A classic case in point is the 1909 20/- Postage Due illustrated nearby. Until a month back, only 2 used copies were recorded. Now there are THREE, and this one nearby is offered for auction in a few weeks from when you read this piece.

As recently as 1990, very experienced dealer Rodney Perry says he would have made a very large bet that not even a single used copy existed of this stamp. Things change - never assume we know it all.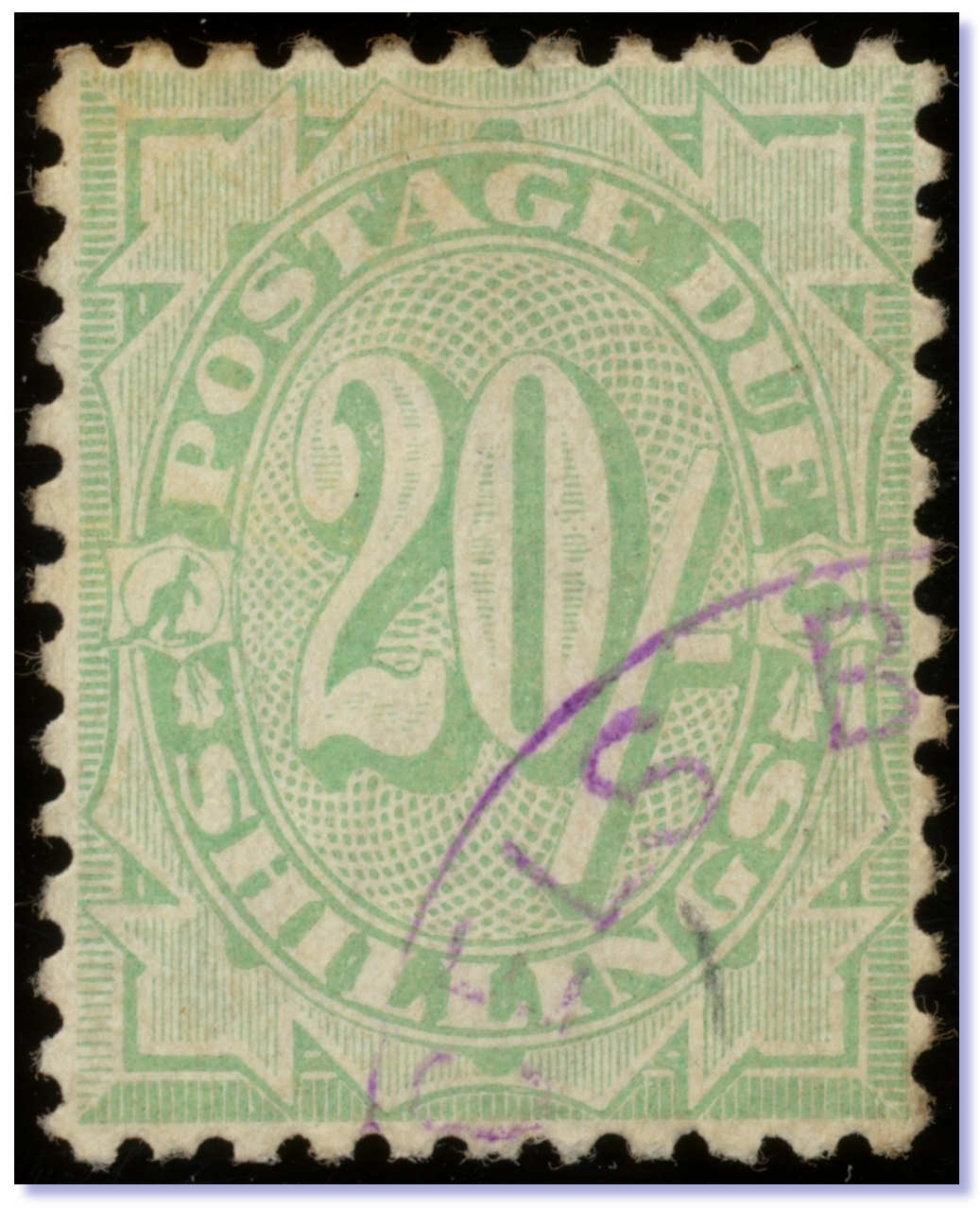 New discovery - cat £50,000.

| | | |
| --- | --- | --- |
| | It was sitting quietly in a fairly mainstream and generally unremarkable stamp collection, formed over several generations by a NSW family. It was consigned to Melbourne Auctioneer mossgreen recently. This stamp had never been on the market before. | |
Australia's Rarest Stamp
The rare stamp is the "Twenty Shillings With Stroke" Postage Due first issued in 1909. It is Stanley Gibbons number D62, cat £50,000 used, and ACSC D65, cat $A75,000 for genuine used copies. Mint examples, although rare, are rated about one sixth as much in both catalogues.

The earlier 1902 green monocolour issue of exact same general design, had the figure of value up HUGE in centre of the stamps, so that the Pence and Shilling values were very easily mixed up by PO staff, as you can see nearby. 2d was very heavily used, as double the 1d deficient rate. Licking on a 2/- and charging 2d was a costly mess.

The dopes issued a 1d and 1/-, a 5d and 5/-, a 2d and 2/-, and 10d and 10/- etc in the set, that all looked pretty much identical to each other on a glance, as can readily be seen from the photo nearby. Ten PENCE and Ten SHILLINGS was a vast difference in revenue, if mixed up etc. Near a week's wages for a working man.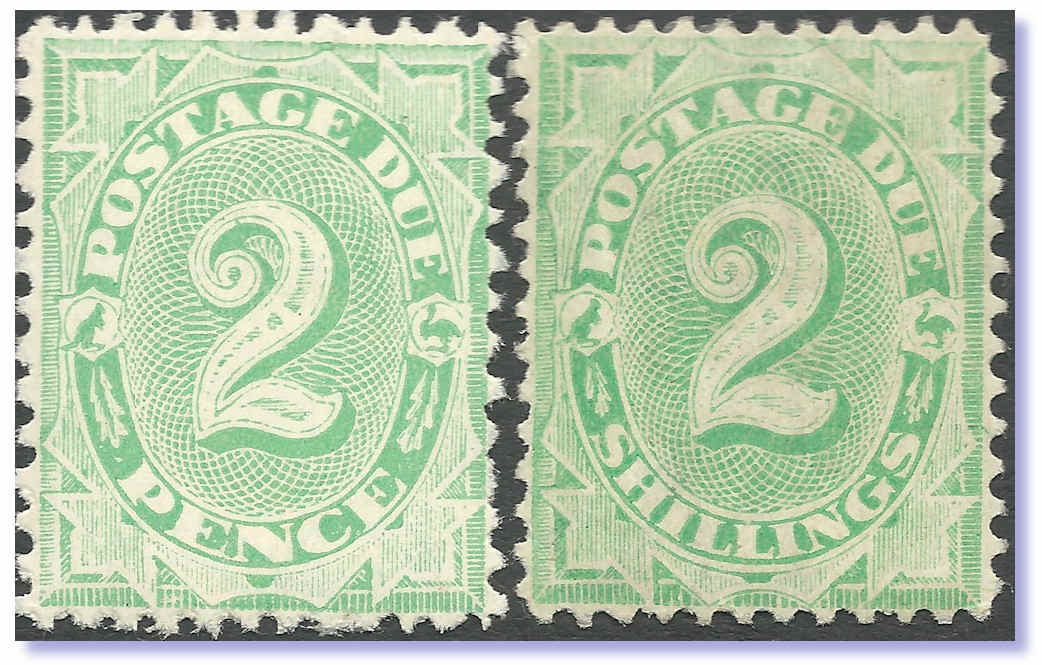 VERY similar design types.
Remember we are talking 1902 here. There was generally no widespread electric light in all cities here until about WWI, so the small dark post offices were generally poorly lit, and try sorting these stamps apart when in a hurry in late afternoon half light - it would have been very easy to mix them up, as you can imagine.

We must also remember that the Definitive stamps of the era all were in totally different designs, and all in different colours, and were a cinch to sort apart by clerks. But a set of a dozen different Dues, but all in the exact same green, and with the same big single numeral values in the centre, were a nightmare to sort.
Very readily confused.
All just had a large "2" and "10" in centre etc, and nothing else except tiny letters saying PENCE or SHILLINGS underneath. So in 1908/1909 they needed to re-issue the 1/- to 20/- values "With Diagonal Stroke" to save confusion, and the obvious revenue loss.

That early Australia 1902 original green design in turn was of course using the same plates of the NSW 1891 Postage Due series. And what is little known is, that NSW totally stole that design from the USA Postage Dues of the same era, as you can see on the photo nearby of a USA stamp.

So from 1891 to the 1909 Bi-Colours, all these Postage Dues we sold, were stolen slavishly from the USA claret design for those 18 years. Very few realise that - the Statute of Limitation for Design Theft have now expired I hope.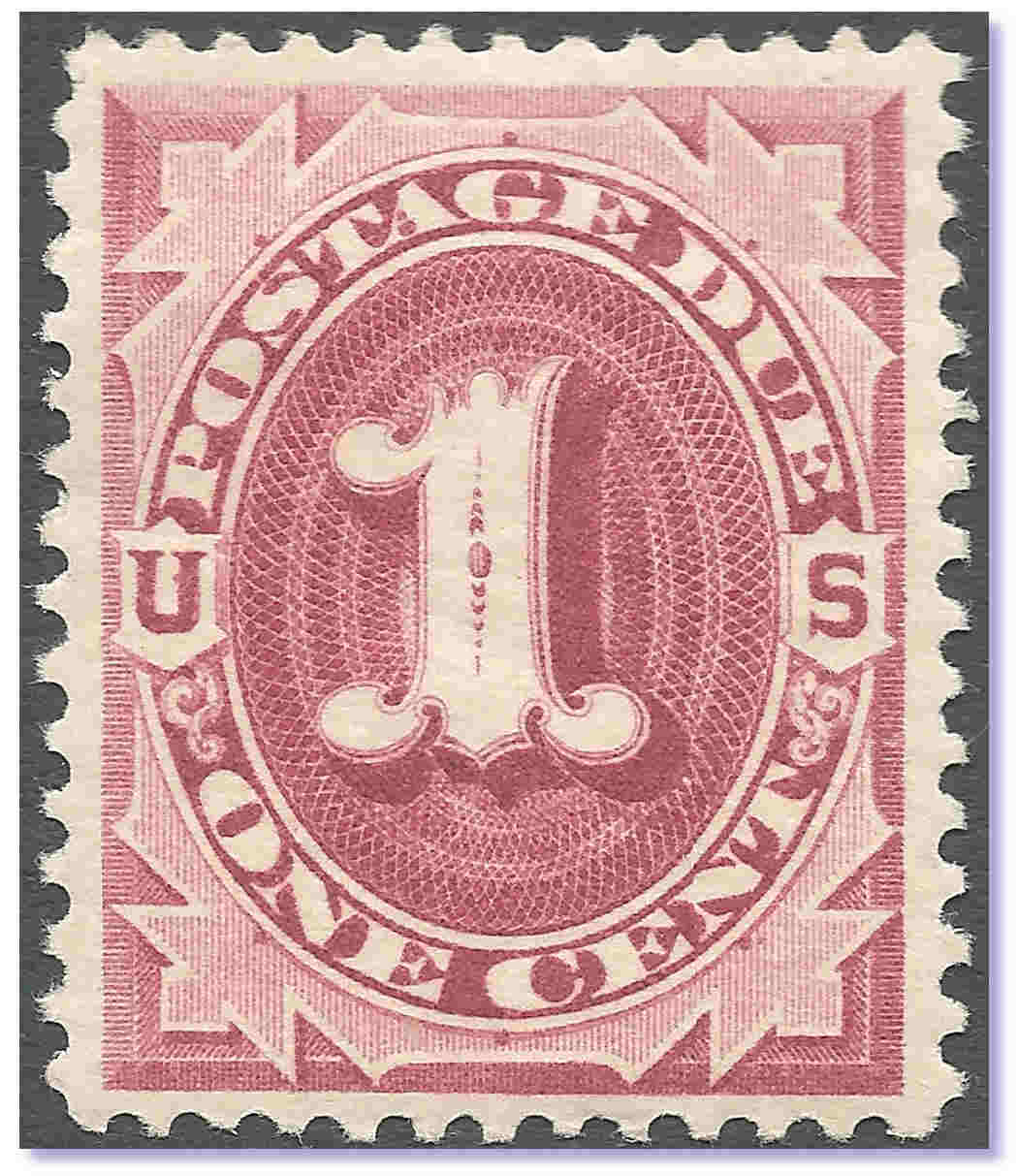 We STOLE design from USA!
The set was quietly issued with no announcement. ACSC "Postage Dues" volume outlines that this late 1909 issue had just "a few months" limited use before the 1909 Bi-Colours were released latter year, when all the monocolour values were withdrawn, the ACSC also confirms.

ACSC also makes the interesting point that the 10/- and 20/- values were ONLY sold in NSW, where they were printed, and few were sold or used. They are regarded as Australia's rarest face different stamps. One assumes the other states had adequate stock of the 1902 series high values on hand at the time.

Of the other values of the "with stroke" series, only some values went to SA and WA. No values at all went to the other states, including Victoria. MINT copies of this series are scarce, but many times more plentiful than genuinely used. These often get bad gum toning.

One very well-known Melbourne dealer used to wash the toned gum off mint stamps of this series, and neatly cancel the corners with his dodgy in-house "VIC-AUST" cancel, to make them appear to be the USED versions, of vastly higher catalogue value.
NONE ever went to Victoria.
The new research showing that NO copies of this series ever went to Victoria, nor did any CTO copies of any kind ever exist, must have created a number of returns, for large refunds over the years. One certainly hopes so. "Knowledge Is Power".

Of these "With Stroke" high values, the 2/-, 10/- + 20/-, despite being an official Australian issue, ZERO copies were CTO'd for UPU or VIP distribution, nor overprinted "Specimen", as they were replaced in months by the 1909 Bi-Colour issue.

So the only way to obtain a GENUINE example in postally used condition, to complete an Australia used collection, is to secure one of the now THREE known examples.

The once-unique example was in the Prestige Auction Rarities auction of April 2005, and as a "T" lot, was invoiced for about $A75,000 - at a time when Cat values for it were literally 10% of today's levels! That was the stamp featured on the cover of the previous edition of the ACSC "Postage Dues" volume.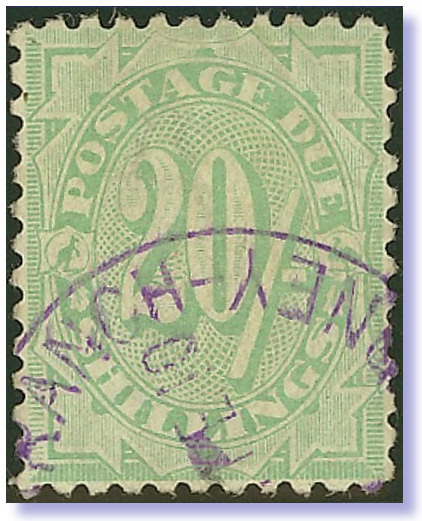 $A75,000, when unique.
Rodney Perry first offered that stamp in 1991 with the following comment: "This stamp was acquired by the late Paul Simonsen in the 1910s, and made its first appearance on the open market in 1990. Prior to that time collectors doubted the existence of a used example - I for one would have bet handsomely that such a stamp did not exist ..."

Not only is this "20/- with Stroke" stamp the absolute key to a complete used collection of Australian stamps, it is also believed to be the rarest Postage Due stamp from anywhere in the world. I can't think of anything else that comes close - can anyone else?

The second example of this "20/- with Stroke" stamp to surface had a crease, and a small pen mark on face, but had superb deep colour. It turned up in the United States a few years ago, also in a general collection, and was auctioned by Siegels of New York November 2013, for $A36,000 invoice, despite the defects.

This new discovery, which is a little toned, and slightly faded it appears, has good perfs and centering, and will be offered by mossgreen Auctions in Melbourne on February 27-28 February 2017, with estimate of $A20,000. Mossgreen have sent the stamp to the Royal Philatelic Society of Victoria for a Certificate.

Mossgreen example has a part strike of the distinctive "[PAR]CELS B[RANCH/GPO SYDNEY]" cds in violet, that the other 2 recorded examples both exhibit, so it seems likely that any other copies that may exist, should have the same cds. Whether it paid for bulk postage etc, we will never know.

Gary Watson, a senior Philatelic manager from mossgreen told me with a smile – "Imagine what this would be worth, if it was the third recorded example of the US 1c Blue 1868 with Z Grill!" (Editor's note - only 2 of those exist, and the last transaction was made by Bill Gross for many millions for his copy.)
"Kangaroos" ACSC now out.
I have typed this before, but it is true. Australia has THE best and most detailed stamp catalogues of any country on earth in my view. No-one else comes even remotely close - absolutely no-one.

Dr. Geoffrey Kellow is an editor without par for this series of catalogues. Meticulous and scholarly original research is evident in all volumes. The resultant 9 volume ACSC set is something all parties involved should be enormously proud of.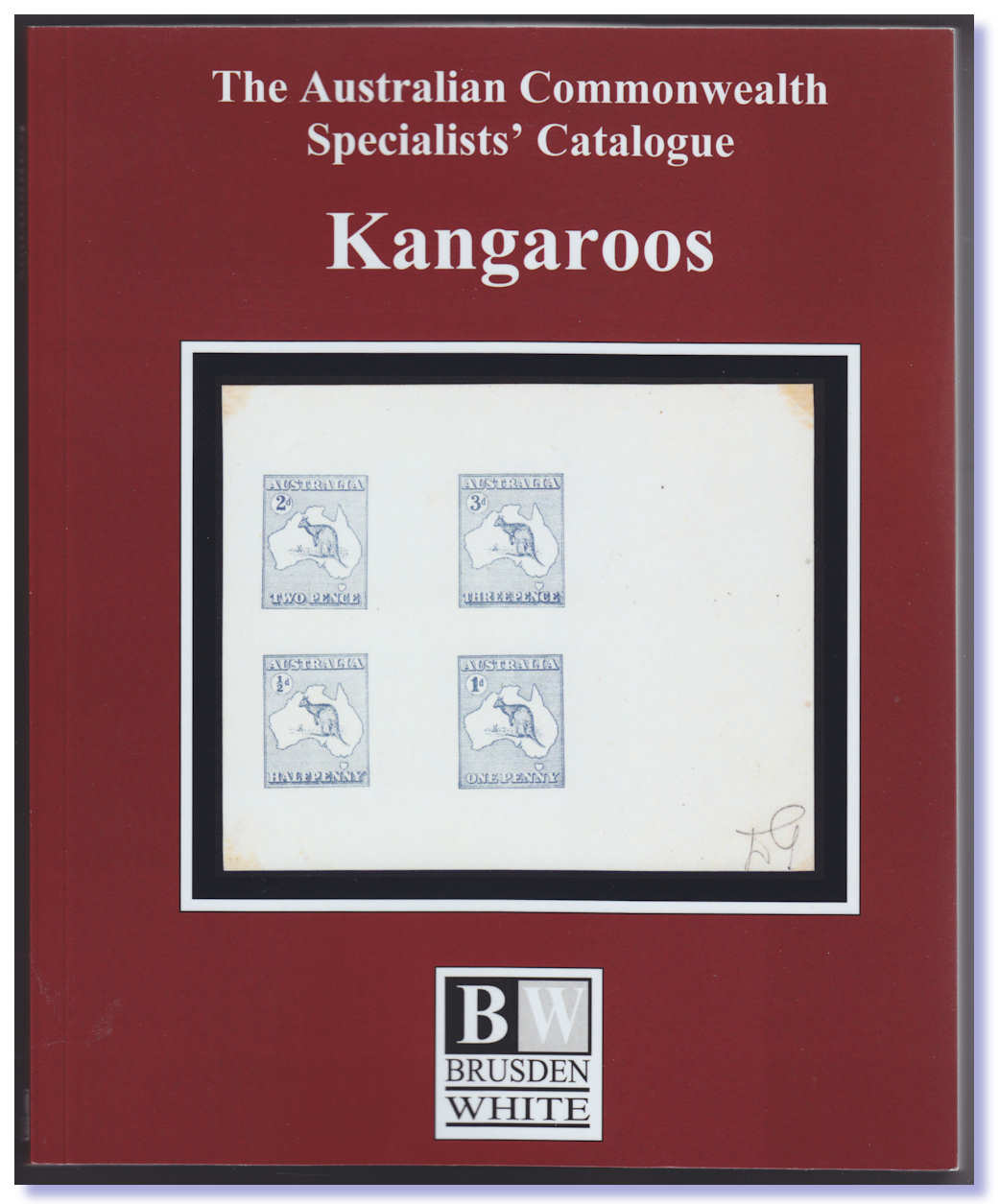 A no-brainer at $A120.

The "Australian Commonwealth Specialists' Catalogue" (ACSC) series edited by Dr. Kellow leads the world. Germany, the UK and the USA produce nothing even remotely close. That would surprise many readers I am sure, but it is very true.

The "Stanley Gibbons GB Specialised" multi volume set is a very sick joke in comparison. They lack any kind of notes whatever as to numbers extant of errors and varieties, or numbers sold or produced of the basic stamp in most cases.

Much other essential detail and constant varieties are also totally lacking, and that is a terrible shame. Even worse is the Scott "Specialised" USA which is a pretty pathetic single volume that purports to cover all USA issues from 1847 in specialised form.

Like the SG Great Britain "Specialised" virtually no detail whatever is given by Scott as to numbers known of key pieces, and details about them. And even the Michel German "Specialised" is nowhere remotely near as detailed as the ACSC. And what detailed info there is written in technical German.

I once asked fellow Sydney dealer Manfred Junge to translate a footnote in Michel for me. Manfred was born and raised in Germany until an adult, and obviously speaks fluent German.

Manfred simply did not have a clue what much of it said, as it was using technical language and terminology that he simply could not translate. So for the rest of us non German speakers, reading and comprehending the Michel Specialised terms is a non-starter.
Now in Glorious Colour!

| | | |
| --- | --- | --- |
| | "Kangaroos" as a stand-alone volume seemed to make excellent sense - the earlier listings that included the Australian Colonies from 1901 made it far too unwieldy, and it fell apart. The last Roo Edition was in 2013 for the huge "Australia 2013", and was mostly sold in black and white. | |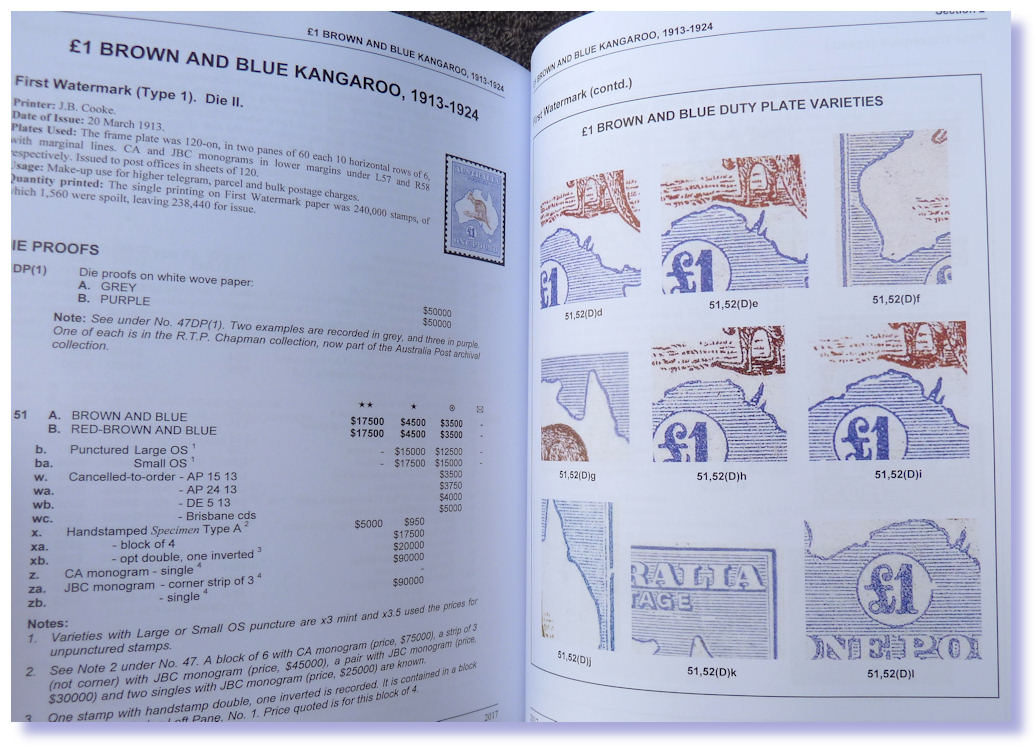 Kangaroos look best in colour!
I say "mostly", as to my great surprise, at their booth at that show, I saw copies with HARD covers, and in full colour for sale. This was apparently another weird genius decision by previous owner Paul Fletcher. Only 100 numbered copies were made, and not the full run. WACKO.

Anyway, life moves on, and fortunately this new Edition is in colour, (and should have been hard cover) as the cost of printing anything in colour in this century is about that same as mono, as most will realise who have an even passing experience in this area.

Many clients told me they were not happy to spend $95 on the last volume as it was dreary mono, and now is their chance to catch up with all the new info, and all in one new book. The best of both world's really, and if you buy or collect Roos you MUST own this one.

I hope lots of collectors and dealers support this new edition and undertaking, and secure a copy from their favourite dealer today - retail is $A120, and I pre-sold quite a few. Buy this new edition, as the old one is out of date now, and looks pretty sad and tired in mono!

The front cover image is spectacularly dreary for some reason, as you can clearly see. A glummer, blander, choice would be truly hard to make. The new Brusden White published "Kangaroos" includes super specialised listings of this now 104 year old series. Also listed and priced, are many essays and proofs and trials, and the like.

The value is there - finding just ONE half decent stamp - a scarcer type "Specimen" overprint, the quite newly listed CTO issues, watermark variations, double perfs, printing errors or monogram or imprint pieces etc, will readily repay that outlay many times.
Major dealers have stock.
| | | |
| --- | --- | --- |
| | All leading dealers should have stock of this new catalogue as you read this. Go and peruse one - you'll be glad you did. This actually is the SIXTH separate Edition of the "Kangaroos" catalogue since 1993. | |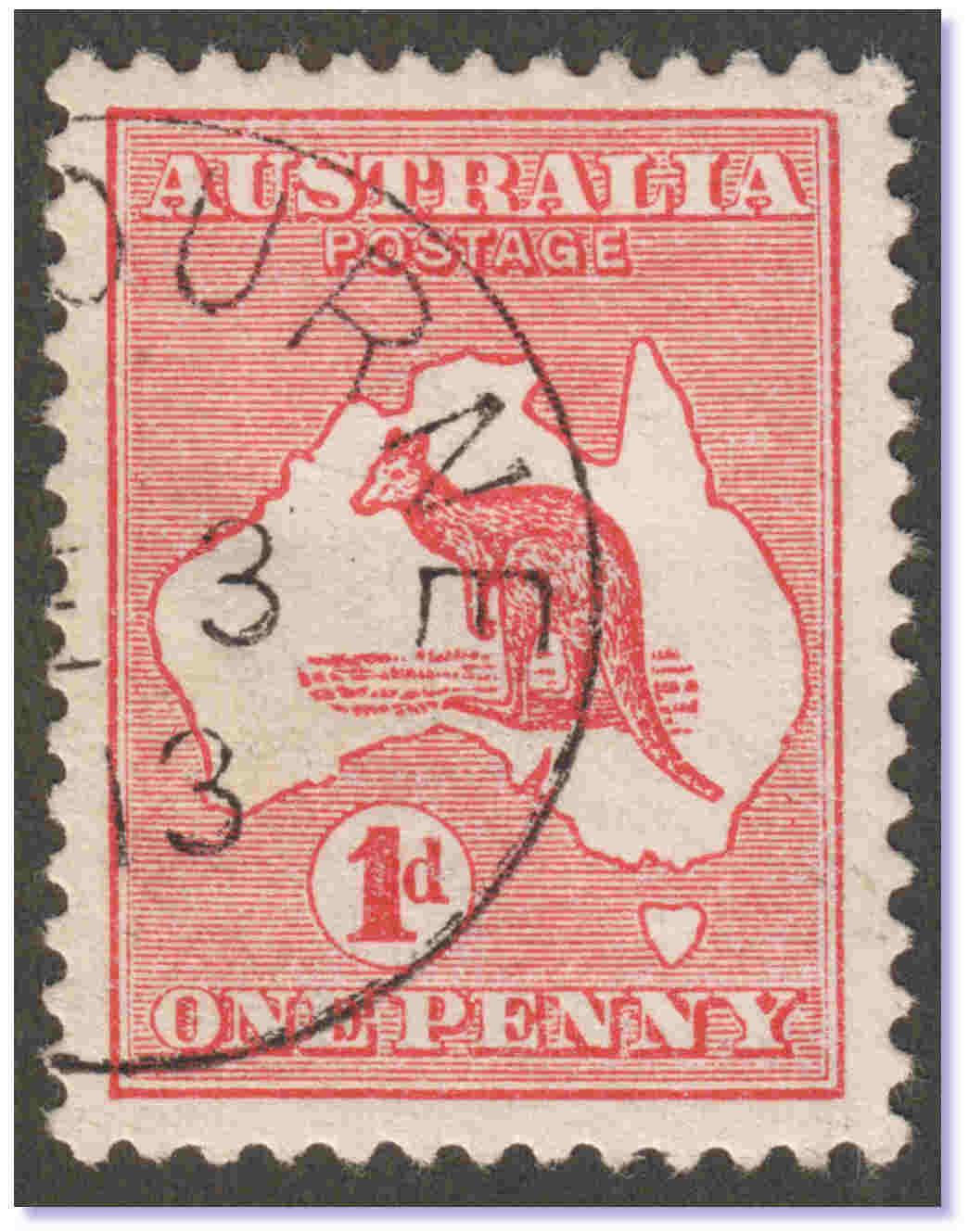 A $100 stamp these days.
A great deal of work has been done in this and the last volume, listing the MANY different "CTO" cancels found on early Kangaroo stamps, but Dr. Kellow needs to update it up a little more still. Did you know the very CHEAPEST 1d red Kangaroo CTO stamp listed is $A80? Well you do now!

Stampboards has had very detailed discussion on these popular issues, 4,500 messages - and all of that info is found here - tinyurl.com/ozCTOs and www.stampboards.com duly receives a credit in these catalogue prefaces.

The rather exceptional appearance 1d Red Kangaroo CTO example shown nearby, with full gum, I sold to a very experienced collector, and he was absolutely delighted to pay $A100 for it.

Ten or so years ago, I'd have got $5 maximum for such a stamp as "fine used" retail - tops. It has no error, or variety or scarce die or shade - just a nice looking CTO example of the very "commonest" type. (These also come with a different "Flat Top 3" cds, that ACSC annoyingly still has not listed.)

That $A100 is near the cost of getting this new book, so do NOT overlook updating! This kind of stamp turns up in club books at a couple of $s to this day. Or from overseas online sellers, who have no idea what they are offering. It is only £1.75 used in SG, and I saw one offered for £1 last week in UK!

The new version has some new info and many price updates. Sadly it was frantically rushed out, that much is clear, with many areas needing attention. Dr. Kellow needs to do a LOT of work in addressing the issues raised on stampboards etc, re typos and silly errors - areas where a day's work will bring things right up to speed.
"Jenny" lost for 99 Years!
The 1918 24¢ Inverted Jenny airmail stamp is by no means the world's most valuable stamp, as a full sheet of 100 were found and sold, but it certainly is the best known of all the Twentieth Century stamp issues, no doubt about that.

"Jennies" have an allure, and they of course fetch FAR higher prices than anything should, of which 100 copies exist. I have handled a number of literally UNIQUE Australasian issues, that sell for a few $1000 apiece, so 6 or 7 figures for Jennies is quite loopy, but that has always been the market.

It is a "sexy" stamp issue, and they have often been purchased by wealthy Americans who have little interest in stamps generally. Bought BECAUSE it is a well-known and "sexy" issue, that their friends at the golf club will have heard about most likely, when doing the brag stories at the 19th Hole!

An entire 250 page book has been written on this one stamp sheet - "Jenny!" by George Amick - first published in 1986. That book pre-dates the Barnum and Bailey $US4 million "Swap" of the Jenny Plate Block of 4, and 1c "Z" Grill by Bill Gross and Mystic Stamp Company of course.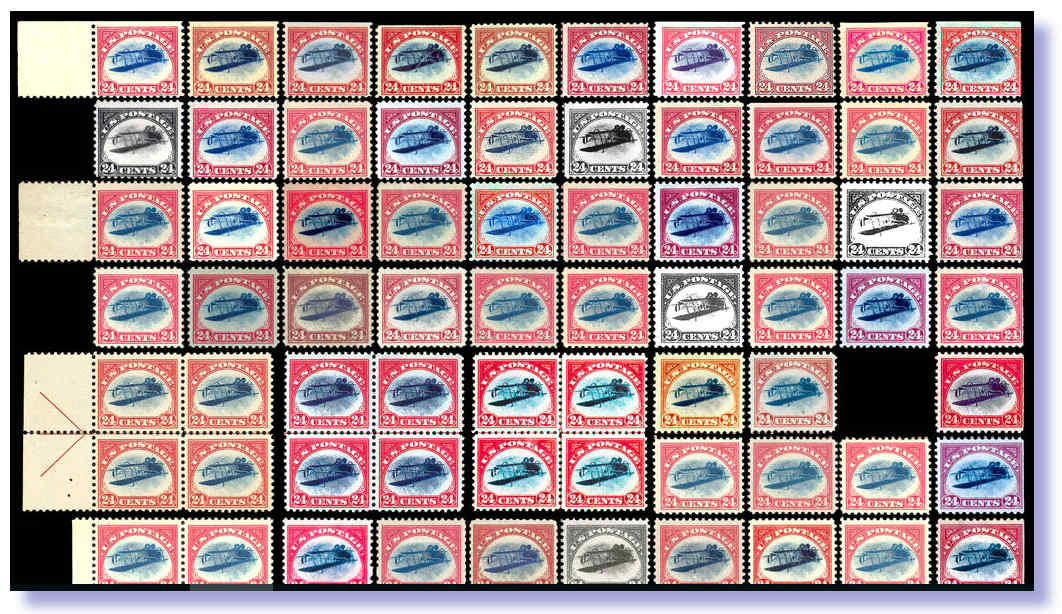 All "Jenny's" are plated accurately
The stamp was printed in carmine and blue, with the central image of the Curtiss Jenny biplane incorrectly printed upside down. One sheet of 100 error stamps was purchased at $US24 face value, from a Washington, DC Post Office in 1918, by collector William T. Robey.

Robey's historically lucky purchase was on 14 May 1918, the very first day the stamps went on sale, in all three principal airmail route cities - Washington DC, New York City, and Philadelphia PA.
"Hand Back The Sheet!"
The US Post Office security officials later tracked Robey down, and demanded he hand back the error stamps and he refused - as was his perfect legal right to do. Robey sold his windfall sheet soon after to Eugene Klein, a well-known Philadelphia stamp dealer.

Klein subsequently sold the intact sheet of 100 stamps to the eccentric millionaire collector Colonel Edward "Ned" Green for $US20,000, who had Klein break up the sheet into singles and blocks of 4. Green had just inherited $US50 MILLION from his mother Hetty's passing, so $20K was mere chicken feed.

Green kept some of the stamps (damaging many due to appalling storage - 8 sticking together in a blob, all now "no gum") and later sold some others. Efforts have been made to track the history of each stamp from the sheet of 100, ever since the story of this fabled stamp began, nearly a century ago.

Leading USA stamp auctioneer Robert A. Siegel Auction Galleries in New York last year launched a detailed website devoted to the "Inverted Jenny". That Jenny site pictures 98 of the 100 error stamps, along with description and images and past sales and owners of each example.

An excellent site - invertedjenny.com and a fascinating read for all those with some time to spare, even if you do not collect USA. Wonderful rundown on the history of this issue, and the finders, and all later owners of every stamp etc are fully documented. There is a Hollywood script in there for sure!

First time seen for 99 years.
As you can see from the photo nearby where they have assembled images of 99 of the 100 stamps, several of the copies on top row have had the natural straight edges re-perforated over the past ~100 years. And oddly LH margins have been removed/reduced from several stamps on the left row.

The only two of the 100 original stamps with zero information recorded on them (other than being owned by Robey, Klein and Green in 1918) were stamp sheet positions number 49 and 79. See screen capture nearby - ZIPPO data on stamp #79 as this article was typed.
Never been on market before.
Stamp position 79 has now turned up, near 100 years from when last being sold. It has never been on the stamp market before, never exhibited, and the whereabouts of it was totally unknown to many generations of collectors and dealers.

Jenny "#79" will be offered for sale February 15 by an unknown to me art and antique and household goods auctioneer in Chicago, called Leslie Hindman Auctioneers, who seem well known in those other fields, but not for stamps.

The stamp is part of a collection that has been in the same family for generations, Ms Hindman told "Linn's Stamp News". The family has asked to remain anonymous. The collection was preserved as a family heirloom, Hindman said, and added that the current owners are not stamp collectors.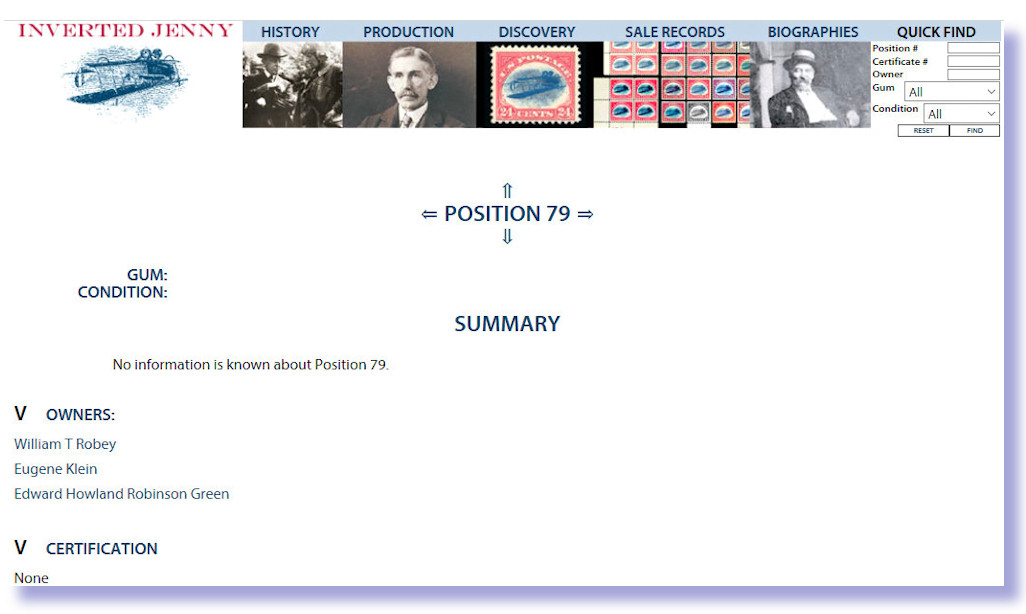 Zero info known re position 79.
The stamp is listed with a pre-sale estimate of $US200,000 to $US300,000. It is part of a larger collection from same estate, that includes a number of other important rarities that will be offered during the February 15 auction.

Among them, is a block of four USA 1901 4¢ Pan American Inverted Centres (Scott 296a) described as "unknown," and a single 2¢ inverted centre stamp from the same Pan-American set (Scott 295a). All rare pieces.

This "Jenny" looks facially nice - many of the 100 have straight edges, and/or are off centred, however this one has gum thins, disturbed gum, and brown gum marks associated with a clear impression of a paper clip when seen from back. Green probably affixed it thus to a letter or something equally mindless - he was careless with his stamps.

Ms Hindman told "Linn's" that the consigning family does not have historical information about how their "Jenny" Invert stamp was acquired. Philatelic Foundation curator Lewis Kaufman and executive director Larry Lyons led the process of expertising the "Jenny" Invert that will be auctioned.

"Based on its extensive electronic and photographic records of this rarity, the PF was able to certify that the Jenny Invert was genuine, and came from position 79 in the sheet of 100, one of only two positions which have not been seen in the marketplace, since the stamp was issued almost 100 years ago."

Just nine months ago, the Philatelic Foundation also authenticated another long-lost 1918 "Jenny" Invert, the Position 76 stamp that had been stolen in 1955 when it was part of the McCoy block of four.

The block was purloined from an American Philatelic Society stamp show exhibit in Norfolk, Virginia, and turned up 60 years later in Northern Ireland, where it was found among non-stamp items allegedly purchased in a flea market setting years ago.

The stamp was returned to the rightful owner, the American Philatelic Research Library, by the Irish finder, Keelin O'Neill, during a public event at World Stamp Show in New York 2016 - see photo nearby of the handover.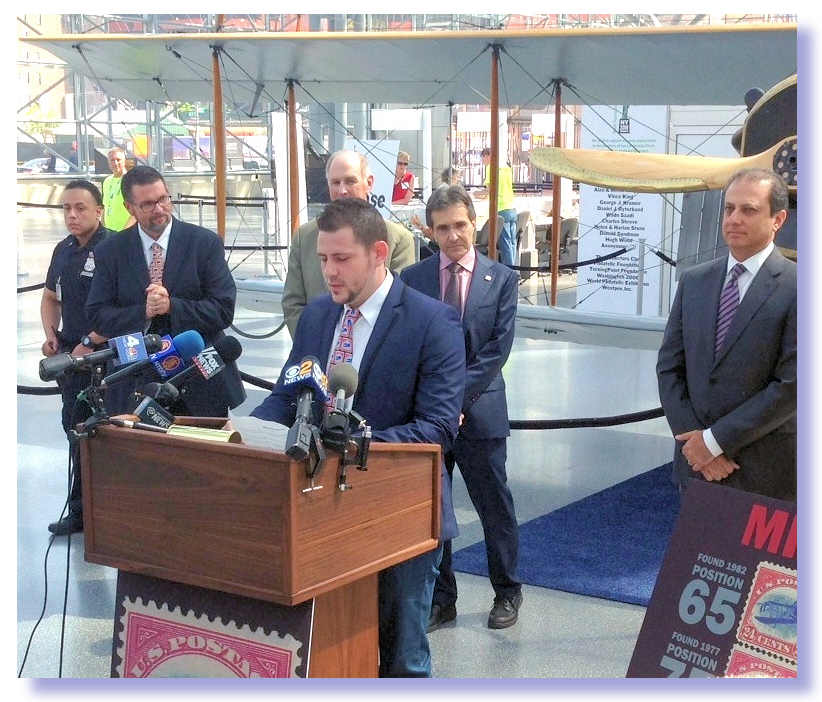 $US50,000 reward for stolen stamp.
That rather curious "Inverted Jenny" story unfolded one day I was at the NY Expo, related to me by George Eveleth and Richard Debney of Spink USA. As reported in my column in May 2016, an example of this stamp was consigned to Spink NY for auction, by a young man from Ireland, who claimed he inherited it from dead Grandpa, who owned no other stamps. Hmmm.

Investigation showed this stamp was stolen from the USA Exhibition in 1955 and had been missing since. The then legal owner willed it to the APS Library should it ever surface. The stamp was later re-perforated, and some idiot also removed most of the gum, in order to hide the light pencil sheet number on reverse, rather than simply erase it.
Truth is stranger than Fiction!
It appears the young "owner" had essentially been given a "choice" of accepting the $US50,000 Mystic Stamps "reward", or possibly getting charged with handling stolen goods! He wisely took the money. The FBI had opened a Criminal case on the matter, and obtained a Federal Court order over movement of the stamp.

So here in the photo nearby we have the cheque handover during the NY Expo 2016. The Irish "finder" Keelin O'Neill is at microphone, flanked by a $50,000 poorer Mystic Stamps, an FBI Agent, a NYPD cop, the New York District Attorney, and the rather pleased APS officials etc who finally got their stamp!

It was all like some Barnum and Bailey movie script, but it all happened one day when I was at the New York show, with many onlookers, and mainstream press and TV cameras, and all done in front of the real Curtiss Jenny bi-plane at the entrance to the hall, as can be seen in photo.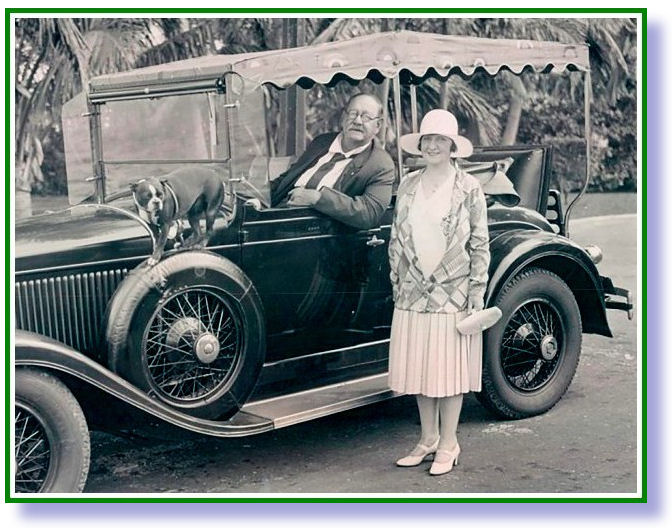 Colonel Green and his "Exotic Dancer"
| | | |
| --- | --- | --- |
| | One single in particular, stamp 9 from top row, Green set aside for special treatment. He had it placed in a pendant made of two convex pieces of glass with a gold rim, and ring for a chain, back to back with a normal 24¢ Jenny airmail stamp. 100 years on, miraculously, the stamps had not "stuck" to each other. | |
"Locket Copy" re-opened.
This so-called "Locket Copy" example was opened for the first time in recent years to examine, and despite bent corners etc from being placed in a locket a little too small, it had totally unhinged gum. It "apparently" sold for $US164,500 to a coin collector mid 2015, despite 3 un-successful attempts to find it a new home at other auctions.

Not surprisingly, considering the auction was run by a coin firm, Stack's Bowers Galleries, the buyer was a coin collector. The Virginia retiree who apparently bought the stamp for $US164,500 thought it was "cheap" despite being straight edged at top, poorly centred, with a missing NW corner perf, and totally bent lower corners, with a crease and gum bend.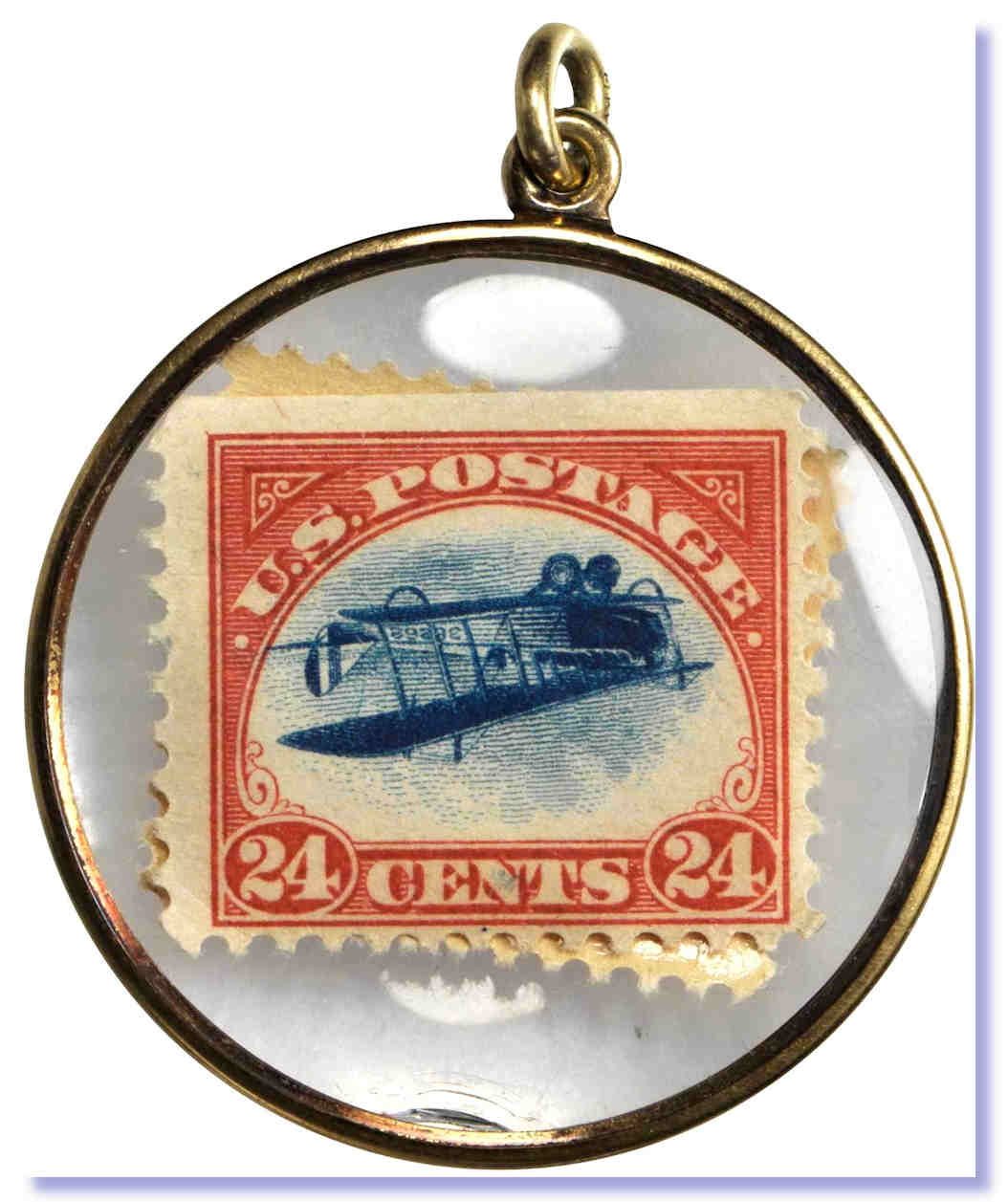 The Inverted Jenny "Locket Copy"
Green had presented the bauble to Mabel Harlow, a woman he had wed in 1917, just a few months after the passing of his mega-millionaire mother, Hetty Green ("The Witch Of Wall Street") who had very deeply disapproved of Mabel, whom she called "Miss Harlot". Green was single into his 40s, as Hetty had approved of no match.

What ex-prostitute and "Exotic Dancer" Mabel thought of the curious gift is unrecorded, but there's no evidence that she ever wore it. It was unknown to the stamp world until 1956 when a dealer casually mentioned it in a magazine. 30 years would then pass until anyone else saw it. More detail here - tinyurl.com/24cLocke

This locket had not even been seen until 1950s when Mabel died, and then only briefly by a dealer who appraised it for her Estate. George Amick tracked it down to a female companion of Mabels, and when she passed in 2002, it was offered at auction for the first time, where it did not sell.

It continued to be offered in subsequent years via corny American razzmatazz. Some spiv in California in 2012 had it listed on ebay of all places. And it still could never get a buyer.

Green inherited about $US50 Million in 1917 (Bill Gates league today) when his frugal mother passed - having amassed a larger fortune than J.P.Morgan. It was Hetty's unwillingness to spend money on proper medical treatment, that led to the amputation of her teenage son Edward's left leg.

He spent the rest of his life hobbling on a cork prosthetic leg. His visits to New York City's Nassau Street stamp district were legendary. Green would sit in his limousine, with his artificial leg propped up on an outside stool. Dealers would bring him their offerings, and he would pay in cash for the pieces he liked.

When died in 1936 Green left his estate to his sister, not to his wife. It totalled about HALF what he inherited from his frugal mother 20 years earlier. His stamp collection was dispersed in a series of 28 auctions over four years, comprising some 50,000 lots.
Jenny's start to rise again.
| | | |
| --- | --- | --- |
| | Dealers reported to me of record high prices being obtained for top end material, during the 8 day New York Expo, for a wide range of stamps. I saw a 1924 USA 24¢ "Inverted Jenny" on display at the Robert Siegel auction super-booth. It had just been invoiced for an amazing $US1,351,250, at their Expo sale. My photo is nearby. | |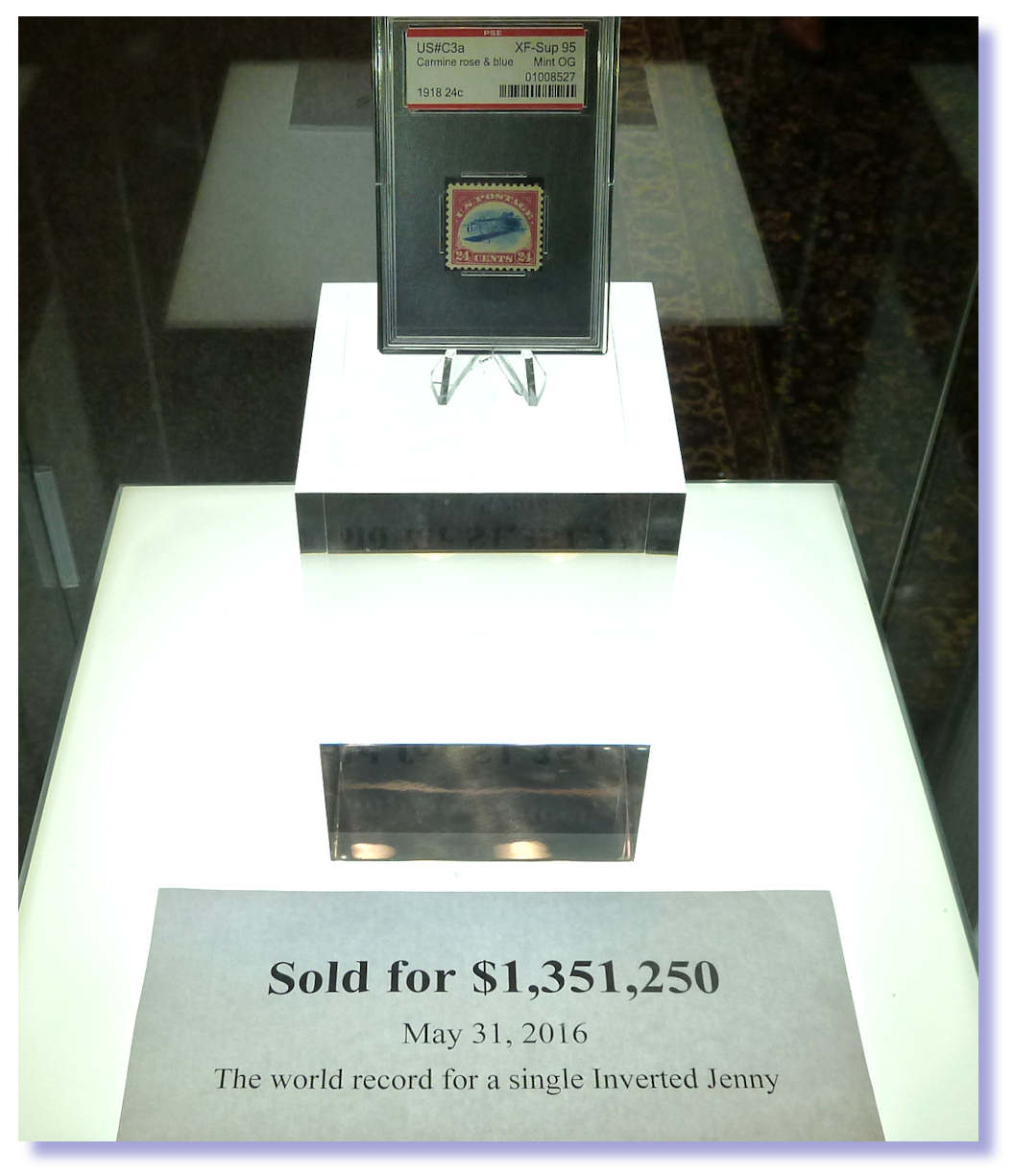 HINGED Jenny fetches $US1,351,250
This was for a HINGED example, and blew away by miles in price, what any other "Jenny" has ever sold for - even the unhinged mint examples! I spoke in New York to VP's John Zuckerman and Charles Shreve from Siegels, and they were over the moon with this record price.

"Jennies" have been rather soft in recent years in price, so this is an amazing "about face", and is a great sign that the market for better material is strongly on the rise from all areas. Global low interest rates always do this. What the new discovery will fetch, you will know a week or two after reading this column!









Get my regular market update emails FREE. Stamp gossip, price trends, record sale prices, and many one-time stamp specials, wholesale bargains, and exciting offers and breaking philatelic news. A mini stamp magazine in every email! "KNOWLEDGE IS POWER". The ONE stamp list you MUST be on, to keep in touch with the rapidly changing world market. One client made $65,000 profit in a few months after following my specific advice. Sign up securely and quickly by clicking HERE to access my automated data base. And wiser still ADD your home AND work email, if I only have one right now. Add a stamp friend's email address if you wish. One short click and you are subscribed to probably the most read email list in the stamp world!




If you would like to be notified of updates to this website,
Click HERE.
If have any questions,
or comments regarding my site, please email me at glen@glenstephens.com
| | |
| --- | --- |
| | Search all my 300+ web pages! Simply type in what you are looking for. "Penny Black", "Latvia", "Imprints", "Morocco", "Fungi" "Year Books", etc! Using quotes ( " ) is more accurf used with no quotes. Search is NOT case sensitive. Tip - keep the search word singular - "Machin" yields far more matches than "Machins" etc. |


I am a Dealer Member in Good Standing Of:

Full Time Stamp Dealer in Australia for over 35+ years.
Life Member - American Stamp Dealers' Association. (New York)
Also Member of: Philatelic Traders' Society. (London)
GLEN $TEPHEN$

Full Time Stamp Dealer in Australia for 35+ years.

Life Member - American Stamp Dealers' Association. (ASDA - New York) Also Member - Philatelic Traders' Society

(PTS London) and many other philatelic bodies.

ALL Postage + Insurance is extra. Visa/BankCard/MasterCard/Amex all OK, at NO fee, even for "Lay-Bys"! All lots offered are subject to my usual

Conditions of Sale, copy upon request .

Sydney's

BIGGEST STAMP BUYER: Post me ANYTHING via Registered Mail for my same-day cheque. Avoid copping the Now normal 45% Auction "Commissions" (15% Buyer + 20% Seller + GST, etc) AND their five-month delays!

Read HERE for details.

"Lothlórien", 4 The Tor Walk, CASTLECRAG (Sydney), N.S.W. 2068

Australia

Phone 7 Days: (02) 9958-1333

PO Box 4007, Castlecrag. NSW. 2068


E-Mail: glen@glenstephens.com The Number #1 Web Sites: www.stampboards.com